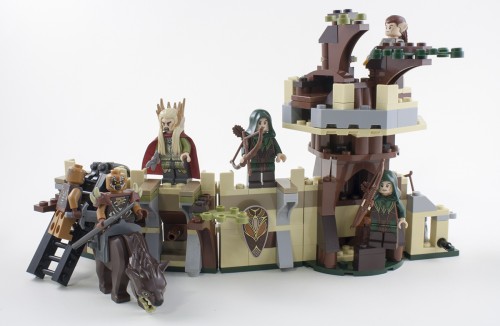 Wait, the title of this article doesn't give away my conclusion, does it? Because I enjoy a good setup. So maybe just try to ignore what I wrote there and read everything. Of course, I actually have to issue an official retraction for a comment I made on the forum when these sets were first leaked…
Based on the price conversion and random guessing, prices would look to be $25 (perhaps $30)… no way it would be $20 for Ambush, $40 for Mirkwood (though I could see this being $50 and replacing Attack of the Wargs in the lineup), and the Fortress is likely replacing Goblin King Battle at $100. No way it's in the $50 range.
Turns out, Ambush is $20, Mirkwood is only $30, and Fortress was only $70. Given the recent trends in Lego prices being somewhere between "are you kidding" and "those greedy *bleeps*," it seems like something is up here. I mean, this set is basically a $30 battle pack with six figures, five of them being generic and the kind of things you want a whole bunch of. What is this, opposite world?
The second movie just came out, and to be honest, I have no idea if this scene is in it, in the extended edition release that's going to trick us out of $20 next year, or in the third movie that we haven't even been disappointed in yet. But on the Lego front, there's a whole lot to love in this wave of sets. After some shaky initial releases, it looks like both The Hobbit and Lord of the Rings sets are hitting their stride. Anyway, let's see how much value can be pulled out of your $30.