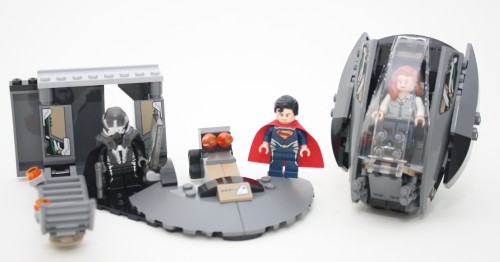 You know, I had no idea that the name of the really big ship in Man of Steel was called Black Zero until I looked it up in the product description. An interesting throw-back, since the original Black Zero was considered "The Destroyer of Krypton," and later was a Superboy villain. In this case, however, we're focusing on the escape scene with Lois Lane jumping in an escape pod and going typical Lois Lane on everyone (read, in need of saving).
I guess it's better to be needing saving in an escape pod than it is to just be on a plane that happens to start falling out of the sky. At least here, Superman was around for a reason, and not just being a crazy stalker of his ex. And if you don't get that reference, you're lucky. The rest of us actually watched Superman Returns.
Black Zero Escape is the $20 entry in the Man of Steel line. The $20 sets in the Super Heroes line has some pretty notable company, with such hits like the Superman Vs Power Armor Lex, Wolverine's Chopper Showdown, and Cosmic Cube Escape all being in the same price point (and still available in most stores). Of course, given that Iron Man 3′s speed boat is also in the same price point, it's obvious that no standard is perfect. Maybe Black Zero Escape can break the pattern?
If you haven't seen Man of Steel, there are going to be some spoilers in this review. So don't email us and complain that you found out Superman's penguin friend from the Fortress of Solitude wasn't as lucky in his escape.