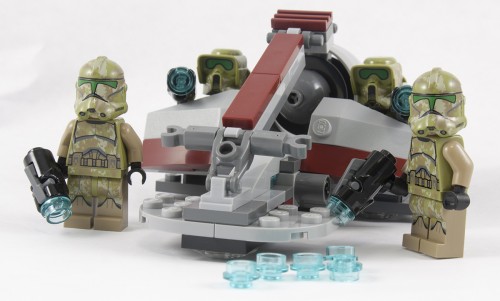 Is it possible to get battle pack fatigue? Maybe that's why Lego keeps playing with the $10 range with stuff like Planets (which were awesome) and the Microfighters (not as much). Or maybe it's just that a lot of the recent battle packs have been somewhat underwhelming, with mixes for the type of figures in them or not enough generic troopers to help build up an army. 
That was my chief complaint with the Death Star Troopers pack, where the Royal Guard figures really detracted from the overall value of the set. The Utapau Troopers set did a better job of some more generic troop types, assuming you wanted to build up an army of troopers that would be able to blend in very well at a Texas Longhorns home game (which, as a 'horns fan, I can totally get). They weren't bad troopers, but we've had other Sherbet clones recently so it's good to see a change.
Enter the Kashyyk Troopers battle pack, the third pack we're getting this year. These are obviously not a very "generic" figure, being dressed up for a Duck Dynasty / Star Wars crossover convention (I'm not sure I want to know what that looks like, but I bet TLC will have it on the air within a year or two), but they all look pretty good. If you were going to build up an army of Clone Troopers, I'm willing to bet you'd rather have them capable of hiding in a jungle than at an AT&T store.
At 99 pieces, this one comes in slightly under the Death Star battle pack and well above the Utapau Troopers. The real question is does it justify your money any better than the other two battle packs (or the existing two you can still get)?