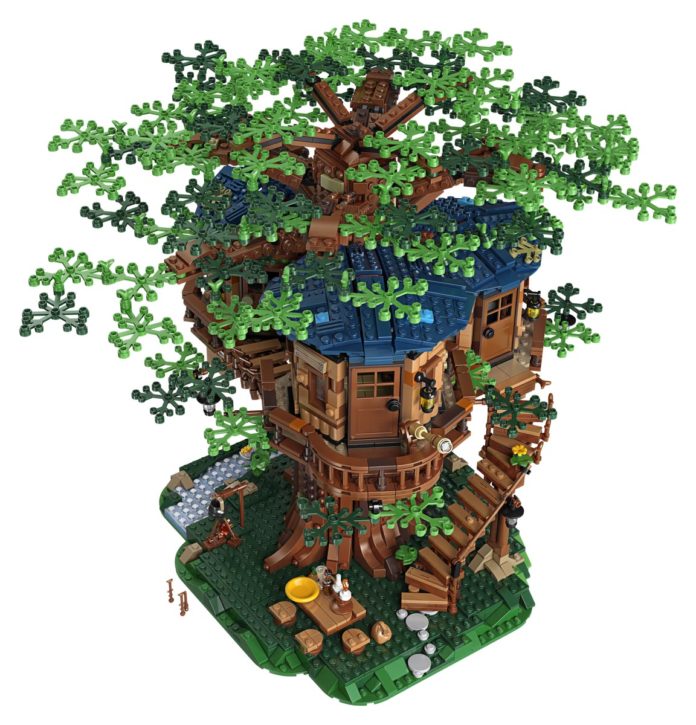 After accidentally putting it on sale on during preview night at Comic Con last week, LEGO is officially revealing 21318 Tree House. Born from their LEGO Ideas crowdsourcing platform, the original project reached the requisite 10,000 votes back in February of 2018. It reached approved status in October of last year and after much waiting, we are finally graced with this beautiful set.
You'll be hearing a lot about how important this set is for one reason: it has the highest number of sustainable bricks in a single set. There are 185 plant elements that are made from polyethylene, a sugarcane-based plastic.* This is just a small step for The LEGO Group to reach its goal of making all bricks from sustainable sources by 2030. They made that pledge 7 years ago and introduced their first sustainably sourced product just last year. Things haven't been going swimmingly on that front. They've been having trouble finding a sustainable replacement that holds up to their high standards (source: WSJ). This is one problem I really hope LEGO can solve. While other building elements are still made from ABS, the foliage elements made from sugarcane is a start. I hope to see more because we are ruining this planet. It's a great talking point at least.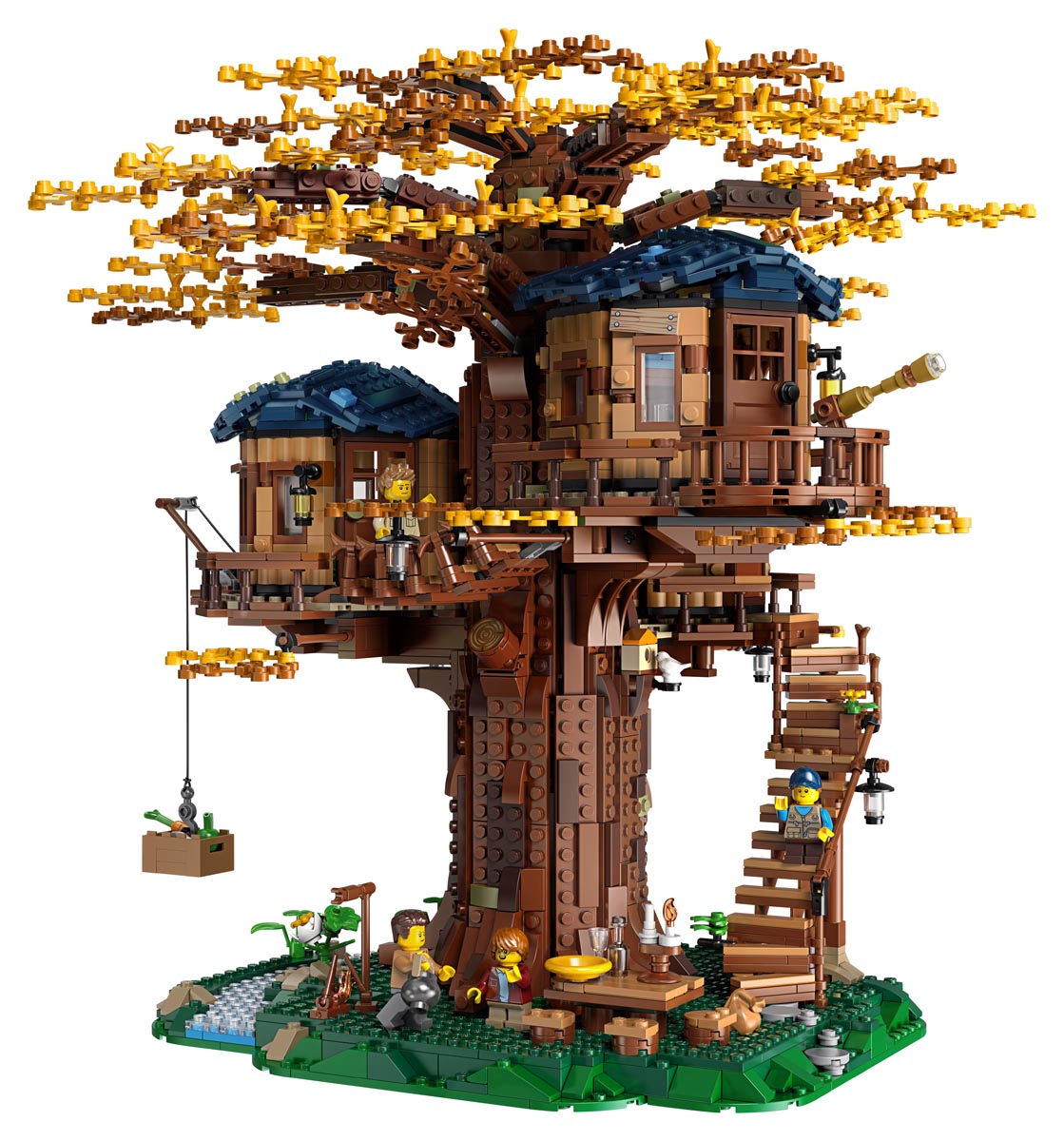 21318 Tree House will go on sale for $199.99 USD / $269.99 CA on August 1st, 2019 with a July 24th, 2019 availability for VIP Early Access. This set contains 3,036 pieces and comes with 4 minifigs. The leaf elements will come in two different colorways so that you can change the season the tree house is in.
Sigh. As much as I am trying not to buy as much LEGO as I used to, I feel like this is one has to be purchased. I want to support LEGO's efforts and buying it is one way I know how.
21318 Tree House Official Pictures
21318 Tree House Product Copy
21318 LEGO® Ideas Tree House
Ages 16+. 3036 pieces
US $199.99 – CA $269.99 – DE €199.99 – UK £179.99 – FR €199.99 – DK 1799DKK
*Euro pricing varies by country. Please visit shop.LEGO.com for regional pricing.
Detailed Tree House model to challenge LEGO® builders and inspire endless play!
Build, display and play with this intricately detailed, 3,036-piece LEGO® Ideas 21318 Tree House playset. A complex build for experienced LEGO builders that all the family will love to play with, it features a landscape base and 3 LEGO tree house cabins—a main bedroom, bathroom and kids' room. The tree has interchangeable sets of green summer leaf elements and yellow and brown fall leaf elements—these and various plant elements on the base are all made from sustainable-plant-based polyethylene plastic—and the treetop and cabin roofs are removable to allow easy access. The model is packed with play-inspiring features including a buildable picnic table and seats, swing, bonfire, treasure map and hidden gem element to play out a treasure hunt, and a wind-up crane on the balcony of the bedroom cabin. A great birthday gift, this unique creative toy comes with mom, dad and kids minifigures, plus a bird figure, to role-play fun family scenes. It also includes a booklet with building instructions and information about this LEGO Ideas set's fan creator and LEGO designer.
This LEGO® Ideas set includes 4 minifigures: mom, dad and 2 children, plus a bird figure.
This challenging, 3,036-piece building toy features a landscape base, tree with interchangeable sets of green (summer) leaves and yellow and brown (fall) leaves, and a LEGO® Tree House with 3 cabins—main bedroom, bathroom and kids' room.
The treetop and cabin roofs are removable for easy access and play.
Landscape base features a buildable picnic table with 4 minifigure seats and assorted elements to create a picnic, plus a buildable stream, swing (hanging from the tree), bonfire, hidden gem element, plant and bush elements, and a ladder to the cabins.
Tree foliage features over 180 botanical elements made from plant-based polyethylene plastic using sustainably sourced sugarcane. Assorted plant elements around the tree are also made from this plant-based plastic. This is the first milestone in LEGO® Group's ambitious commitment to make products using sustainable materials by 2030.
Main bedroom cabin features a buildable bed, and assorted elements including hidden scissors (as a reference to the fan creator's day job as a hairdresser), ship in a bottle, compass, clock plus a balcony with a hand-operated, wind-up crane to lift items up to the cabin.
Bathroom features a buildable bathtub, toilet and sink.
Kids' room features bunk beds and assorted elements such as a book and treasure map.
This LEGO® Ideas creative toy comes with a booklet with building instructions and information about this awesome set's fan creator and LEGO designer.
Measures over 14" (37cm) high, 10" (27cm) wide and 9" (24cm) deep.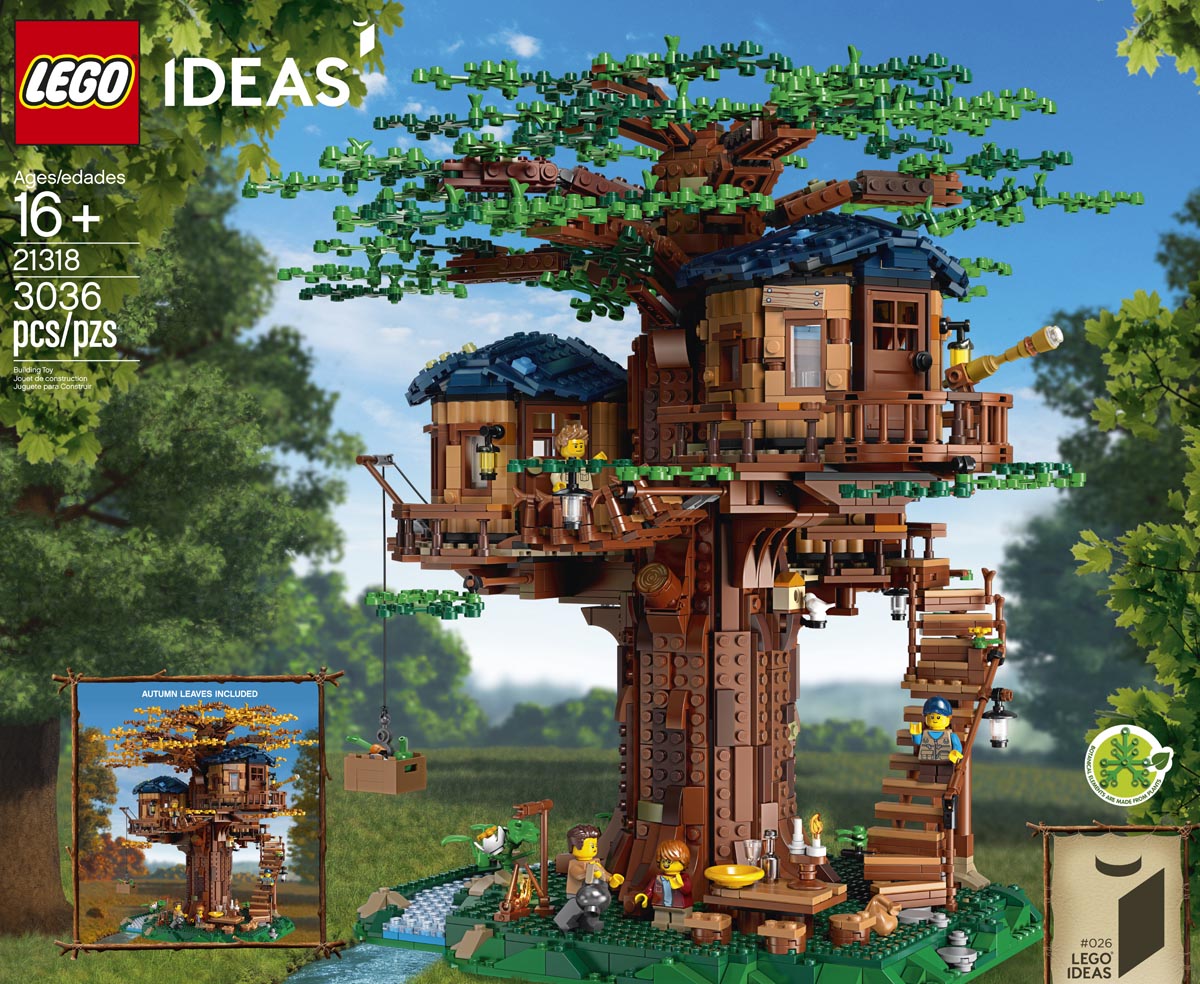 * – Touting the 185 sustainable elements fact is a bit of a cheat if you ask me. This is a tree house set and the tree part of tree house should have leaves on it. It's like if they invented rubber tires compatible with LEGO sets, released a car set and said "100% of the tires on this care are made from rubber."  They've included plant elements in sets before, just because there's an inordinate amount of plant elements in this particular set doesn't make it any more significant than any other set. But I guess LEGO needed flagship set to hang their sustainability hat on. Cheat or not, I don't want to downplay what LEGO is trying to do; it's a proper step in the right direction but LEGO needs to do more and faster.