Our annual tradition moves along, another batch of Advent Calendars. Ace handling Star Wars (again), Eric handling Harry Potter (again), and Nick handling Marvel (again). We're adding a little twist to this and doing our own bonus calendars of silly things, so Ace is doing <something>, Eric is sampling Hot Sauces that may kill him, and Nick is enjoying indulging his stupid amount of knowledge of the world of Warhammer 40k through little chibi Space Marines.
---
Yesterday, Eric revealed that he doesn't like sriracha, and normally Nick would give him some crap for that (though, to be fair, Nick has largely converted to the house of Cholula), but given that he hasn't watched the Guardian's holiday special, sort of a wash.
Star Wars: 11 Hits / 7 Misses
Harry Potter: 7 Hits / 12 Misses
Marvel: 9 Hits / 9 Misses
LEGO Star Wars / ??? (Ace)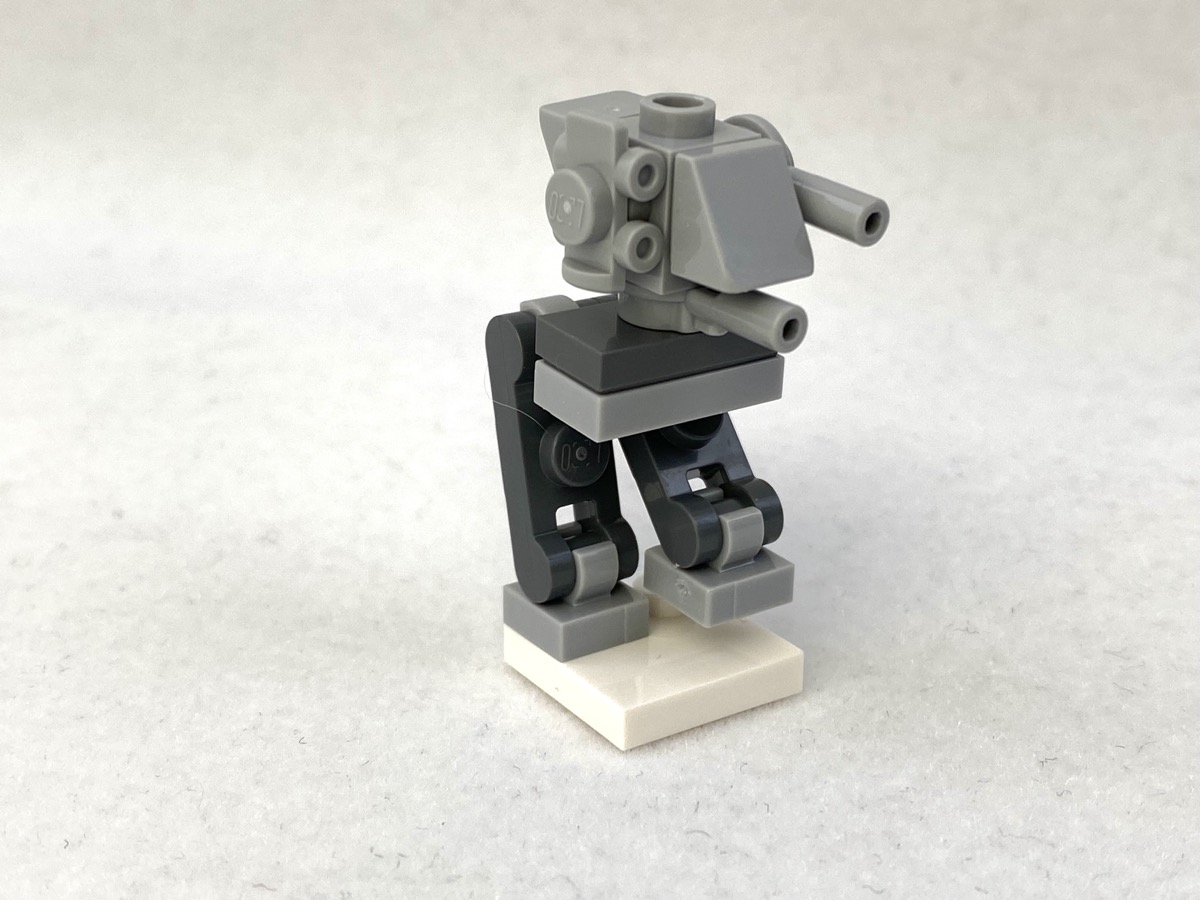 In the history of man, there are some things that should never have been done: the ALF television show, Jimmy Ray getting a recording contract, the sequel trilogy, and today's advent build of a micro AT-ST. I mean, it checks all the boxes: reverse bipedal legs, chin cannon, left ear cannon, right ear projectile launchers, top hatch. But just because it checks all the boxes doesn't mean it's a winner. It's like comparing a 1993 Geo Metro convertible to just about any other car to ever exist. That line from Jurassic Park comes to mind about trying to build the smallest AT-ST for this advent build: the designers were so preoccupied with whether or not they could that they didn't stop to think if they should.  The only good thing I can say about this is that despite how bad it is, there was one that was worse. Yes, the title for all time worst AT-ST model still belongs to the very first LEGO Star Wars AT-ST set, 7127 Imperial AT-ST. Now THAT thing was an eyesore.
LEGO Harry Potter  / Hot Sauces (Eric)
Quick recap here: I have 24 sample hot sauces. I down a tablespoon, then open and build the day. Oh, and I record it all.
Okay, every build from the Half-Blood Prince was a disappointment (even the couch guy, sadly). So – moving onto my second least favorite Harry Potter movie – Deathly Hallows Part 1! Let's hope this fares better.
WOW – does it! Today's build is everything I loved about the Knight Bus way back on Day 7 (in the pre-Carolina Reaper days). Instantly recognizeable, having some action to it, setting the scene, and using every piece of the space. The craziest bit – I don't even like the scene referenced here – but I adore this build!
An extremely strong start. I'm genuinely excited to see what tomorrow holds.
Unfortunately, the hot sauce du jour – OH MY GARLIC – was not only just a mouthful of wet garlic, but it's also messing with my stomach. I do not feel great writing this, 15 minutes after ingesting the sauce. It wasn't even hot. The most mild one yet.
LEGO Guardians of the Galaxy / Warhammer 40k Chibi (Nick)
I am Groot. I am Groot. I am Groot. I was going to keep that up for a bit, but honestly, it was going to get old after a bit. I could just go back and copy/paste the other ones I did before… this is only a "unique" minifigure to the set because it has an added neck bracket… and that's only for what's coming tomorrow.
I'm going to have some things to say about that fact then. For today, I'm not feeling charitable, for the exact same reasons I didn't give it to the other figures. They gave him a cloud to stand on but did nothing else. Couldn't even give him a holiday tile or something.
Our last founding Legion from the Heresy days, the Raven Guard, the 19th Legion (or XIX, because they were really into the Roman thing back then in the future). The boys in black are descended from Corvus Corax, who's very cleaver name is the Latin name for the common raven.
As a chapter, they are the masters of stealth, speed, eyeliner, and listening to a lot of Death Cab for Cutie while complaining that the Emperor just doesn't understand them. I mean, sure, the sulking and complaining was because the epic jerk that is the Emperor would sometimes do things like "teach the Primarch a lesson by having him slaughter thousands of his own loyal followers to save millions of others" or occasionally assassinate entire planets, you know, normal Emo stuff.
The Raven Guard were one of the loyalist Legions wiped out at Istvaan V, with their numbers decimated and forces broken. Unlike the Salamanders and Iron Guard, Corax survived (thanks to being sneaky and all), and managed to get off the planet with the remnants of his forces. Of course, he was desperate to rebuild them, and get back to fighting prowess to put a big hurt on his traitor brothers. A music change was in order, going from some Dashboard Confessional and more Nine Inch Nails for a time.
The Emperor used that to teach him another lesson, and allowed access to the same lab that was used to build the Space Marines and primarchs, letting Corax make new marines with the original "pure" genestock so he could get some revenge against Horus and the other traitors.
It… did not go well. Turns out making new marines is hard, that's why the Primarchs were created in the first place, and why the Emperor always uses the three step plan of 1) Make new soldiers 2) ??? 3) Genocide Old Soldiers. The project was corrupted by the Alpha Legion (the XX legion, basically the biggest evil Mary Sue there is in the lore – what's an evil Mary Sue called, anyway), so they became some big ole mutants in the end.
Instead, Corax ended up having to go to step 3, and rebuild his legion the slow way. That mean the Raven Guard became guerilla warriors in the galaxy-spanning war that dominated the galaxy, and didn't have a ton of big battles compared to the other Legions. After it ended, they were reorganized into Chapters, but there were too few to make them do much. Corax, for his part, went to the only logical step a little Emo boy could, and finished his genocide of his mutant sons, left a note that said "Nevermore" – then disappeared.
The Raven Guard are a legion in decline and have been so ever since. Several of the bonus organs for them no longer work or work right. So they have to be very selective in their recruitment. They've remained a fragmented force, and Corax has never reappeared. Presumably he's in a basement somewhere, waiting for that promised My Chemical Romance tour that was coming soon… maybe the 42nd millennium will finally be the one.
Check Out the Previous Days
FBTB's LEGO Advent Season of EXTRA Spam 2022: