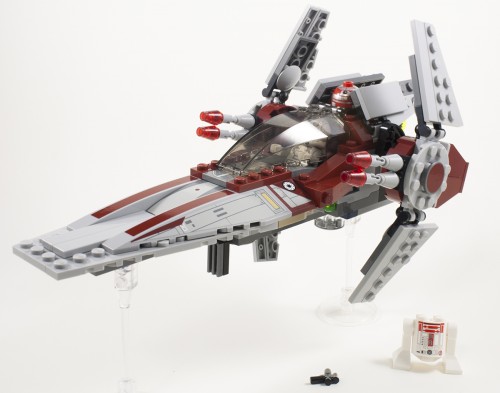 It's always strange that the Star Wars universe has a fixation on ships named after letters for an alphabet that doesn't exist (or didn't after someone introduced Lucas to post-production to remove all of those english words for Aurebesh). But I suppose Xesh-Wing doesn't really market as well as X-Wing does, and A Galaxy Far, Far Away is all about merchandising.
The V-Wing was an unremarkable fighter in a sea of unremarkable spaceships that littered the Prequel Trilogies. Sure, some of the larger stuff like the Venator had an interesting look that tied to the big stuff in the Original Trilogy, but for the most part, the ships were either not on screen long enough (ARC-170), too plain (Jedi Interceptors), or just kinda ugly (ARC-170 again). The V-Wing was an even worse case than either of the other ships, since it was basically just the wing-man to the bigger ship, and mostly it was there to get shot down at the start of Revenge of the Sith.
As a set, the V-Wing has been out once before in PT form, in 2006 as a $10 set that was notable for being a reasonable source of Clone Pilots and dark red Astromech heads. It was a different time back then, as there were… I don't know, maybe three astromechs in total, so a new head was a very big deal. Eight years later and we have a couple more than three (I'm not feeling ambitious enough to check) and a new astromech isn't all that spectacular anymore. Don't get me wrong, I still love them, but the days of me buying some awful Republic Cruiser set just to get an astromech in green are over (well, mostly… stupid Sandcrawler). There was an "Imperial" version in 2010 that was kind of like a fusion between the original and this one, just with more black, Imperials only build in black. Or sometimes very dark gray. I know I bought that set, but have no idea where it is, and know that it was never very popular, so I'm going to stick to reviewing the PT versions of this set.
2014's V-Wing is an entry into the "yet another $25 set" lineup that dominates Star Wars stuff this year. We've already reviewed the Jedi Interceptor and have upcoming reviews for the Wheelbike and Vulture Fighter, all at the same price point. This set comes in at 201 parts, which seems a bit on the light side, at least compared to the Interceptor, but is a bit more visually striking than the yellow monster. I liked the old set, simple as it was, because, at the time, it was an easy way to get pilots, wing wedges, and a few other parts that I didn't have a whole lot of. These days, though, most of what came in the old one are absolute weeds in sets that I've got more than enough of, which leaves me somewhat curious if this new set, at more than double the price, can really wow me enough to buy as many new V-Wings as I did the old ones…