I thought the Gallimimus were the small dinosaurs that ate the little girl at the beginning of The Lost World: Jurassic Park, but I am wrong. Those little suckers were Compsognathus. The Gallimimus were the ones that almost ran over Dr. Grant and the two kids from the first movie.
Sponsorship
This week's set of polybag reviews is sponsored by The LEGO Group which sent me Monday's set, 30562 Monkie Kid's Underwater Journey, to promote their current promotion. You can get 30562 Monkie Kid's Underwater Journey for free with a $40 purchase of any combination of LEGO Monkie Kid or LEGO NINJAGO sets. The offer expires on 1/27 while supplies last. If you click on any of the links in this post that to take you to LEGO.com and make a purchase, we'll get a few pennies that go towards my paying off my car. As always, we thank you for your support.
Want to sponsor a review? Send a pic to admin@fbtb.net or hit me up on discord of the polybag set you have that you want me to review. If selected, in exchange for the set you'll get a mention right here in the review post and a link to your website or social media account for the entire week. Nearly free advertising, so what's stopping you? And now onto the review.
That first movie is always enjoyable to watch and that scene was always one of the more memorable ones. It's a great piece of CG mixed with live action.
Anyways, we're not here to talk about that, we're here to talk about 30320 Gallimimus Trap, a set under the Jurassic World license. It says so right on the bag. There's no minifig in this set, instead the star of the show is the Gallimimus one-piece dinosaur. It's made from a hard rubber material instead of the usual ABS that we're used to in this hobby. I am not a fan personally. LEGO has their reasons why they went with rubber instead of plastic (probably financially-driven), but it is a poor choice of material. I've had other toys that had a similar feel like the Gallimimus and over time and exposure to dust, they become tacky, sticky, and downright gross. And did I mention nearly impossible to clean? The set I'm reviewing was not exposed to those elements and was freshly opened for this review, but even now I can sort of feel a very, very slight tackiness to it. It does not bode well. It could be that I'm being overly pessimistic and that the materials used for this run of dinosaurs won't experience that kind of deterioration. Even so, I'm willing to bet that that it will not hold up as well as other ABS elements.
Gallimimus has a pair of hooked hands that kind of look like it would be able to hold a bar element. Unfortunately they do not, the grip is just strong enough to lightly grasp onto it but the arc of the hands does not provide enough coverage for a bar to snap into. There's also a stud on the back of the dino, but I wouldn't count on it being strong enough for whatever battle suit you want to concoct for it.
The feet can anchor down anywhere on a base plate. Only the front foot has the proper geometry to fit around a stud snugly though. The rear foot is a little more open and can't really be locked down. The toes on both feet are shaped in such a way to fit over and around a stud to provide a little more stability and it needs it! Attaching Gallimimus gave no satisfactory click like you would expect with ABS, and I really had to press down on both feet to get it somewhat secure. Even then, it felt loose like there was very little clutch power.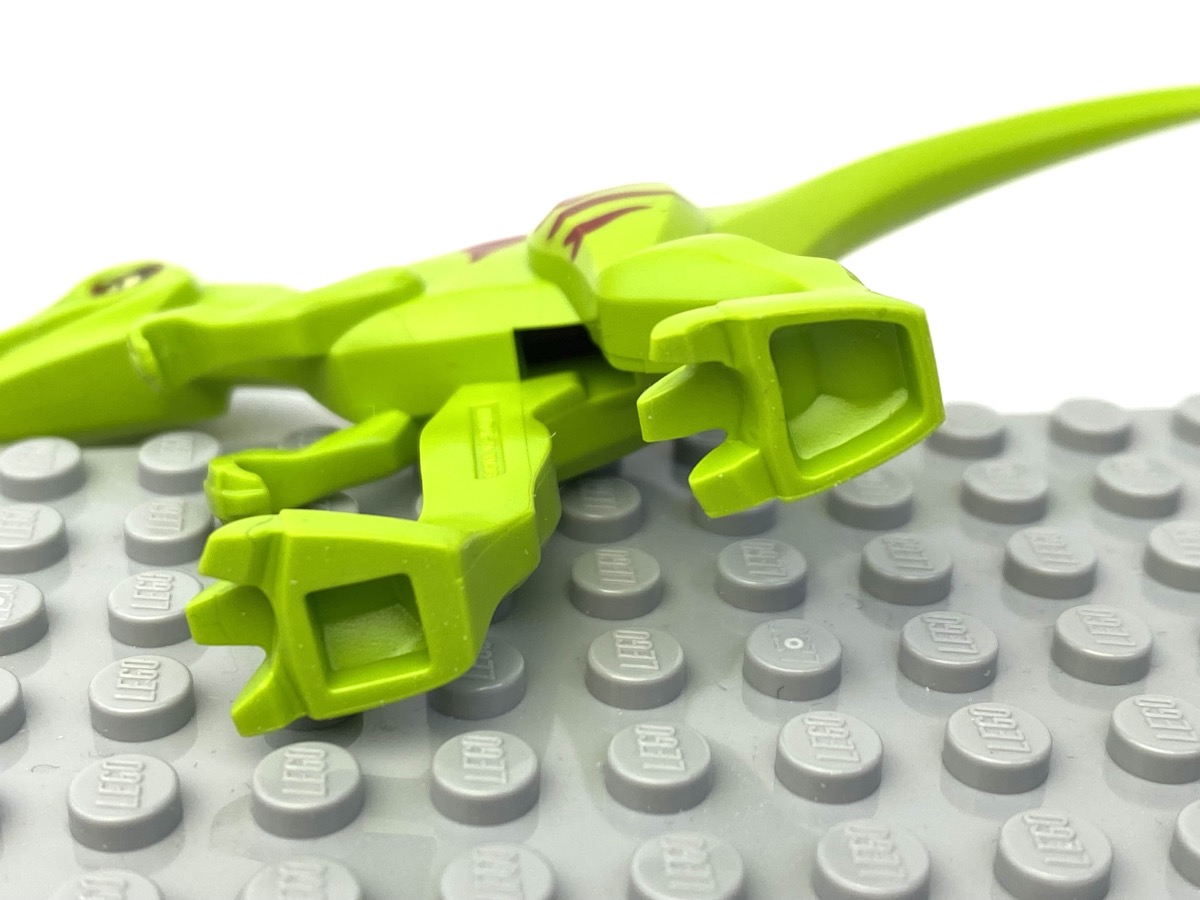 The trap itself is pretty effective. Prop up the trap and all it needs is a slight nudge for it to spring.
The arms, connected together by a chain element, swing down via gravity trapping the Gallimimus that was lured in by the turkey leg. It's simple, effective and it works without issue.
Does It Suck or Does It Rock?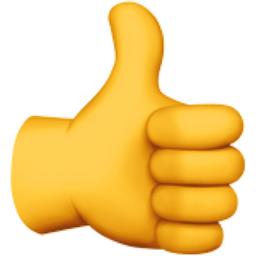 This set rocks! That being said this is one of those middle-of-the-road kind of sets where my final rating would have been dead center, but I'm not rating polybags the same way. It's all or nothing and for this set, it does execute what the title of the set describes, "Gallimimus Trap". The choice of material for the Gallimimus is questionable in the long term. Short term however, I could see a Jurassic Park fan picking up a bunch of these to create their own dinosaur swarm to stampede into their modular building layout or, I dunno, try and run over a paleontologist and a pair of pesky pre-teen minifigs. Plus I like dinosaurs so thumbs up it is, but just barely.
You Can Win This And Every Other Polybag I Review This Year
I'll be raffling every polybag I review this year in one big lot, all 260 sets (with the possibility of more). Each set will be individually stored in a ziploc baggie complete with the extra pieces, instructions, and the actual polybag bag it came in. The cost of a raffle ticket is just $1 USD and you can enter as many times as you want. Send a PayPal payment to paypal@fbtb.net for $1 USD for every ticket you want to purchase. DO NOT send one payment for multiple entries i.e. do not send one $5 USD payment for five tickets; five $1 USD payments must be made instead. Raffle is open to everyone in the world except where raffles are illegal. Be sure to put "POLYBAG RAFFLE" in the notes section of the payment in order to be entered successfully. Winner will be drawn sometime early January 2023 and contacted at the PayPal email address the payment was sent from to arrange for delivery. For a running list of all the sets that you can win, check this Google spreadsheet.