I've mentioned on more than one occasion that I've been patiently waiting for information on the LEGO Ideas Voltron set. That day has finally come. The embargo for the LEGO Ideas Voltron set (set number 21311 and #22 in the Ideas line) is lifted and it is just spectacular!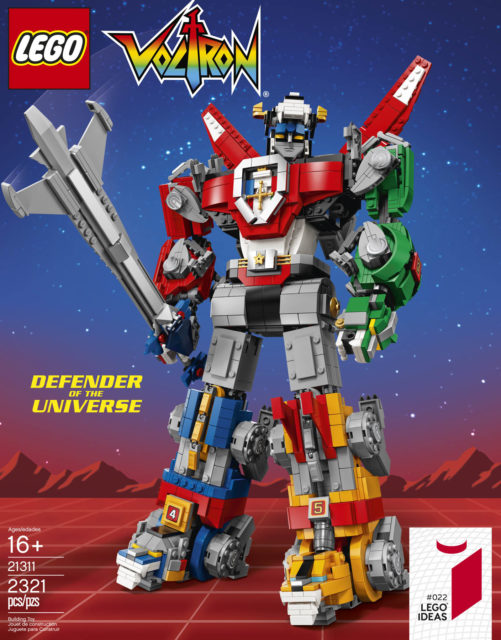 Now, I may not be the biggest Voltron fan. I never saw the original show and I've only occasionally watched the current Netflix series whenever I happen to catch it while the kids are watching, but I cannot deny the appeal this set has for me. My son is a big a Voltron fan, so much so that at the age of five, he worked a lot of chores diligently to earn all five the legendary-class Voltron toys by Playmates. This is going to completely blow his mind.
Some Observations
There are no minifigs. No pilots, no nothing. Trophy figs would have been perfect for these guys.
No minifigs in this pack doesn't dismiss the possibility that some future sets could come from this license. We've seen the same thing happen before with Ghostbusters, Back to the Future, and Minecraft.
Like I said, my son has the Playmates toys. The one cool thing about the Playmates lions was that the lions' feet were able to tuck away and be hidden. The LEGO versions don't do that and it is most noticeable on the arms.
The front paws of the leg lions are used as the heels, just like the regular toy.
The LEGO version comes with a sword and shield, something the Playmates toys lacks.
Really the only negative thing I can say about LEGO Ideas Voltron is the lack of figures. There is so much in this, it is ridiculous. You can buy it ahead of the August 1st release date at San Diego Comic Con. I never bought a LEGO set from the Con before but this one might make me do just that.
All Of The Pictures
LEGO Ideas 21311 Voltron Official Press Release
21311 – LEGO Ideas Voltron
2321 pieces | Ages 16+
Price: $179.99
Available August 1, 2018.
**Limited quantities will be available for purchase first for attendees at San Diego's Comic-Con (7/17-22)
Let's go Voltron force in LEGO® style!
It's time to defend the universe so get ready to form LEGO® Ideas 21311 Voltron, the biggest buildable LEGO mech ever! This awesome set features buildable and highly posable black, blue, yellow, red and green lions with specially designed, extra-strong joints to combine them all and create the Voltron super robot, plus a huge sword and shield that attach firmly to Voltron's hands. Ideal for display or to recreate thrilling action from the original 1980s animated Voltron TV series and the modern DreamWorks Voltron: Legendary Defender series.
Features 5 buildable and posable lions that can be transformed and combined to create the giant Voltron super robot.
Play with the lions individually or combine them using extra-strong joints to form Voltron—the black lion forms the head and torso; the red and green lions form the arms; and the yellow and blue lions form the legs.
Pose the head, shoulders, arms and wrists of Voltron (legs are not posable).
Also includes a sword and shield (each with silver-colored elements) that attach firmly to Voltron's hands.
Includes a booklet with building instructions, plus information about the set's fan creator and super force of LEGO® designers.
This set includes over 2,321 pieces.
Display or play out exciting stories from the original 1980s animated Voltron TV series and the modern DreamWorks Voltron: Legendary Defender series.
Voltron measures over 15" (40cm) high, 5" (14cm) long and 8" (21cm) wide.
Black lion measures over 6" (17cm) high, 8" (22cm) long and 5" (15cm) wide.
Yellow and blue lions each measure over 3" (8cm) high, 8" (21cm) long and 3" (8cm) wide.
Green and red lions each measure over 3" (8cm) high, 7" (18cm) long and 1" (5cm) wide.
Voltron's sword measures 11" (29c) long.
Voltron's shield measures 6" (16cm) in diameter.
LEGO VIP Early Access: Jul 23, 2018.