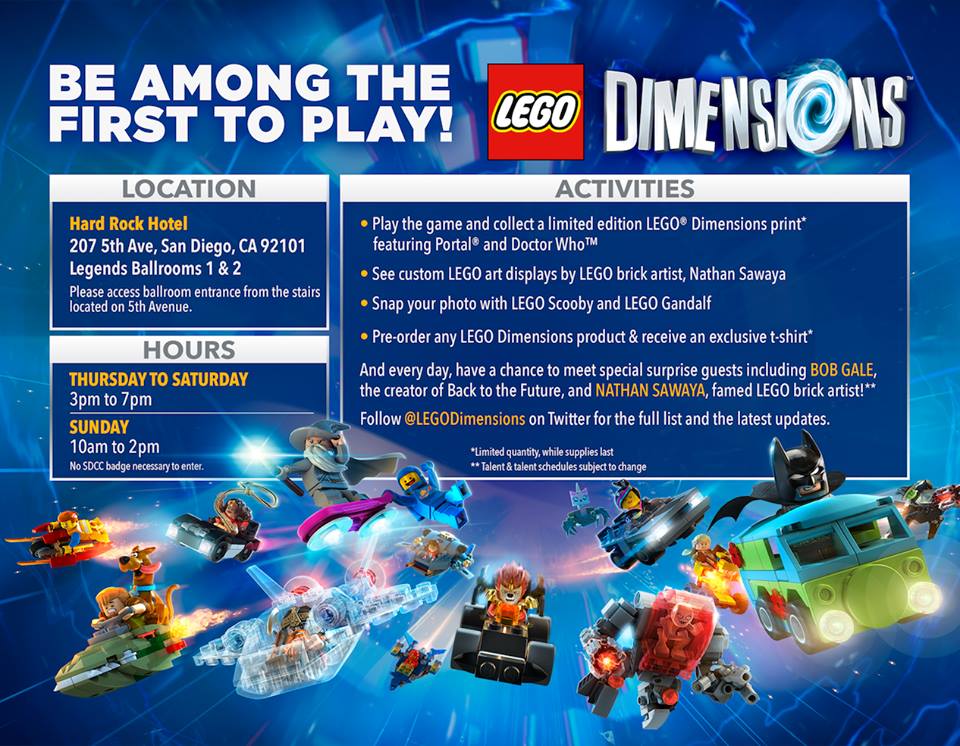 If you're going to be in the downtown San Diego area this week, and if you're going to Comic Con there's no reason why you shouldn't be, WBIE will have playable demos of LEGO Dimensions starting Thursday through Saturday from 3pm to 7pm and Sunday from 10am to 2pm at the Hard Rock Hotel located just across the street from the convention center on the corner of 5th and L street at 207 5th Ave, San Diego, CA 92101. This is the first time the public will be able to try LEGO Dimensions. This is also the first time they are showing off the Doctor Who level. You don't need a convention badge to try the demo but you'd be hardpressed trying to find parking in the area. The demo will be held upstairs th Legends Ballrooms 1 and 2. Free swag (art print featuring Doctor Who and Portal) for trying it out and even more free swag (t-shirt) if you pre-order from the GameStop kiosk while you're there. Free swag is limited while supplies last.
Not only that, but there will be special guests and photo ops planned for all four days:
– Thursday, July 9th, 4 – 5 pm: Autograph signing with Bob Gale, Co-Writer, Back to the Future
– Friday, July 10th, 4 – 5 pm: Autograph signing with Nathan Sawaya, The Brick Artist
– Saturday, July 11th, 3 – 7pm: Scooby Doo Photo Op
– Saturday, July 11th, 4 – 5pm: Autograph signing with LEGO Dimensions voice actors, including Troy Baker (voice of Batman), Laura Bailey (voice of Wonder Woman) and Travis Willingham (voice of Superman and Lex Luthor)
– Sunday, July 12th, 10 – 2 pm: Scooby Doo Photo Op
Hopefully they'll have the Portal level there to try out.