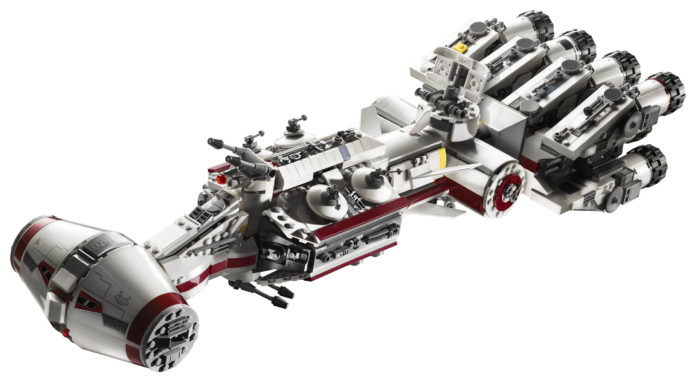 At Star Wars Celebration yesterday, LEGO pulled the wraps off of a, airquotes, new set, 75244 Tantive IV. I use the airquotes because it's not really new if you're not into rehashes. But if you weren't around for the original and wanted one of those, then this is most certainly welcome news. The original Tantive IV set, 10198, was released 10 years ago in 2009 for $149.99. This new one will set you back $199.99.
One of the more interesting features of this release is the inclusion of both legs and a short skirt slope element for Princess Leia. Other than that, it appears to take the same playset-within-a-ship approach to its design as the original, which I really liked at the time.
This is going to be LEGO's main event for the unofficial Star Wars holiday, May the 4th. Expect a promotion to be tied to its purchase like in year's past. It's official release date is May 3rd 'cause that's when Disney wants you to start buying all their merch.
Pictures, video, and official product description is below.
75244 Tantive IV Official Pictures

75244 Tantive IV 360° Video
75244 Tantive IV Product Description
75244 Tantive IV
Ages 12+. 1768 pieces
US $199.99 – CA $269.99 – DE €199.99 – UK £179.99 – FR €219.99 – DK 1799DKK
*Euro pricing varies by country. Please visit shop.LEGO.com for regional pricing.
Own an iconic Rebel blockade runner—Tantive IV!
Build, play and display a legendary Star WarsTM starship! This LEGO® Star Wars 75244 interpretation of Tantive IV, seen fleeing from an Imperial Star Destroyer in the opening moments of Star Wars: A New Hope, faithfully recreates all of the Rebel cruiser's signature details, including an elongated hull, detachable escape pods, elevating gun turrets, cargo hold and 11 massive engines at the back. Remove the hull plating of this fantastic LEGO Star Wars vehicle to reveal a detailed 2-minifigure cockpit, conference area with table, weapon rack and a control console with 2 seats. The radar dish also doubles as a convenient carry handle, which makes it perfect for flying around the room. When the mission is over, this amazing kids' buildable toy also makes a great centerpiece for any LEGO Star Wars collection. The set also includes 5 minifigures and an R2-D2 droid LEGO figure.
Includes 5 LEGO® Star WarsTM minifigures: Bail Organa, Princess Leia, Captain Antilles, C-3PO and a Rebel Fleet Trooper, plus an R2-D2 droid LEGO figure.
Tantive IV LEGO® Star WarsTM construction toy features a radar that doubles as a carry handle, 2 detachable escape pods with space for a minifigure inside, opening cargo hold and removable cargo box, opening 2- minifigure cockpit, rotating and elevating stud-shooting turrets on top and 2 spring-loaded shooters underneath. The top hull detaches to reveal a detailed interior including a conference table, weapon rack and a control console with 2 seats for the minifigures.
Weapons include a blaster pistol and 3 blasters.
Also includes a pair of electrobinoculars.
Captain Antilles minifigure is an updated version from 2009, while Princess Leia's skirt and Bail Organa are new for April 2019.
This highly detailed building toy construction set includes over 1,750 pieces.
Recreate amazing moments from the opening scene of Star Wars: A New Hope or play out your own exciting adventures!
LEGO® Star WarsTM starship measures over 5" (14cm) high, 24" (62cm) long and 7" (19cm) wide.