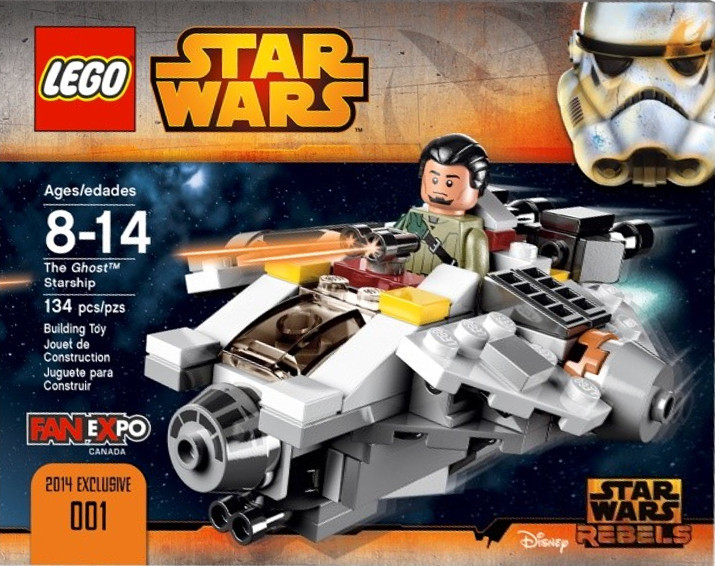 Huw over at Brickset let it drop that Fan Expo Canada, what I can only assume is like SDCC only smelling more like maple syrup and ham (I promise that's the only Canada joke for at least the duration of this sentence), is offering an exclusive LEGO set this year, a microfighter / chibi version of The Ghost.
Yeah, my first impression is the same as what I had for the SDCC version: isn't this Hera's ship? Why isn't she included in the thing? Also, that I'm less than impressed. No details yet on numbers or pricing, but as we find out, we'll let you know. As a bonus, though, for the many of us that don't live anywhere near this, or aren't allowed in Canada for reasons that are best left unsaid… they are offering a Twitter giveaway contest to win one of them!
One note… read the rules. You have to follow them AND retweet the message.
Full details from the blurb from the Expo:
"For LEGO, the event is about the fans – it's an opportunity to engage with builders of all ages and offer a fun interactive experience that is unlike any other in Canada. Because YOU are some of the most loyal fans of LEGO, we are offering an advance sneak peak of the FIRST EVER LEGO FAN EXPO Canada Exclusive. This limited edition LEGO STAR WARS Rebels set features The Ghost Starship with Kanan Jarrus Minifigure from the upcoming STAR WARS Rebels TV series.

"The set is ONLY available at the LEGO Booth #748 between Thursday, August 28 to Sunday, August 31, 2014, while quantities last. Tickets will be distributed at the booth on a first come, first serve basis when the show floor opens to the public. Quantities will be limited per day and only one LEGO FAN EXPO Canada Exclusive per customer per day. A valid ticket will be required for purchase.

"For a chance to win one before the show, please check out the contest page for more details!"