LEGO put out some more official information for the first few sets from the LEGO Nintendo partnership. More pictures and details for the first set, 71360 Adventures with Mario Starter Course, were released as well as a sneak peek into the next two DLC Expansion Sets. Here's what we've learned today. But first, a video!
The video reveals a lot. First up, it shows just how small the Starter Course is. This is the base set with no expansions. LEGO is asking for $59.99 for 231 pieces. I know. It's approaching Duplo pricing. Obviously a HUGE part of the cost is the Mario figure. Once you wrap your head around that, it doesn't seem so bad. Or maybe it does. I don't know; I'm still trying to process.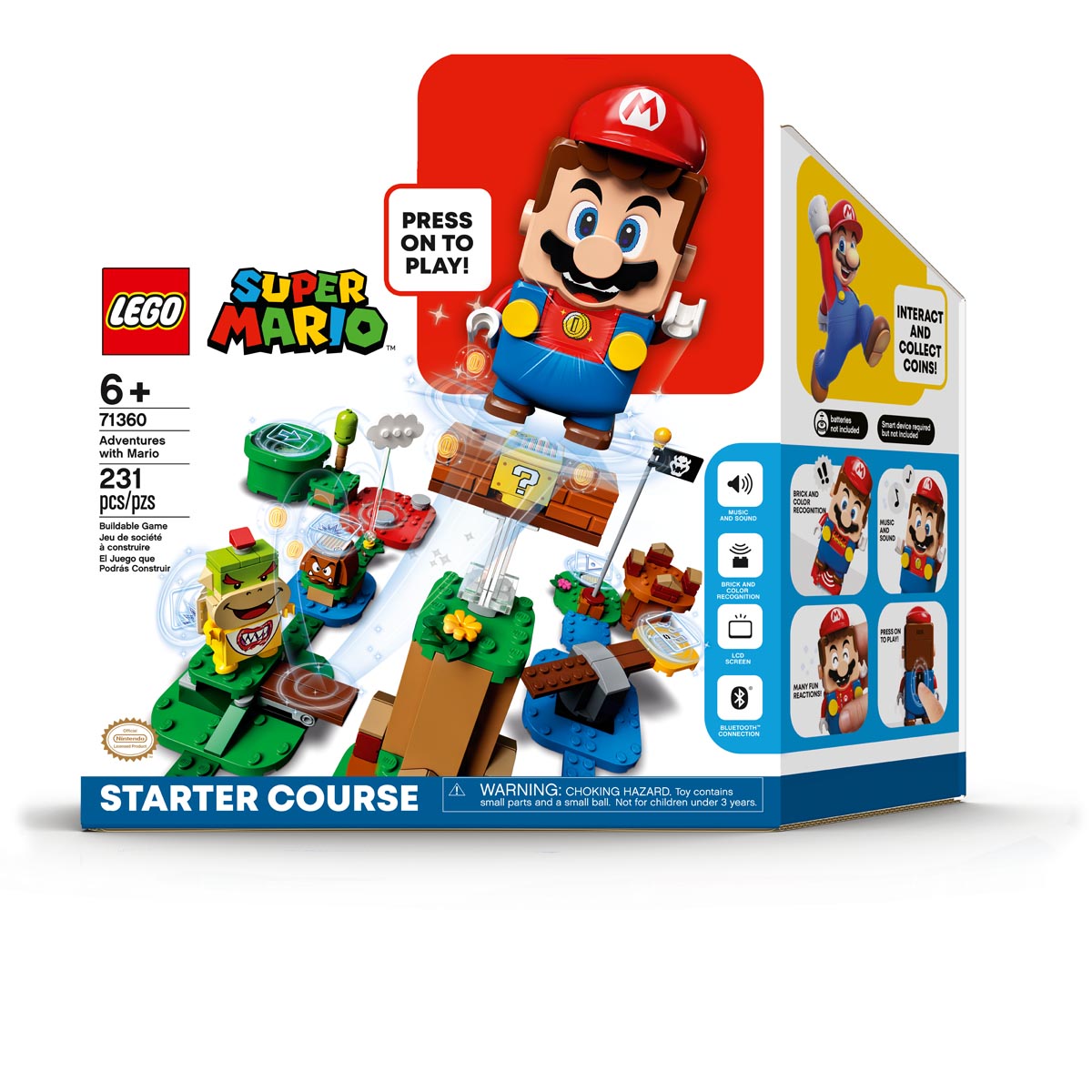 From the initial reveal of the LEGO Nintendo partnership, we discovered the Super Mario brick had a camera, a speaker, Bluetooth connectivity, and a LCD screens for his eyes, mouth, and chest piece. Today, we also learned from this video that the brick also has an accelerometer and a gyroscope. Both of those may explain the eye movements. It takes 2x AAA batteries to power up Mario, and batteries are not included.
The press release also details that there will be a companion app available and, by the sounds of it, will not be required:
Fans will also love the free LEGO® Super Mario™ app by the LEGO Group, a supporting feature to further enhance the physical play experience. It keeps track of scores to encourage continuous rebuilding, as well as it provides digital building instructions with zoom and rotate viewing tools to make building easier, suggests other creative ways to build and play, and is a safe forum to share ideas with friends.
"Supporting feature to further enhance the physical play experience."
There are two expansions also revealed in the video: 71365 Piranha Plant Power Slide and 71369 Bowser's Castle Boss Battle. The Piranha Plant Power Slide includes two Piranha Plants, a Goomba, and a Koopa Troopa and will cost $29.99 USD. Bowser's Castle Boss Battle includes Bowser, a Dry Bones, a Boo, and a Lava Bubble and will cost $99.99 USD.
I don't think the Starter Course costing $59.99 is an accident. Sixty bucks is pretty much the going price for any game from a major publisher. And I'd bet two whole cents that was the reason why they came to this price point for the starter set: they wanted to make the entry point familiar and affordable. It's hard to gauge how much actual play value is in this set. Compared to a video game that can offer hours and hours of play time, there are no details on the companion app, how to play, objectives, or goals, or anything else. All we've seen so far are kids moving Mario around the board. But since the medium is LEGO, one can argue you'd get an infinite amount of playtime from the just the medium itself.
I'm still on the fence as to how I feel about this. I want to like it, but so far I'm not that impressed. I'm probably in the minority because the Super Mario Starter Course bundle that LEGO offered seems to be sold out now. The bundle costed $59.99, included 71360 Adventures with Mario Starter Course, and threw in a bonus DLC of Monty Mole & Super Mushroom Expansion Set (pictured above) for free.
All of the LEGO Super Mario sets are scheduled to release on August 1st.
All The Pictures