I really should open up my starter pack. Because today's polybag, 30385 Super Mushroom Surprise, really feels incomplete without it.
I've reviewed one other Super Mario polybag before this, 30389 Fuzzy & Mushroom Platform, and I'm running into the same issues now as I did then. The polybag doesn't really do much by itself. You need any one of the three interactive characters to really do anything. It even says so on the bag. But as a slice-o'-life / DLC set, it looks like it would fit right in with the starter course or any other larger, non-starter sets.
The question mark blocks in the game were always a mystery the first time you come across them. Will it have a coin? Will it have a super mushroom? A star? Mysteries abound! But with the mushroom, literally right there next to it, what do the bar codes do exactly?
I assume the one on the mushroom gives you the power-up to grow and gain 1 hp. But if that's what the mushroom does what does the bar code on the question mark block do? Unlock the mushroom? Do you scan the block and then that allows you to scan the mushroom?
Again, I sound like a broken record, but I really should open up that starter pack.
Does It Suck or Does It Rock?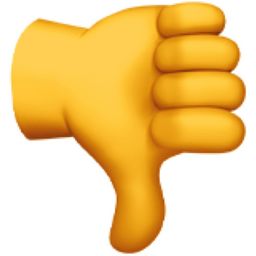 This set sucks! To be fair, my ignorance of how the core functionality of the entire theme should not factor into the final rating. Unfortunately it does though because I see this as a LEGO product first and foremost and I consider the game portion of it secondary. It's like reviewing any of the LEGO video games as a LEGO product instead of a video game. And with that approach, the set by itself isn't anything exciting. But it does have one advantage over 30389 Fuzzy & Mushroom Platform in that by itself, it doesn't look terrible. The power-up mushroom and question mark block are some of the biggest icons from the original Super Mario Bros. game, more so than Fuzzy and the platform. But unfortunately, it's not enough to flip the thumb right side up.
Sponsorship
There's no sponsor this week, and with sponsorships lasting a whole week, you can get plenty of exposure for mere pennies. Pennies I say! Want to sponsor a review? Send me a message to admin@fbtb.net or hit me up on discord of the polybag set you have that you want me to review. If selected, in exchange for the set you'll get a mention right here in the review post and a link to your website or social media account or just about anything else.. Nearly free advertising, so what's stopping you?
You Can Win This And Every Other Polybag I Review This Year
I'll be raffling every polybag I review this year in one big lot, all 260 sets (with the possibility of more). Each set will be individually stored in a ziploc baggie complete with the extra pieces, instructions, and the actual polybag bag it came in. The cost of a raffle ticket is just $1 USD and you can enter as many times as you want. Send a PayPal payment to paypal@fbtb.net for $1 USD for every ticket you want to purchase. DO NOT send one payment for multiple entries i.e. do not send one $5 USD payment for five tickets; five $1 USD payments must be made instead. Raffle is open to everyone in the world except where raffles are illegal. Be sure to put "POLYBAG RAFFLE" in the notes section of the payment in order to be entered successfully. Winner will be drawn sometime early January 2023 and contacted at the PayPal email address the payment was sent from to arrange for delivery. For a running list of all the sets that you can win, check this Google spreadsheet.