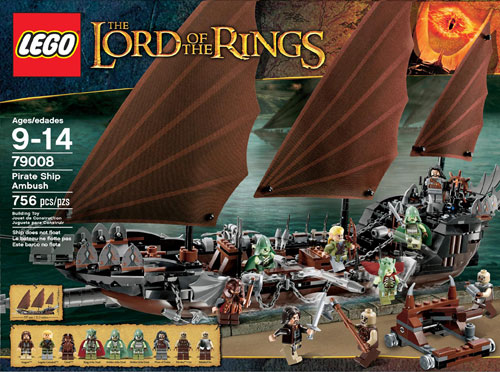 Toys'R'Us isn't the only place in town having a BOGO 40% off sale select LEGO themes. Seems like Amazon wants a piece of the action is offering up their own BOGO 40% off sale
. Selection seems to be limited to some Super Heroes, Star Wars, and some Lord of the Rings/Hobbit sets.
Just like the last time this sale came up, the prices are good on the already discounted price. The best deal is once again 79008 Pirate Ship Ambush
. It is currently marked down 19% to $81.22. If you purchase two of them, your total discount is -$32.49 dropping the price down to $129.95, making each set cost just under $65 before any tax.
One other item of note is 6860 The Batcave
. Though only showing a modest 4% discount, it has been discontinued and is gone from LEGO Shop@Home's site so if you've procrastinated on this one, now would be a good time to pick up a copy or two. 6860 Batcave comes with Bane, Poison Ivy, Robin, Batman, and Bruce Wayne.
Update: Seems I was somehow dialed into the UK version of the Shop@Home site. 6860 The Batcave is still available from the US Shop@Home site. My apologies for the confusion.
Discount will be reflected on the final page of the ordering process.