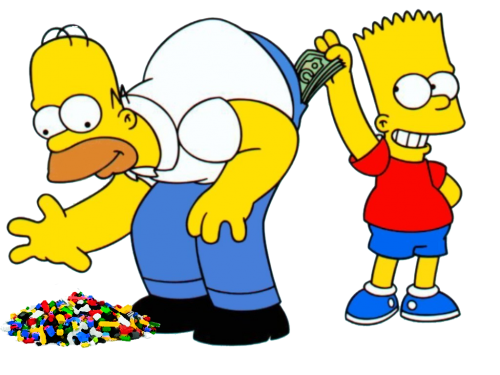 UK-based geek site Nerdly is reporting that a LEGO Simpsons tv show is in the works a la The Yoda Chronicles. They are also confirming that a Simpsons House set will be available as a D2C set in April of 2014 accompanied by a blind bag Collectible Minifigure range with 16 minifigs in May of 2014.
While a LEGO Simpsons television special seems like an bizarre mash up and unlikely to happen just because of its strange and accelerated nature, Bleeding Cool has reported that The Simpsons director David Silverman has more or less confirmed the project via the following tweet:
Okay, NOW I can tweet about the upcoming Simpsons Lego Show! http://t.co/mDiVO04tC1

— David Silverman (@tubatron) September 17, 2013
LEGO has had the Star Wars license for 14 years before The Yoda Chronicles became a reality. LEGO Simpsons is coming out of the gate with all cylinders firing: D2C product, CMF line, most likely other sets, and a television special all in its first year. It seems like LEGO is putting a lot of effort and resources into the Simpsons. It remains to be seen how long the terms of the license are.
via Bleeding Cool via Nerdly