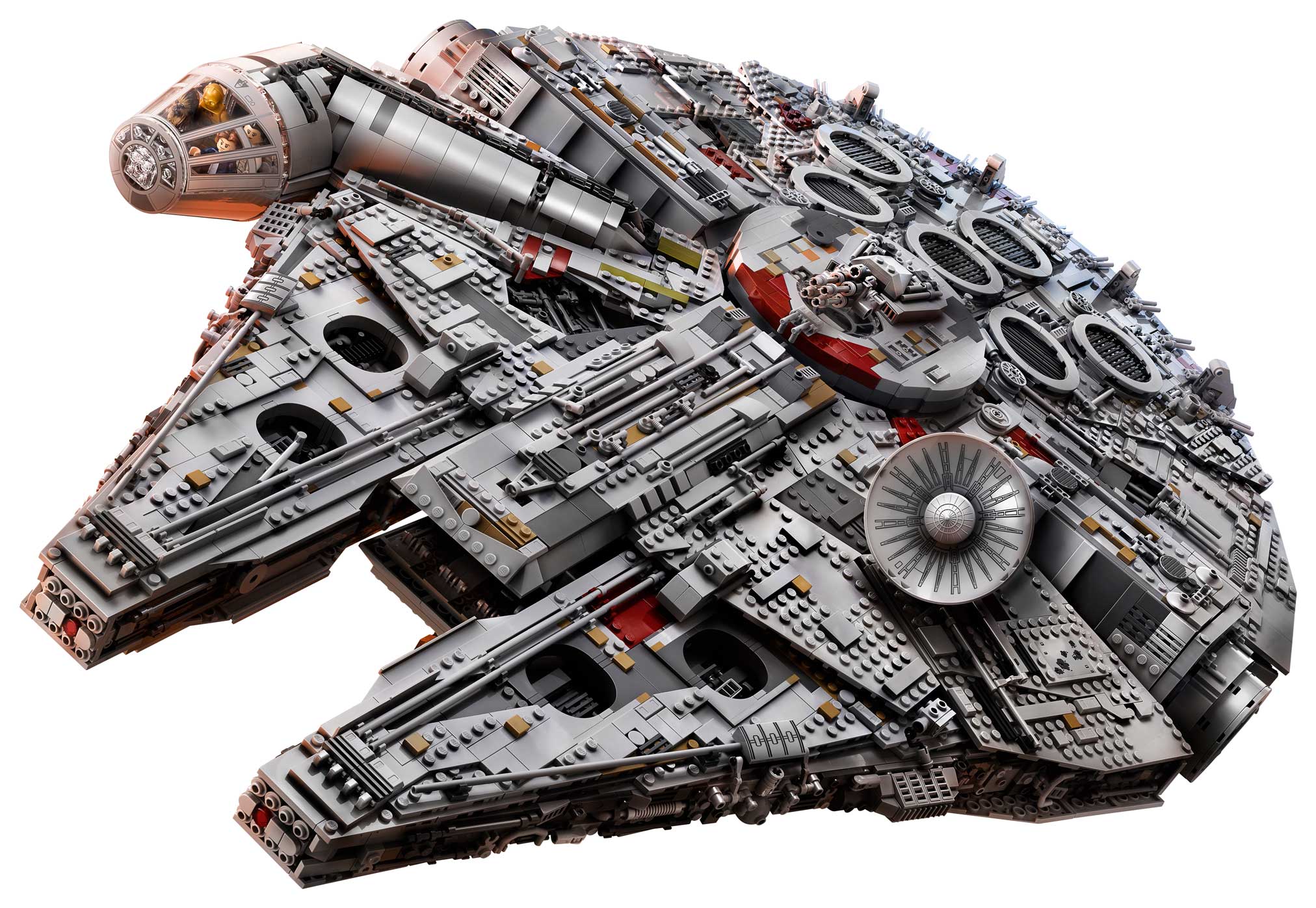 For weeks, LEGO was teasing their worst-kept secret on their twitter account and today is the day that the set is finally revealed: the re-release of the most iconic LEGO Star Wars set ever made, the Millennium Falcon. It features about 50% more pieces than the original 10179 set (7,541 pieces to be exact), costs 60% more ($799.99 MSRP), and comes in box that will require it's own set of wheels to transport. The set will come out on 10/1 but look for VIP access starting around 9/14. Look for our review sometime way after that since it doesn't seem like we get samples anymore.
Couple of obsevaations:
– Eight hundred bucks! I guess I don't have to eat…
– This is officially the most expensive retail price for a LEGO set, also the largest.
– New cockpit piece!
– You can choose between Episode V and Episode VII versions of the Falcon, with matching minifigs and creatures. Of course, this means you'll have to buy two to display both versions.
– No certificate like the first version had.
As usual, the massive set of images, designer video, and official press release are below the fold.
75192 Millennium Falconâ"¢

Ages 16+. 7,541 pieces.

US $799.99 – CA $899.99 – DE 799.99€ – UK £649.99 – DK 6999.00 DKK

*Euro pricing varies by country. Please visit shop.LEGO.com for regional pricing.

Travel the LEGO® galaxy in the ultimate Millennium Falcon!

Welcome to the largest, most detailed LEGO® Star Wars Millennium Falcon model we've ever created—in fact, with over 7,500 pieces it is the biggest LEGO model ever sold! This amazing LEGO interpretation of Han Solo's unforgettable Corellian freighter has all the details that Star Wars fans of any age could wish for, including intricate exterior detailing, upper and lower quad laser cannons, landing legs, lowering boarding ramp and a 4-minifigure cockpit with detachable canopy. Remove individual hull plates to reveal the highly detailed main hold, rear compartment and gunnery station. This amazing model also features interchangeable sensor dishes and crew, so you decide whether to play out classic LEGO Star Wars adventures with Han, Leia, Chewbacca and C-3PO, or enter the world of Episode VII and VIII with older Han, Rey, Finn and BB-8!
• Includes 4 classic crew minifigures: Han Solo, Chewbacca, Princess Leia and C-3PO.
• Also includes 3 Episode VII/VIII crew minifigures: Older Han Solo, Rey and Finn.
• Figures include a BB-8 droid, 2 buildable Porgs and a buildable Mynock.
• Exterior features include intricately detailed and removable hull panels, a lowering boarding ramp, concealed blaster cannon, 4-minifigure cockpit with detachable canopy, interchangeable round/rectangular sensor dishes, upper and lower quad laser cannons, and 7 landing legs.
• Main hold features a seating area, Dejarik holographic game, combat remote training helmet, engineering station with turning minifigure seat and a doorway build with passageway decoration.
• Rear compartment features the engine room with hyperdrive and console, 2 doorways, hidden floor compartment, 2 escape pod hatches, engineering console and an access ladder to the gunnery station.
• Gunnery station features a minifigure gunner's seat and detachable hull panel with fully rotating quad laser cannon. An additional quad laser cannon is also mounted on the underside.
• Also includes an informational fact plaque.
• Features a new cockpit canopy element.
• Classic crew weapons include Han's blaster pistol and Chewbacca's stud-firing bowcaster.
• Episode VII/VIII crew weapons include Han's blaster, Rey's small silver blaster and Finn's medium blaster rifle.
• Change out the features and crew characters to switch between classic and Episode VII/VIII versions of the Millennium Falcon!
• Open individual hull panels to access the detailed interior while retaining the overall exterior appearance.
• Slide the panel to reveal the concealed blaster cannon.
• Turn classic Leia's and Han's head to reveal their breathing mask decoration.
• Makes the perfect intergalactic toy or flagship display model.
• Measures over 8" (21cm) high, 33" (84cm) long and 22" (56cm) wide.

Available for sale directly through LEGO® beginning
October 1, 2017 via shop.LEGO.com, LEGO® Stores or via phone:
US Contact Center 1-800-453-4652
CA (English) Contact Center 1-800-453-4652
CA (French) Contact Center 1-877-518-5346
European Contact Center 00-800-5346-1111

LEGO, the LEGO logo and the Minifigure are trademarks of the LEGO Group. ©2017 The LEGO Group. All rights reserved. All rights reserved. Star Wars and all characters, names and related indicia are © & ™ Lucasfilm Ltd.