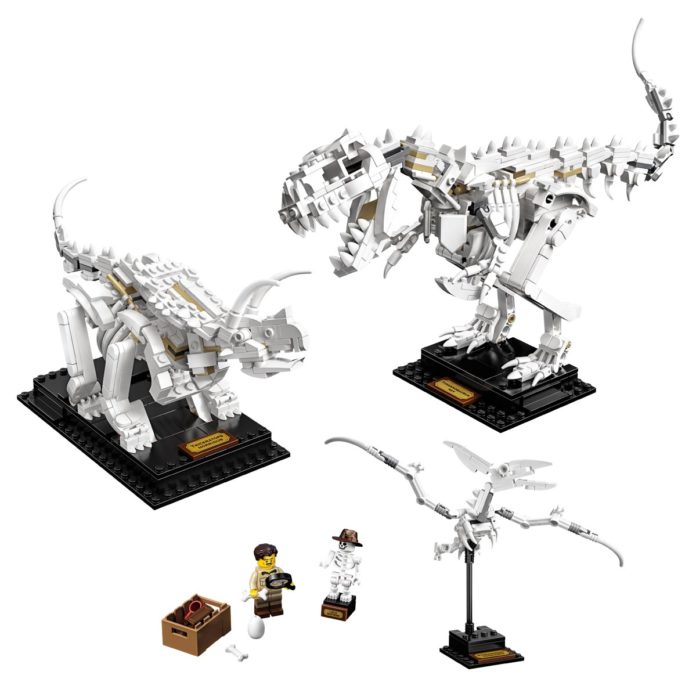 LEGO Ideas is pulling the wraps off of its latest approved project, 21320 Fossils. The original project reached the required 10k supporters in October of last year, qualifying it for the Third 2018 Review. That review cycle concluded of May of this year and here we are, seeing the first images of the official set.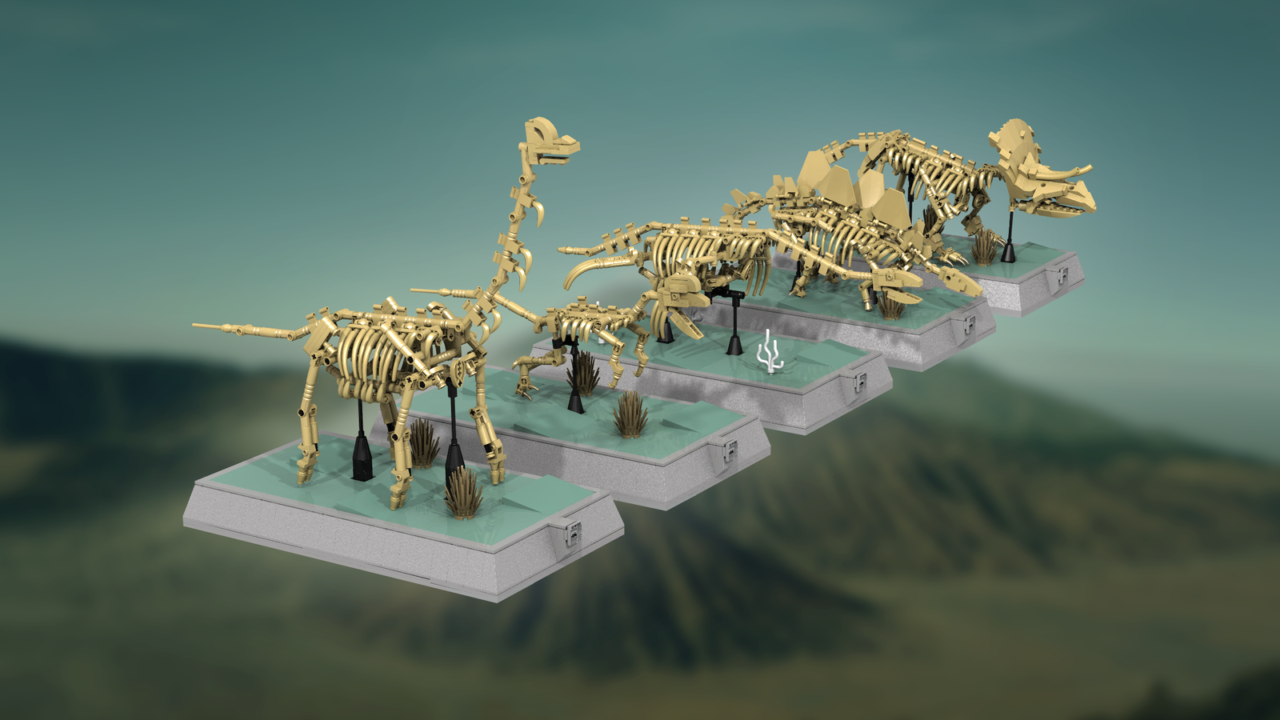 The first obvious thing that's different from the original submission is that the fossils are now all white instead of tan.
Second, it includes two minifigures, one of which is a paleontologist skeleton. That hat though; a reference to Dr. Alan Grant?
Third, you only get three out of what ended up becoming a cast of eight: Pteranodon, Triceratops, and T. rex. Spinosaurus and the others are a no show but who knows, perhaps there'll be a sequel with the unused models.
And fourth, the models are MUCH more substantial in build and piece count per model than the originals. Just looking at the T. rex you can tell how much beefier the final came out to be.
Original: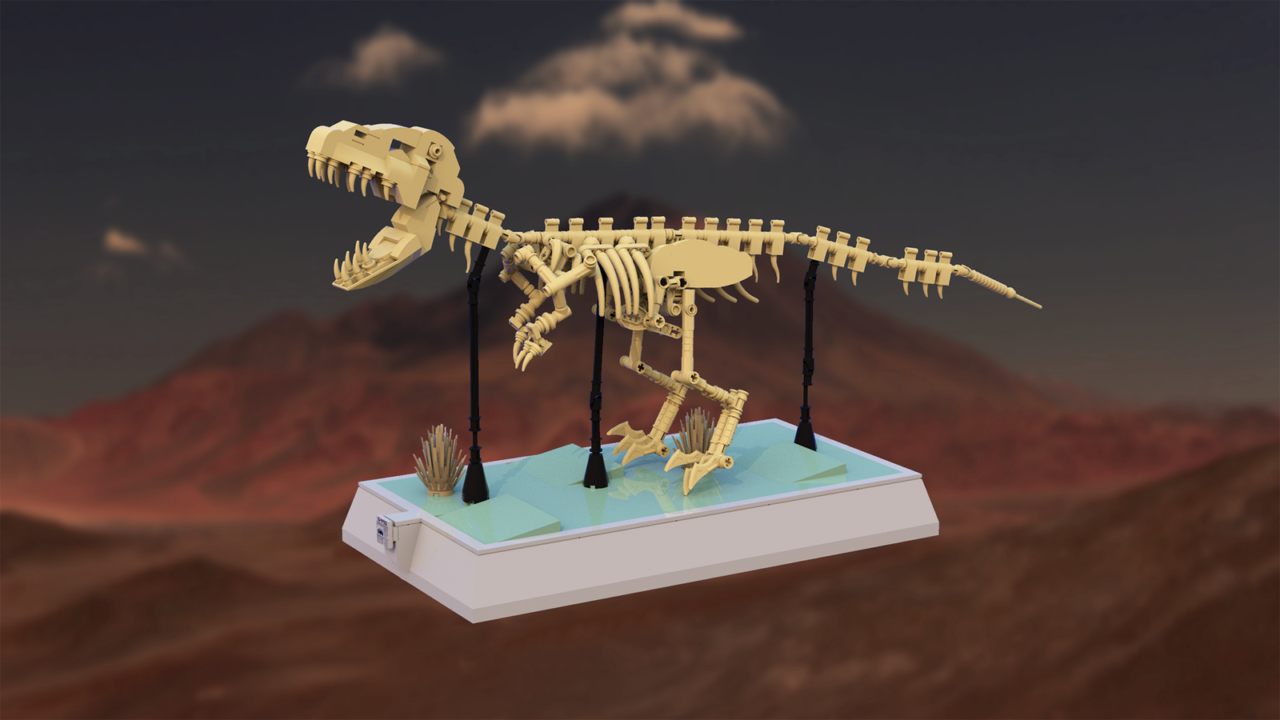 Final: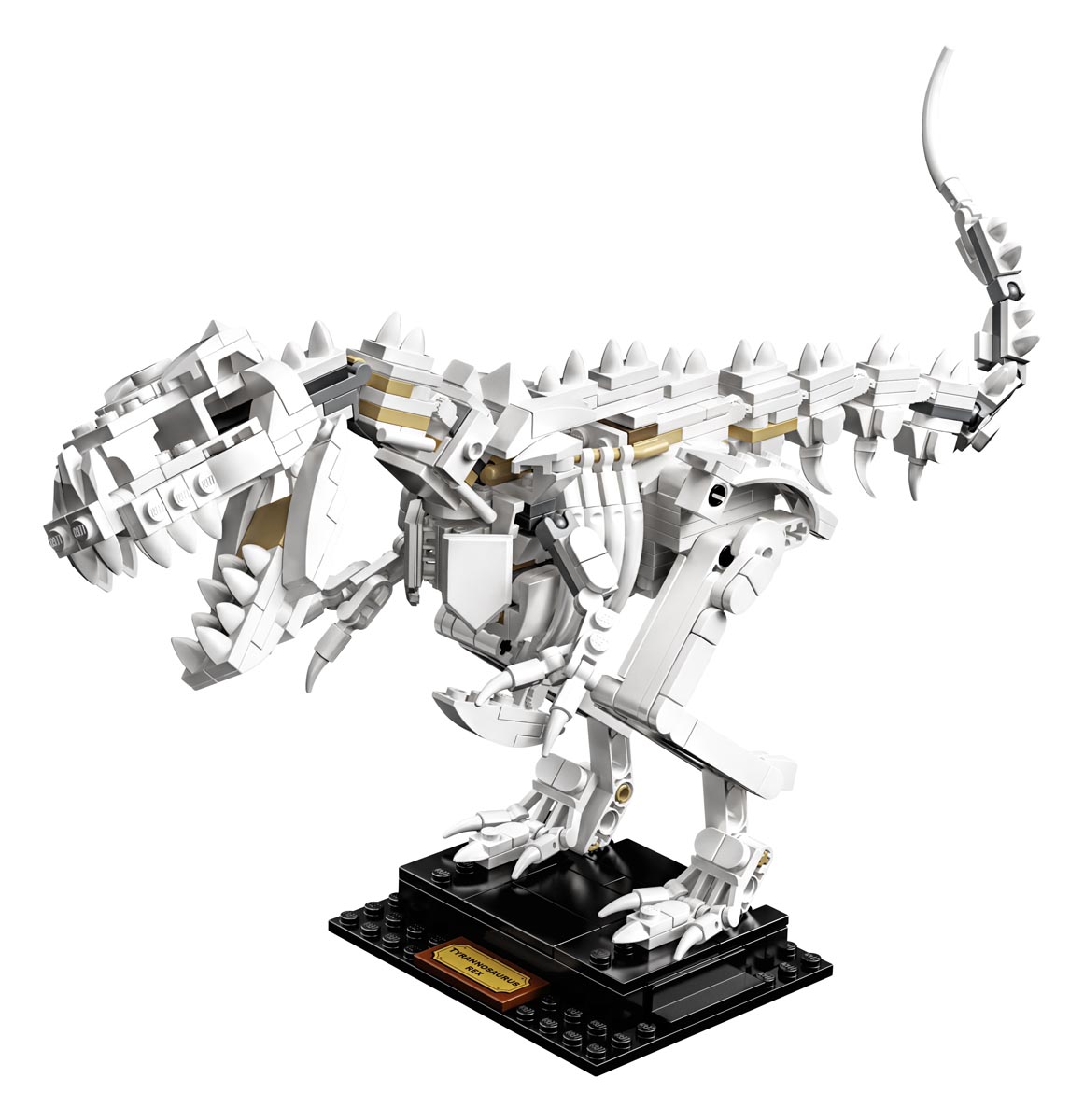 I'll be honest, if you showed me both models and told me the white one was based off the tan one, I'd check to make sure that your pants weren't on fire. The only similarity are the bits of tan jammed in between all that white. Oh, and the T. rex name. Other than that, they look absolutely nothing alike but for the better. The official models seem more visually interesting and have more complex builds.
The 21320 Fossils product page over at LEGO Shop@Home is live right now. You can purchase the set starting on November 1, 2019. 21320 Fossils will cost $59.99 USD / $79.00 CAD / £54.99 GBP.
21320 Fossils Official Pictures
21320 LEGO® Ideas Dinosaur Fossils
Ages 16+. 910 pieces
Available November 1, 2019
US $59.99 – CA $79.99 – DE €59.99 – UK £54.99 – FR €59.99 – DK 549DKK
*Euro pricing varies by country. Please visit shop.LEGO.com for regional pricing.
Collectible LEGO® Ideas Dinosaur Fossils toy for display!
Learn about life on Earth millions of years ago and create a stunning centerpiece with this collectible LEGO® Ideas 21320 Dinosaur Fossils toy building kit for adults. This 910-piece set offers an immersive, creative building experience for natural history enthusiasts who will appreciate the authentic details of the 2 dinosaur skeleton models (Tyrannosaurus rex and Triceratops) and the pterosaur reptile (Pteranodon) skeleton toy. The models are built to 1:32 scale, can be adjusted into lifelike poses and each one comes with its own stand so they can be placed alongside the included sapiens skeleton figure for a museum-style display. To complete the set, there's also a paleontologist toy minifigure with various accessories for imaginative role-play fun. All in all, this archaeology toy makes a great dinosaur gift for adults to build solo or to share their passion for natural history with family and friends.
A wonderfully detailed dinosaur fossils set featuring buildable, posable, 1:32 scale toy models of Tyrannosaurus rex, Triceratops and Pteranodon skeletons, each with display stands to create LEGO® style natural history museum exhibits.
Also includes a sapiens skeleton figure with a display stand, and a paleontologist toy minifigure with a buildable crate, plus dinosaur egg, bone, hat and book elements for creative role-play.
This collectible LEGO® Ideas dinosaur toy set includes 910 pieces for an immersive, rewarding building experience.
New to LEGO® building? Don't worry. This paleontologist kit comes with a booklet featuring easy- to-follow building instructions, fascinating facts about the Tyrannosaurus rex, Triceratops and Pteranodon, and information about the set's fan creator and LEGO designer.
Makes a wonderful paleontologist gift toy for LEGO® builders aged 16+ and anyone with a passion for natural history and dinosaurs.
The pterosaur and dinosaur skeleton toy models make an eye-catching display. The T. rex toy skeleton is the biggest of the 3, measuring over 7" (20cm) tall and 15" (40cm) long.