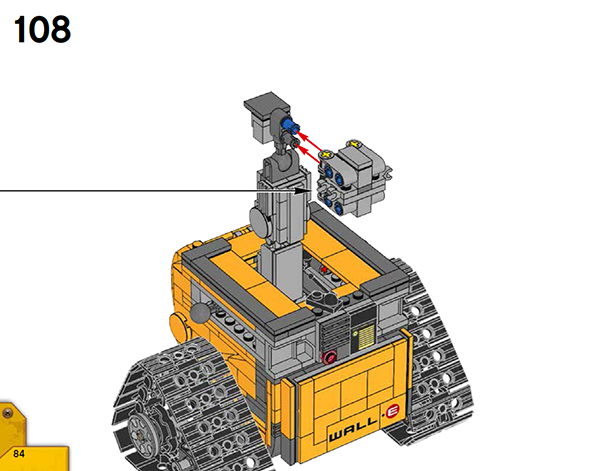 The LEGO Ideas blog was updated yesterday announcing that WALL•E's neck issue has been fixed. Based on the screenshot above of the instruction manual, it does look like they've swapped out the terrible ratcheted joint with pin and replaced it with a friction ball joint like in the McVeigh modification. It looks structurally different though than Chris's build so we'll see how much more or less effective it is. There is no indication that any service packs or separate instructions will be available from customer service for those of us unsatisfactory sorts that have already purchased the set. I will call them in the morning and find out and then update this post.
The current ship date listed on Wall•E's Shop@Home page says the set will be shipping on December 13th for the U.S. and Canada. I can only assume this batch will be the corrected version but will verify with tomorrow's phone call.
In their blog post, the LEGO Ideas team wrote the following:
"Unfortunately some customers have had issues with neck stability on our LEGO Ideas WALL·E."
It sounds like they are blaming the customers, that the problem lies with customers having issues with the neck, and not the neck itself. So… it's our fault then? The customers didn't build it right? Really?
LEGO does attempt to apologize for disappointing us, but again, the apology wasn't about a faulty design, but about disappointing those customers "who've had an unsatisfactory building experience." It is basically the non-apology apology of "I'm sorry you feel this way," just worded differently.
Thanks, LEGO.