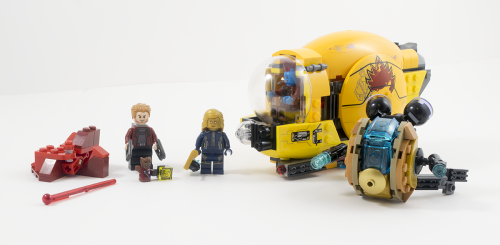 A good measure of how decent a set is going to be can be puzzled out from the LEGO [email protected] listings… though being able to measure it requires you to have a good handle on marketing speak. Say what you want about LEGO, they have a marketing department that can spin a word salad with the best of them. With this set… I'm not sure they even tried. There are nine bullet points in the product description: three of them are just measurements, two (and parts of another) are trying to explain to you what that red blob is.
Guardians of the Galaxy involves a character named Ayesha. Her head is gold, and she does want some sort of revenge. I believe that is where the similarity between this set and the movie ends in any practical form. Okay, that's not fair. Most of the parts of this set do have things you can point to in the movie… it's just that they feel like they captured the wrong parts of the movie to give us. The ship was in there, but it is lacking the things that made it memorable in the movie. Ayesha was wearing a suit, but that's not how you're going to remember her. There was a cliff, but at no point in time did it resemble that little pile of random red bricks.
Still, this set comes with 323 parts and runs a nice $29.99 (and is frequently on sale… while I'm writing this it's sitting at 20% off on Amazon), it's the only way to get Yondu, and it comes with a Baby Groot in an outfit that was from one of my favorite segments of the movie. There are some very nice parts tucked into the set to… but the first impression that this set suffers from the same problems that most of the Super Heroes sets based on the movies do at this point. They have pretty much nothing to do with the source material past some minifigs.
Oh, and spoilers, because a lot of this review will be a rant about why the movie and the sets don't seem to have much to do with one another.