The poster for The LEGO Movie 2: The Second Part has been revealed today and gives us some clues as to what we can expect to see in the upcoming sequel. Take a look at the poster below: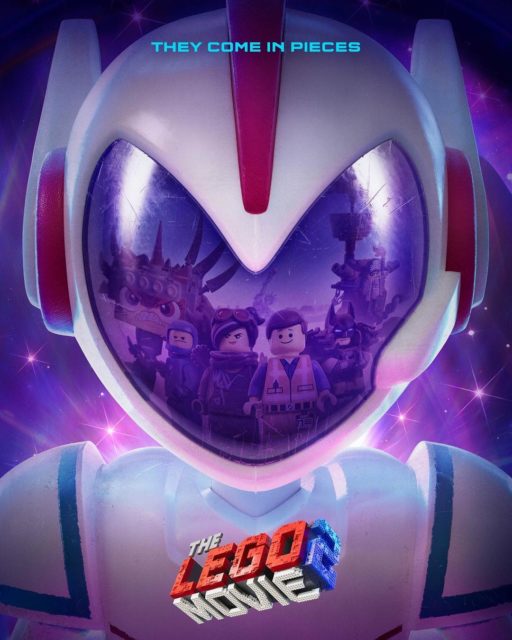 So before I share a few observations, I just want to give credit where credit is due and that the following observations came from our chat room participants.
Some observations and theories:
Batman's tire pauldrons. I'm dying to know what the story is behind that. I mean, did the creators just decide to stick tires on Batman's shoulders to make it look like fancy armor hoping we didn't notice that they are tires? Was it done as a joke? Did Batman just improvise? Is it part of a transforming suite? So many questions…
Benny has a robot arm.
Unikitty has gone full-on Mad Max mode.
The Statue of Liberty is seen in the background, but skewed at a really weird angle. Could this be a Planet of the Apes type of scenario?
The figure is most likely be a Friends minidoll type of figure based on the proportions that we can see (neck, head shape, shoulders/arms). This sort of changes idea of what the sequel could be. Friends as a theme came out in 2012, two years before the 2014 debut of the first LEGO movie. The first movie ended with what looked like an invasion of Duplo pieces, so I was kind of expecting a story based around Finn having to now share a space with his sister who is younger and plays with Duplo blocks. If the figure IS a friends minidoll, it could be that Finn's sister is much older now and playing with the girl-oriented theme of Friends.
Back to Benny. He looks downright unhappy and it could be that the Friends minidoll is space-themed and he is just not happy about having to share the galaxy with some girls. It could be like a Woody and Buzz Toy Story 1 situation where the new space-themed Friends sets are getting all the spot light and Benny and Classic Space are being cast aside.
Emmet looks unchanged.
Wyldstyle now has goggles and what looks like a quiver on her back. Like Benny, she doesn't look too thrilled either and it might be because she's a girl and doesn't like the concept of the minidoll or what the Friends theme represents.
Can't really see much of MetalBeard, but he's back as well.
The teaser trailer for The LEGO Movie 2: The Second Part will be revealed tomorrow.
Thanks to ninnymuggins for sharing the poster drop.