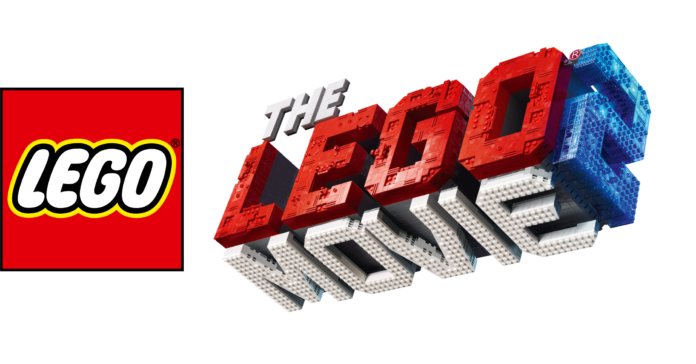 Hot on the heels of the trailer, LEGO has provided pictures of the 19 upcoming sets coming just after Christmas (December 26th, to be exact) to empty out your wallets, gift cards, and store credit after the holiday season. A couple should be showing up at the beginning of the month (specifically, the Builder Box sets), but the rest will be coming at the end.
While the movie itself won't be out until February, there will be plenty of time to see, build, and enjoy the sets once they show up. I'd keep an eye out starting in mid-December, as stores have been known to put them out early as stock of other sets run out around the holidays.
It's an interesting lineup, and I'm certain after I see the movie with my kids, more than a few of them will end up in my house. My son is just about to Duplo Age, and my daughter has gotten really big into her own LEGO stuff lately. It will also be, most likely, the first "in the theater" movie my son ever goes to. Fun fact, the original LEGO Movie was my daughter's first theater movie as well!
And you know what? Despite the fact that I don't really collect LEGO any longer… I'm still going to buy that Benny Space Corps pack…
10895 Emmet and Lucy's Visitors from the DUPLO Planet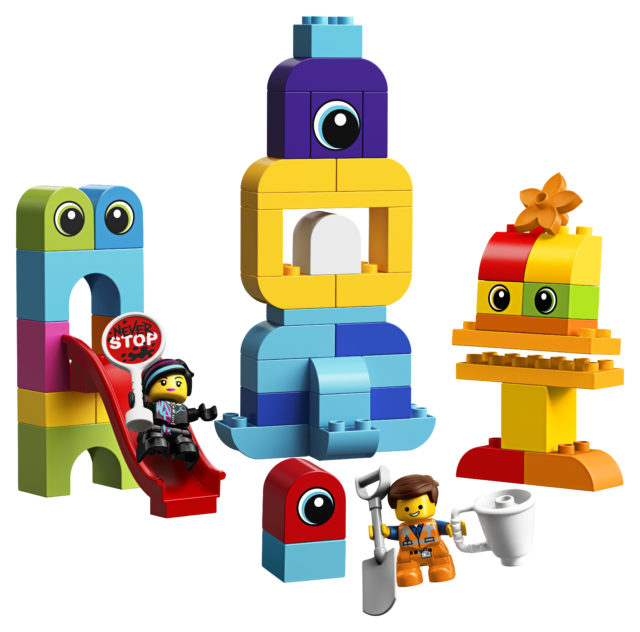 53 pieces | Ages 2+
$29.99 USDÂ 
Introduce toddlers to the color and creativity of THE LEGO® MOVIE 2™ with this fun preschool building set. Little fans of Emmet and Lucy will love helping them defend against the easy-to-build alien invaders! Then mix all the bright and chunky DUPLO bricks up so young children can create more aliens of their own, developing imagination and fine motor skills on their journey to becoming the next master builder! Includes 2 LEGO DUPLO figures: Emmet and Lucy, plus 4 buildable alien invaders.
70820 LEGO Movie Maker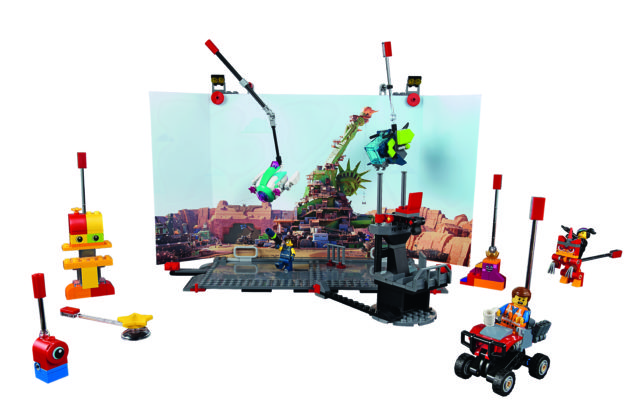 482 pieces | Ages 8+
$49.99 USD
Kids can make their own movies with this versatile building set, featuring a movie stage, camera stand for a smartphone device and plenty of cool action props! The stage features a frame with sliding, adjustable arms at the top to hold and animate props, characters and accessory elements, a double-sided backdrop with alternative scenes, plus a platform with built-in sliders to move characters around. Young film makers can attach the camera stand to any of the 3 special points on the stage for different angles and camera panning movements. This THE LEGO MOVIE 2 set also comes with action props like Emmet's Escape Buggy and Rex's Rexplorer, 3 minifigures, a minidoll figure, 4 brick-built figures and a raptor figure for creative play.
70821 Emmet and Benny's Fix it Workshop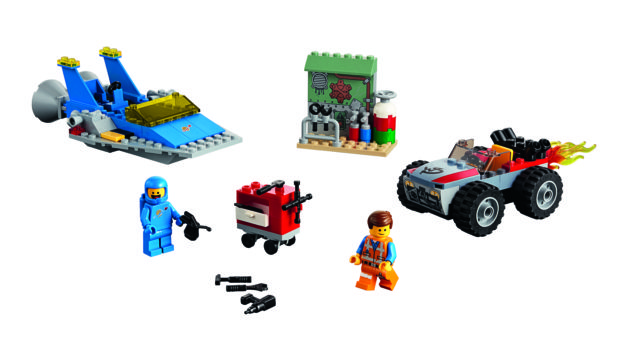 Specially designed for younger builders ages 4 and up, this playset lets kids use the tools to fix Benny's Spaceship and Emmet's Escape Buggy. Kids can "pump gas" into the vehicles and launch them into orbit, then use the spaceship's buggy to explore new planets! Includes Emmet and Benny minifigures.
70822 Unikitty's Sweetest Friends Ever!
76 pieces | Ages 5+
$9.99 USDÂ Â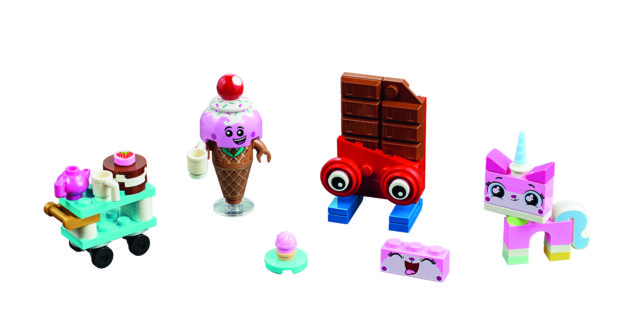 Builders can pretend to enjoy a drink and a snack with this fun building set featuring 3 buildable LEGO MOVIE 2 figures—Unikitty, Ice Cream Cone and Chocolate Bar—plus a tea trolley with teapot, coffee cup and cake accessory elements designed to inspire creative play.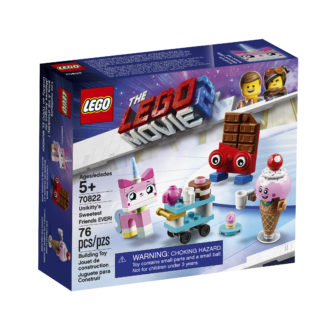 70823 Emmet's Thricycle
173 pieces | Ages 7+
$9.99 USDÂ Â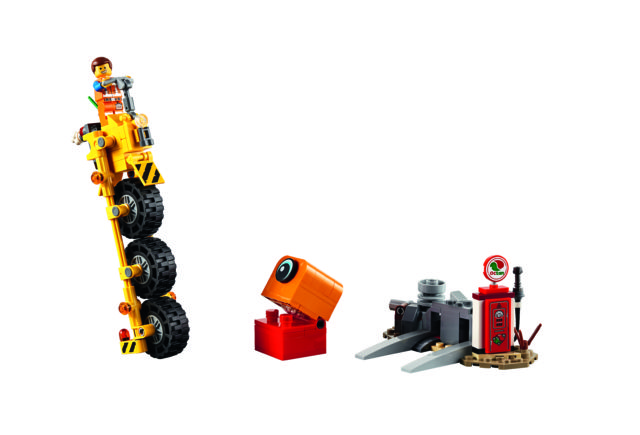 Kids can raise their master-building ability to another level with Emmet's Thricycle! This awesome building set features a minifigure seat, 3 vertically stacked rubber tires and foldout stabilizers. It includes a fuel station, with a buildable gas pump, catapult function and parking spot for the Thricycle, plus THE LEGO MOVIE 2 characters—an Emmet minifigure and a brick-built alien invader with a chomping mouth and rotating cyclops eye. Includes Emmet minifigure and buildable Alien Invader.
70824 Introducing Queen Watevra Wa'Nabi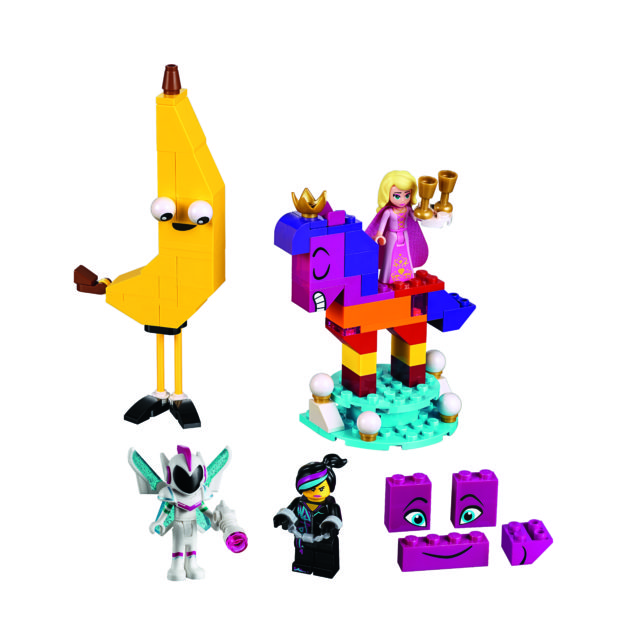 115 pieces | Ages 6+
$9.99 USD
Join Lucy and meet the shape-shifting Queen Watevra Wa'Nabi for the first time with this fun building set that features a brick-built Queen Watevra Wa'Nabi in horse form with a rotating platform, plus 5 interchangeable face expression decorations for rebuilding the shape-shifting queen into pile-of-bricks form.
Set also includes a buildable Banarnar character, Sweet Mayhem and Susan minidolls, and a Lucy minifigure.
70825 Queen Watevra's Build Whatever Box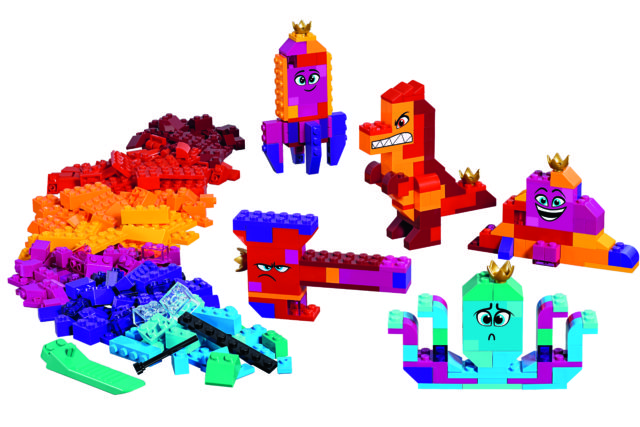 455 pieces | Ages 6+
$39.99 USDÂ 
Kids can build and rebuild THE LEGO® MOVIE 2™ shape-shifting star Queen Watevra Wa'Nabi in 15 different forms with this open-ended creative building box! This set has instructions to build each version of the shape-shifting queen, from a grumpy volcano to a happy butterfly or colorful rocket, and also includes inspirational ideas for young master builders to create their own shapes.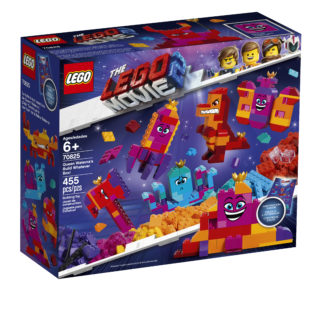 70826 Rex's Rex-treme Offroader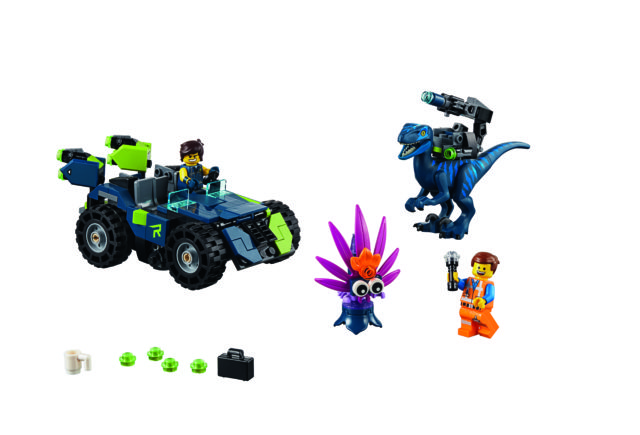 230 pieces | Ages 7+
$29.99 USD
Kids can display their master building versatility when they rebuild the 3-in-1 offroader and Recon Rex-o-saurus into the Rex-o-saurus Quad or Execu-Rex-o-saurus. The offroader seats 2 minifigures and has a rotating rear turret with 2 stud shooters, while the Recon Rex-o-saurus features snapping jaws, posable legs, 2 stud shooters and a buildable removable gun (non-shooting) that can also be used as a minifigure weapon. Includes Rex Dangervest and Emmet minifigures and a buildable Plantimal character.
70827 Ultrakatty and Warrior Lucy!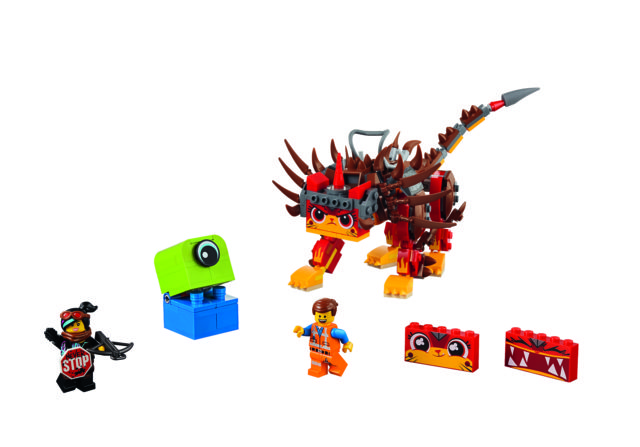 383 pieces | Ages 8+
$29.99 USD
Kids can ride into battle against the alien invader with this building set. Ultrakatty features a minifigure cockpit, a posable head which can be rebuilt for 3 different facial expressions, and a posable tail and legs. This awesome building toy includes Lucy and Emmet minifigures, plus a brick-built alien invader with a chomping mouth and rotating eye, to recreate action-packed scenes from the film.
70828 Pop Up Party Bus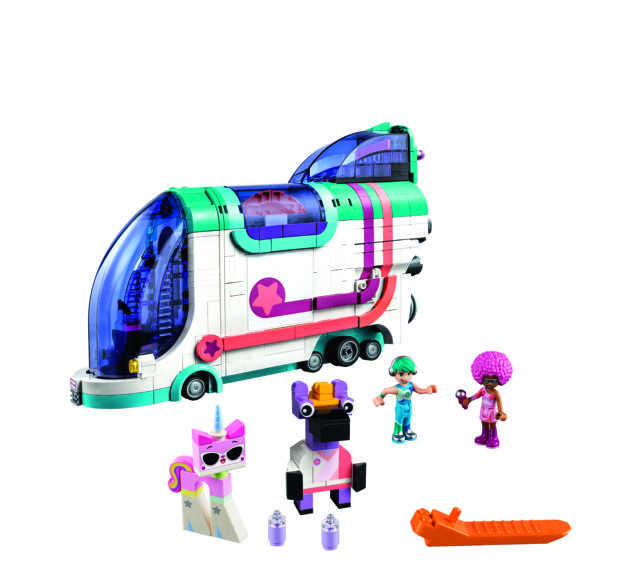 1,013 pieces | Ages 9+
$79.99 USD
Kids can board the Pop-Up Party Bus and party on with Chad, Amber and Zebe. This fun building set features an opening cockpit for the Zebe figure, opening roof and sides for easy play, foldout loudspeakers, a LEGO light brick to light up the rotating dancefloor and a flip-up disco ball with translucent colored elements. Includes Unikitty, Chad and Amber minidolls and a brick-built Zebefigure.
70829 Emmet and Lucy's Escape Buggy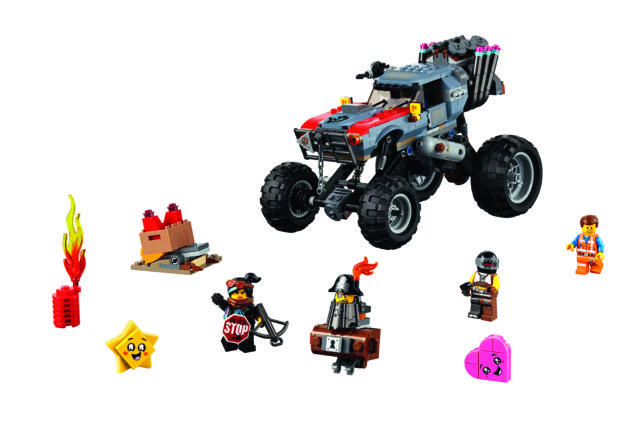 549 pieces | Ages 8+
$49.99 USD
Kids can escape danger by building Emmet and Lucy's Escape Buggy, featuring seats for 2 minifigures, opening doors and hood, foldout arrow gun (non-shooting) and suspension. This fun-packed construction toy also includes a buildable base with an explode function, 3 minifigures and 3 buildable figures—MetalBeard, Star and Heart—with cool weapons and accessory elements.
70830 Sweet Mayhem's Systar Starship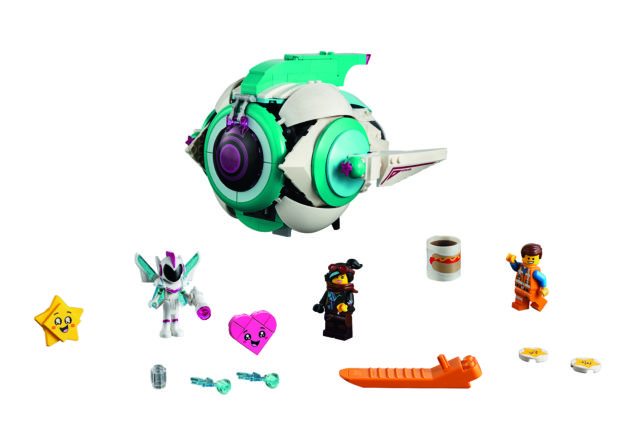 500 pieces | Ages 9+
$69.99 USD
Kids can help Emmet and Lucy evade capture by Sweet Mayhem's Systar Starship, featuring an opening cockpit for a minidoll or minifigure, retractable landing gear, disc shooter, a roll of stickers and an opening prison cell. This fun construction toy includes 2 minifigures, a minidoll figure and buildable Star and Heart toy figures to role-play action from the film.
70831 Emmet's Dream House-Rescue Rocket
706 pieces | Ages 8+
$69.99 USD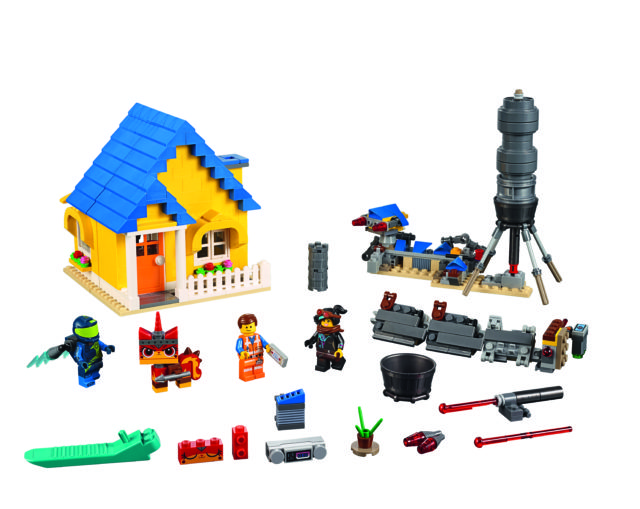 This 2-in-1 building set features Emmet's home which can be rebuilt into a rocket. The house toy opens out for easy interior play and has a detailed living room/kitchen and attic. Remove the roof and use parts from the water tower and barricade to create a rocket with spring-loaded shooters and adjustable engines. Includes Emmet, Lucy, and Rex Dangervest minifigures, plus buildable Planty and Warrior Kitty characters.
70832 Emmet's Builder Box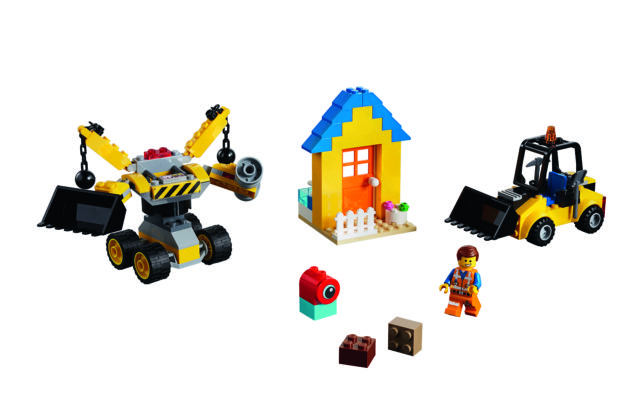 125 pieces | Ages 5+
$29.99 USD
Open a world of master building adventures with this versatile builder box, featuring 3 buildable models—Emmet's digger vehicle, house and construction mech. The digger has an adjustable front bucket to lift rubble elements, the mini-build house features an opening door and the rotating construction mech has a minifigure cockpit, 4 posable arms and 2 demolition balls. Includes an Emmet minifigure and a brick-built alien invader for endless role-play fun.
70833 Lucy's Builder Box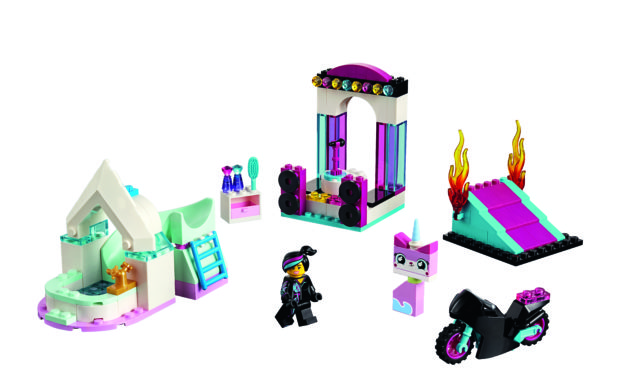 141 pieces | Ages 5+
$29.99 USDÂ 
Give your young master builder hours of fun with this versatile builder box! This creative toy features 3 buildable models—Lucy's motorcycle with a ramp, a rotating dance stage and the Unikitty spa with spa bath and washstand. Includes a Lucy minifigure and a brick-built Unikitty figure for endless role-play fun.
70834 MetalBeard's Heavy Metal Motor Trike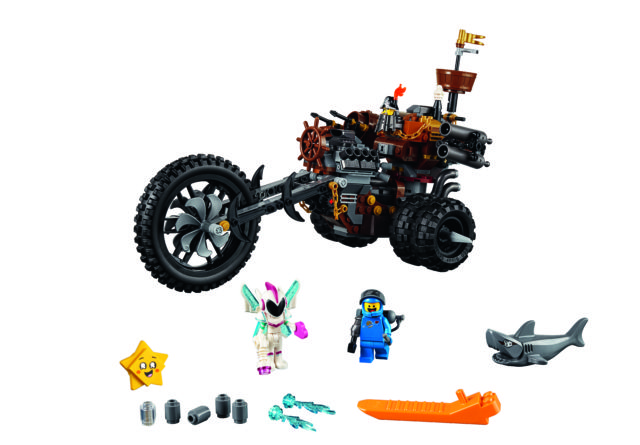 458 pieces | Ages 7+
$59.99 USD
Builders can power into battle against Sweet Mayhem and Star with this fun set that features a built-in MetalBeard minifigure head, rotating turret with adjustable shooting cannons, adjustable shark shooter with snapping jaws, crow's nest and flag and a huge front wheel. Includes an Apocalypse-borg Benny minifigure and a Sweet Mayhem minidoll figure with cool weapons and accessories, plus a brick-built Star figure to recreate action-packed adventures from the film.
70835 Rex's Rexplorer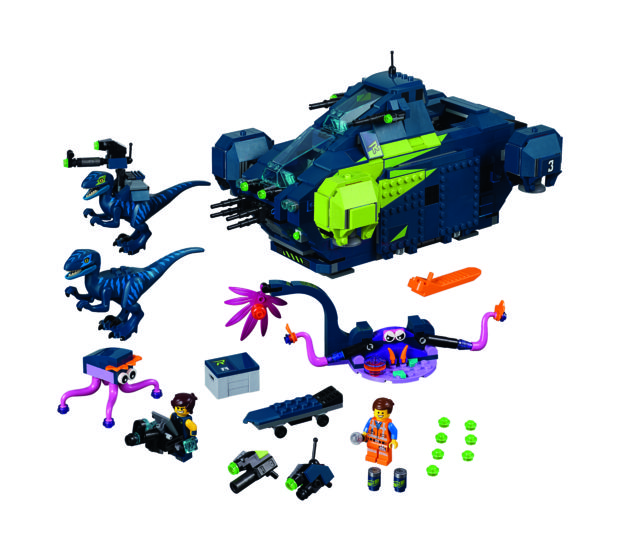 1172 pieces | Ages 9+
$119.99 USD
Kids can team up with Rex, Emmet and the raptors against the Plantimals with this building set. The Rexplorer features 2 opening cockpits, spring-loaded and stud shooters, rotating engines, an opening rear compartment for interior play, and a removable speeder. Features 2 raptor figures with a brick-built mountable stud shooter and raptor skateboard, plus 2 brick-built Plantimals (including one with a trap function). Includes Rex Dangervest and Emmet minifigures.
70836 Battle-ready Batman and MetalBeard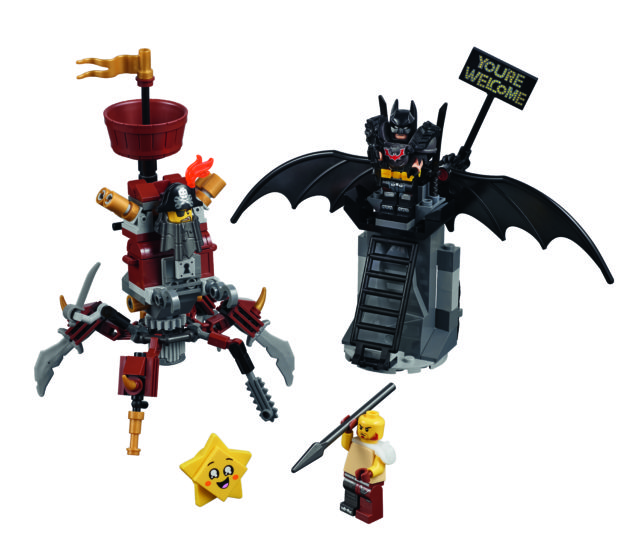 168 pieces | Ages 6+
$19.99 USD
Builders can scuttle into action against Star with this action-packed Batman playset featuring the famous pirate MetalBeard in crabmech form, with a built-in LEGO MetalBeard minifigure head, opening treasure chest with MetalBeard's internal organ elements, flip-down crow's nest with a flag and posable legs, plus a Batman throne with an adjustable 'You're Welcome' sign. Includes 2 minifigures, a brick-built Star figure, and weapons and accessories.
70841 Benny's Space Squad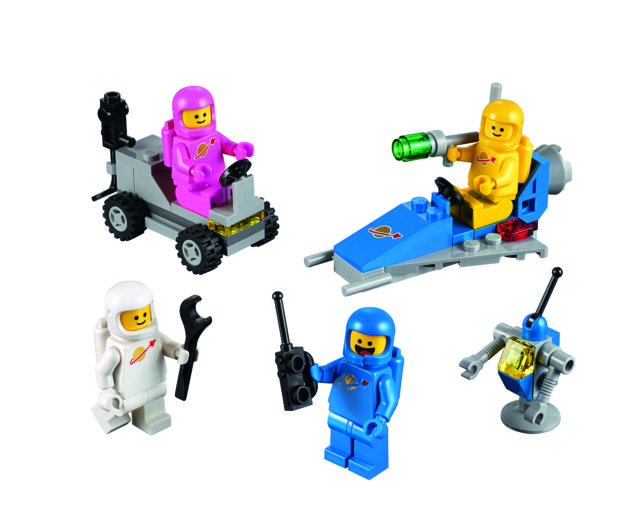 68 pieces | Ages 5+
$9.99 USD
Kids can join forces with Benny's Space Squad for fun adventures in outer space. This action-packed building set features a spaceship toy with a minifigure seat and a lunar buggy with 2 minifigure seats. Role-play scenes from THE LEGO MOVIE 2 with this space toy for kids including 4 LEGO astronaut minifigures with assorted accessories.