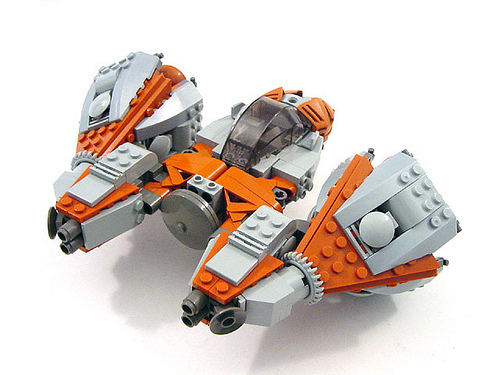 Sometime after Jon Palmer unleashed his M-wing onto the world, he upgraded his original and called it the MXL, pictured above. My jaw dropped when I first saw it. It's still impressive by today's standards. No instructions were ever made and unlike some of his other alphabet fighter projects, this was never offered for sale. Fast forward to the beginning of May and I took it upon myself to try reverse engineer the beast.
First, let's visit the Way Back Machine and see what the description said for it on zemi.net:
After the fall of the Galactic Empire, many M-wings were brought out of storage to fulfill a new role. The MXL modification turned the craft into an unbelievably powerful strike fighter used to subdue or take down any remaining Star Destroyers.

The craft was armed to the teeth and its central sub-light engine was removed completely and replaced with a robust, permenant hyperdrive. The MXL was fitted with 2 massive engine pods which were almost as large as the M-wing itself, and twice as heavy. Hidden within these were 6 super-compressed Novaldex J-77 Event Horizon engines. An A-wing had 2 of these.

The only individuals that didn't think the MXL was over-powered were its pilots. Almost every surviving veteran M-wing pilot was called back into service to retrain and pilot an MXL. All of them claimed that every last aspect of the original M-wing was still there…just 10 times there.

Towards the end of the New Republic's campaign to reel in any remaining rogue Star Destroyers, it was common for the vessels to surrender outright at the sight of an MXL squadron. The MXL was that mean. Within a few short years the M-wing had gone from spying on and running from Star Destroyers, to pinning them down in battle…something the once humble M-wing pilot is endlessly proud of.
I decided to use the V2 body and upgrade the colors to new bluish grays. There was only one part that was not updated to the new color pallet, but since it is mostly hidden from view, I was willing to make that concession. I'm pretty sure that the method used to mount the engines to the wedge plates is different, and I had to change something on another portion of the build, but in the end, I'm happy overall with the result. This thing is seriously a beast.
More pics below.