After weeks, maybe months, of teasing a new LEGO Shop@Home VIP program, LEGO finally launched it sometime this week on Wednesday July 10th. It was presented as offering new exclusives, epic experiences, and more ways to earn points, all under a new Rewards Center experience.
The New Point Structure
When I logged in, my account said I had over 7,000 points. This could be a lifetime cumulative number because I don't remember having that much before the new program came into being. It's possible the old points converted to a new point structure to better match against the reward offerings. So if you log on, don't be surprised if your point total increased by some margin.
Earning points is completely different. A set that costed $19.99 used to earn you 19 VIP points, but now it nets you 130 points. Shop@Home is trying to gamify earning points by offering a small amount by doing simple things like visiting facebook. But that is as far as it goes.
New Exclusives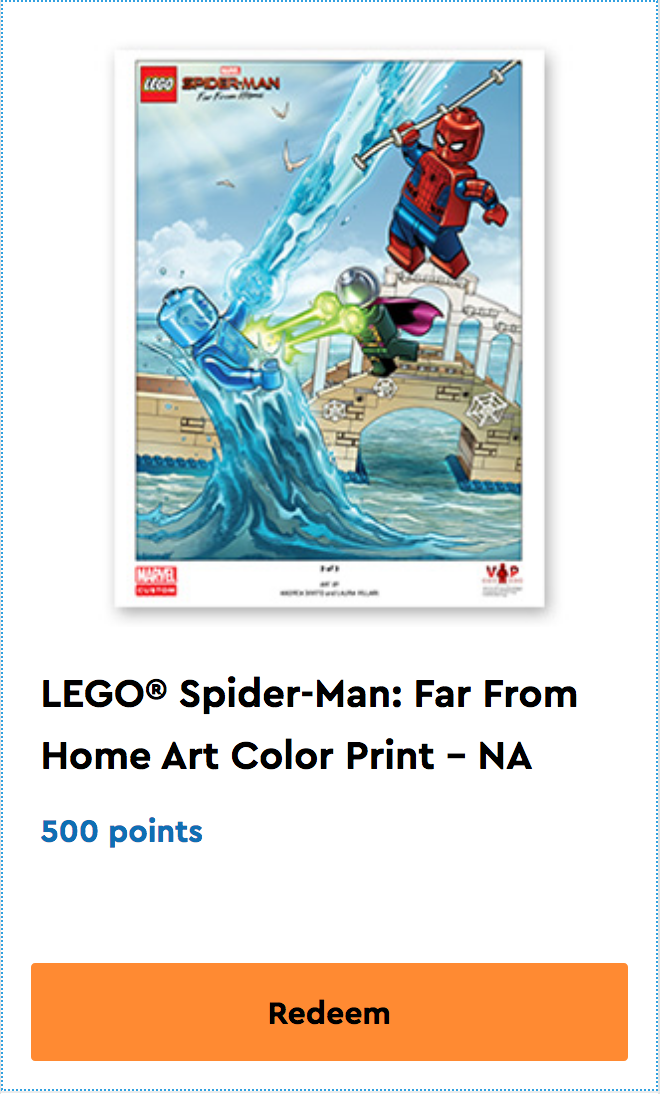 The first thing I immediately noticed was some art prints. Ever since the LEGO Captain Marvel 1 of 3 art print came out back in May, I've been keeping my eye out off and on at LEGO Shop@Home for more promotions. I wanted to complete the set. I was okay with it being a GWP. Buy some LEGO, get some cool art as a bonus automatically.
They also had some of the previous art prints available in black and white only: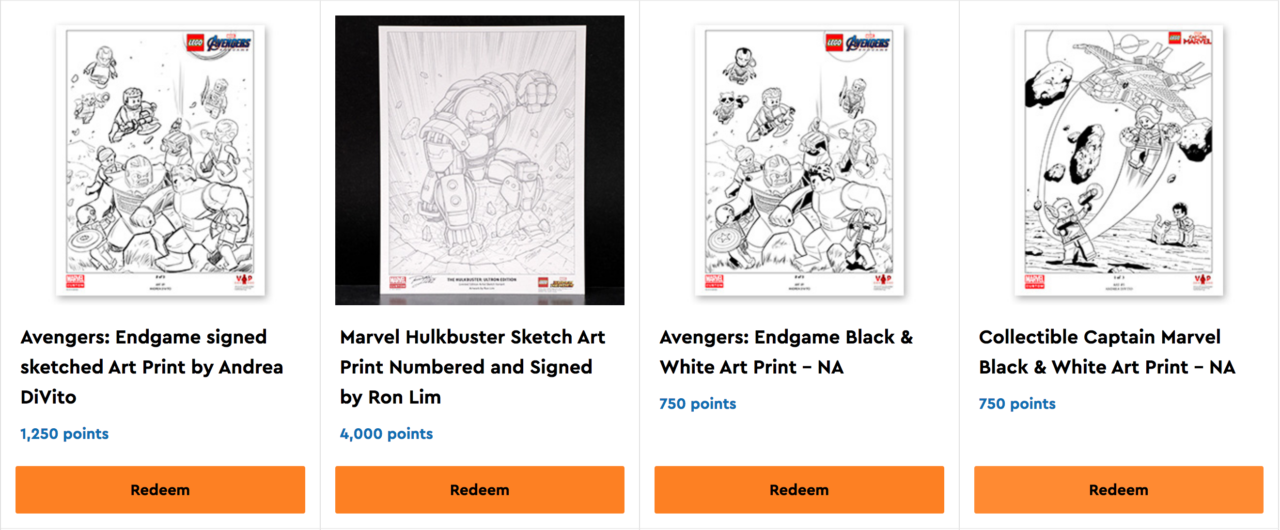 What's concerning is the Endgame print as it looks like it's part of the series that Captain Marvel started. But I don't see the color version available in the Rewards Center and never saw it pop up as a GWP promo either. I'll need to call LEGO Shop@Home after I post this to see what's up.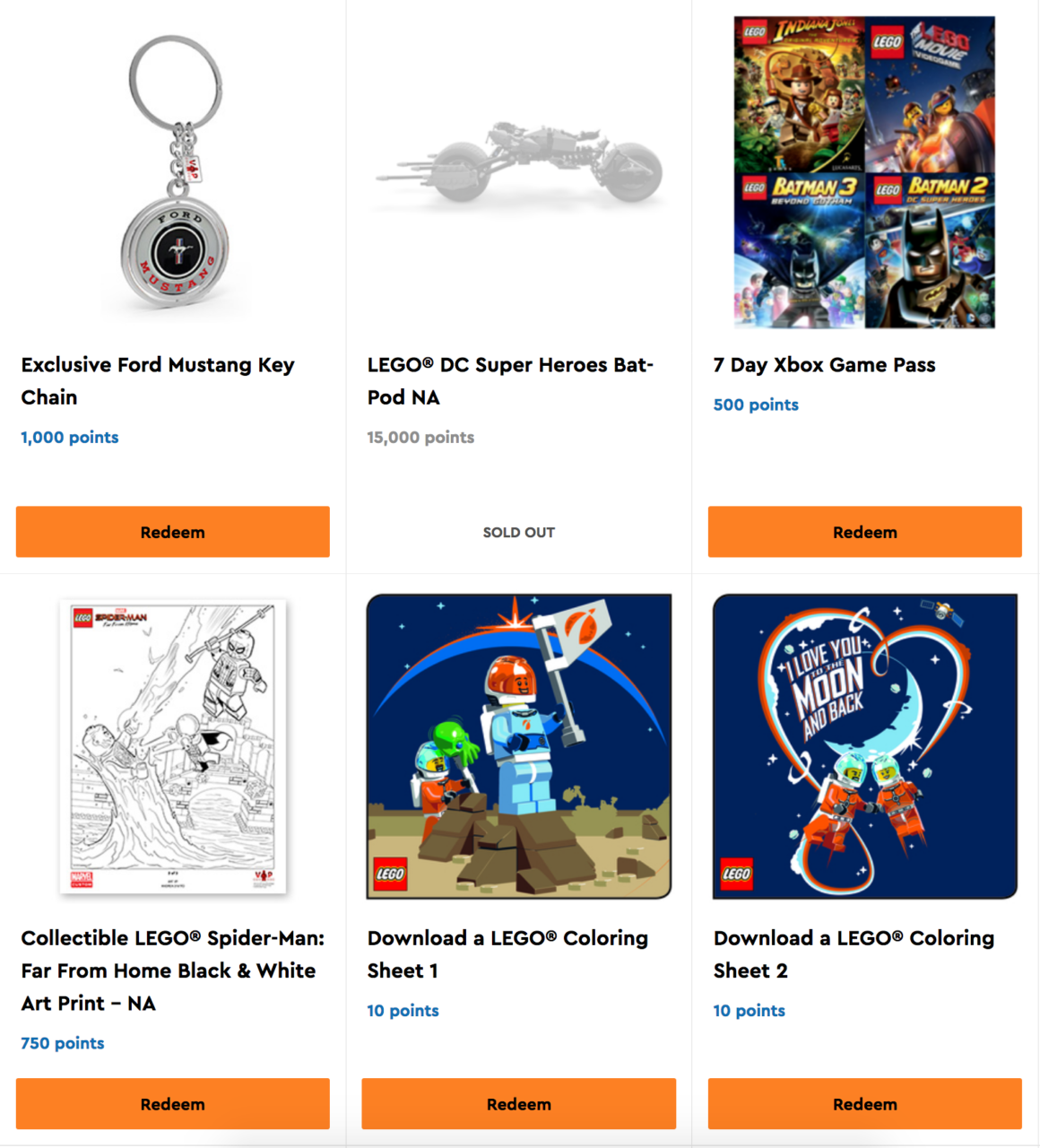 Aside from the art prints, there are just some odd things you can redeem points for. Coloring sheets? A Ford keychain? 7-day Xbox game pass? There is the one lone LEGO set but the best thing had to have been the Batpod promotional set that sold out pretty immediately.
Epic Experiences
One positive offering about the VIP points is that you can redeem them for tickets to a LEGOLAND park, a LEGOLAND Discovery Center, or even to The LEGO House in Billund, Denmark. A LEGOLAND California ticket normally runs about $90 if you buy online ahead of your visit. But you can instead redeem 4,000 points for a ticket. Is that worth it? Not entirely sure.
You could spend points for a entry to a "once in a lifetime" trip to LEGOLAND Florida. Each entry costs 100 points. That is definitely not worth it.
Dollar Off Rewards
The core of the previous VIP program was earning points with purchases and then using those points for dollars off your next purchase. It was a simple and super-convenient feature. Upon checkout, you can select any amount of reward to reduce the price. This worked in-store too. I can't be entirely sure that this worked with phone orders. Well, if you guys like simple things being made more complicated, does Shop@Home have a treat for you!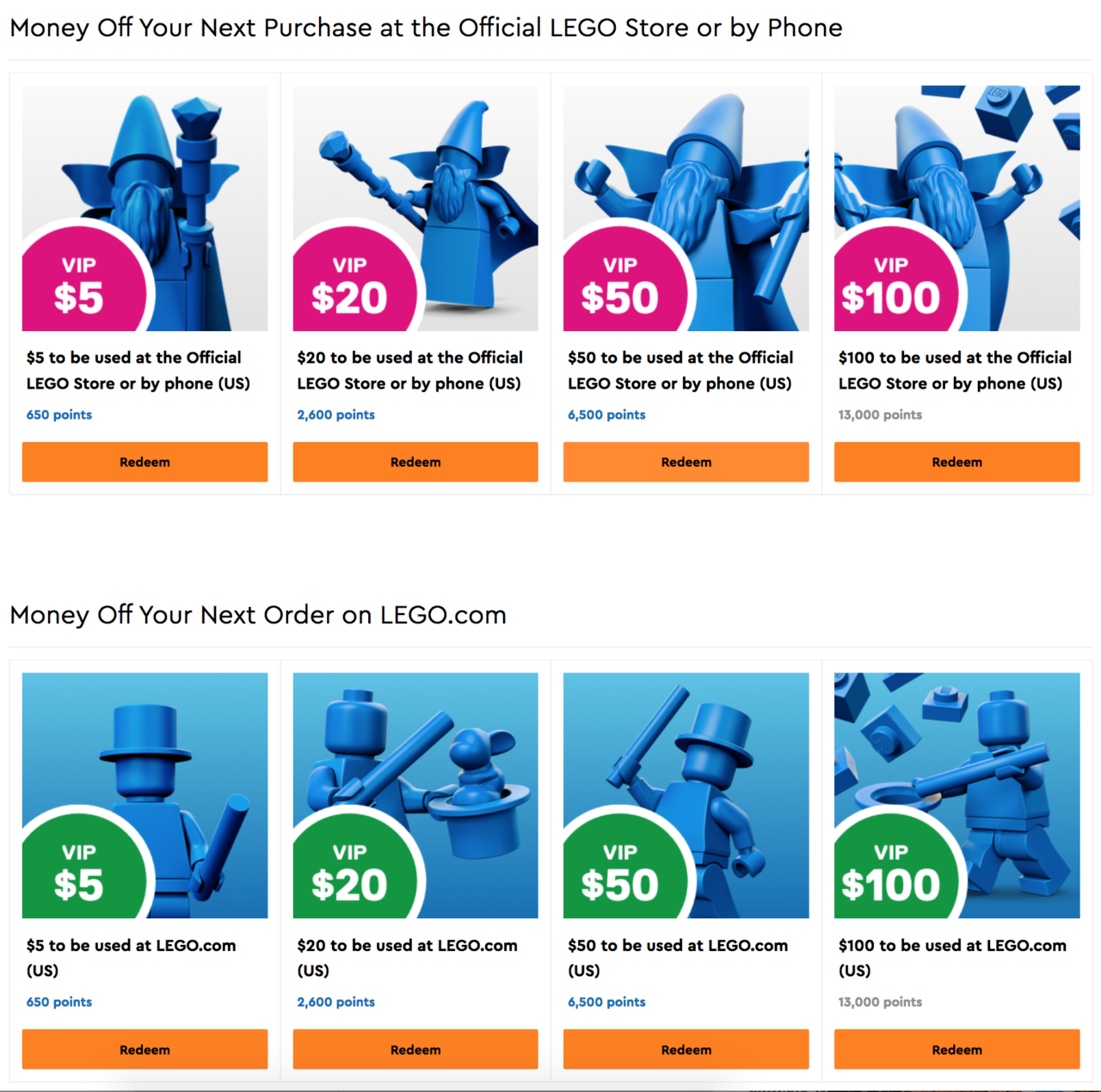 Look at this confusing mess. So right off the bat you have to figure out where you're going to place your order. Online? Over the phone? Going to the LEGO store? And then you have to redeem it for the right one voucher.
And the way things are set up now, you can no longer select a dollar amount at checkout at LEGO Shop@Home. I'm assuming this will be the same at stores and that at the register, you won't be able to redeem points unless you have one of the vouchers from above. It's a lot of pre-planning to do and I can honestly envision a situation where customers will forego an impulse purchase at a Brand Retail store if they didn't print out a stupid coupon before hand.
Right off the bat I can tell you that the point conversion from the old valuation to the new isn't 1:1 with the voucher amounts. I had about $175-$195 in VIP bucks but now that my new point total is a little over 7000, I can only afford a quarter of that in a voucher. I haven't done the math but I can only hope earning points towards a specific dollar amount can be done at the same rate as before.
So far, I'm not a fan of the new Rewards Center. I can't imagine that when LEGO says in their promotional emails that they've "listened to our VIP members" that these are the things people asked for: Ford keychains, game passes, and confusing as hell dollar off vouchers? I want the old system back.