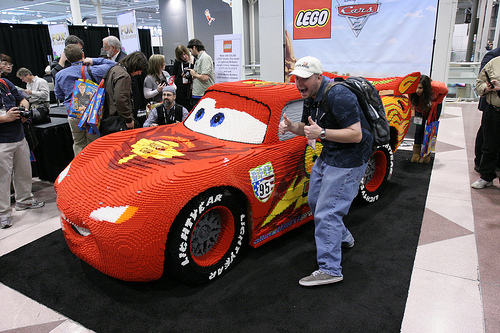 We finally finished uploading the rest of the sets from our Toy Fair coverage what seems like a mere few hours ago. Many thanks go to Ryan and Anonymous Tipster for staying up late to clean up a few of the miscategorized videos, duplicate pictures, etc. Despite those minor issues, our coverage is now complete. Each picture below links you to the collection for that theme, and each collection has all the sets for that theme. I'm also including everything that was posted yesterday for easy navigation. And finally, there's a set for LEGO Licensing to give you a sneak peek at the upcoming licensing line including books, bins, and storage media. Enjoy!
Star Wars
Pirates of the Caribbean
Harry Potter
Cars
Alien Conquest
Ninjago
Atlantis
Creator
City
Hero Factory
Technic
Duplo
Licensing
A few notes:
For LEGO Pirates of the Caribbean, the Black Pearl set was missing from the show floor and there was no picture of it in the catalog. It's not scheduled for release until November, so there might be a reveal at San Diego Comic Con if not through some sort of MTV posting.
For LEGO Star Wars, the advent calendar was also pulled from the floor with the intent of a big reveal at San Diego Comic Con
For LEGO Cars, the sets designed around the movie Cars 2 were pulled, just like last year with Toy Story 3 sets. And the wall for Cars 2 Duplo sets was also blank.
For Harry Potter, there's still some debate whether or not The Forbidden Tree Forest set has a Bellatrix minifigure or not.
The biggest let down? Pricing. It seems that the pricing per piece ratio is getting worse and worse and the trend is spreading beyond Star Wars into other non-licensed themes, namely City.
The biggest surprise? The minifig cases shown at the LEGO Licensing booth. I hope to get some more information and materials about those in the next few weeks.
The one set I personally am looking forward to is 7962 Anakin's and Sebulba's Podracers set. The clear Technic bricks were a huge surprise and the redesigns of the two podracers are just gorgeous, especially Sebulba's. The price for the set is very reasonable by today's standards. All in all, it's the clear winner for the August LEGO Star Wars lineup.