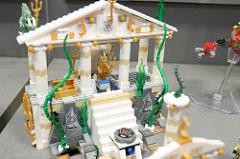 It's been a full couple of days here in NYC for me and Ace as we've been making the Toy Fair rounds. On Saturday we attended Hasbro's special presentation where we saw upcoming products for Marvel, Transformers, GI Joe, and of course Kre-O, Hasbro's new construction building toy line. More on that later.
The main event for us was Lego's Collector's Event before the Toy Fair doors opened today. Ace and I woke up at the buttcrack of dawn to get there on time before the 7 am door opening to bring you the very best coverage of upcoming Lego product, covering Lego original themes and licensed lines.
Here's what we've got for you so far:

Atlantis:
City (with the Harbor and Space subthemes:)

Duplo (including Winnie the Pooh and Cars:)

Much more still to come including Ninjago, Alien Conquest, and the ever-important Star Wars! Keep checking the Flickr page here as we continue to update!