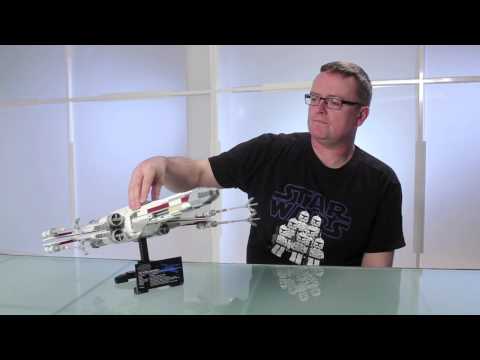 Internet Drama. It's a thing. This is the time line of how the leak broke out as far as I can understand it:
– someone in taiwan.
– then hothbricks posts it
– then someone in eb posts it
– then someone posts it on fbtb
– then lego tells hothbricks to take it down
– but then hothbricks says you can see it here and there and everywhere on the internet at this point
So we waited for the official embargo lift time, which was 1pm PST, only to realize that somewhere along that time line, Jan Beyer of the official LEGO Community Team blog went ahead and posted pics of the model anyway. Pic was presumably taken at the LEGO World event earlier today.
Worst. Product launch. Ever.
ANYWAYS, the set will come out in May, will cost you $199.99 USD, and has 1,558 pieces. Here are the pics, and video, and the press release:
10240 – Red Five X-wing Starfighterâ"¢

Ages 16+. 1,558 pieces.

Build the ultimate LEGO® Star Wars™ X-wing Starfighter!

US $199.99 CA $249.99 DE 199.99€ UK 169.99 £ DK 1699.00 DKK
Collect and create the most highly detailed LEGO® Star Wars™ X-wing Starfighter ever produced. This iconic starfighter is featured in many of the most exciting Star Wars battle scenes, including the decisive battle scene above planet Yavin™. Recreate the moment when Luke Skywalker's X-wing delivered the proton torpedo that led to the destruction of the Imperial Death Star! With 1,558 pieces, this realistically detailed model features opening wings and cockpit, a special display stand, data sheet label and R2-D2.
• Includes R2-D2 atromech droid
• Features highly authentic detailing, and opening wings and cockpit
• Includes 1,558 pieces
• Measures over 10″ (26cm) high, 20″ (52cm) long and 18″ (46cm) wide
• Includes display stand and data sheet label!