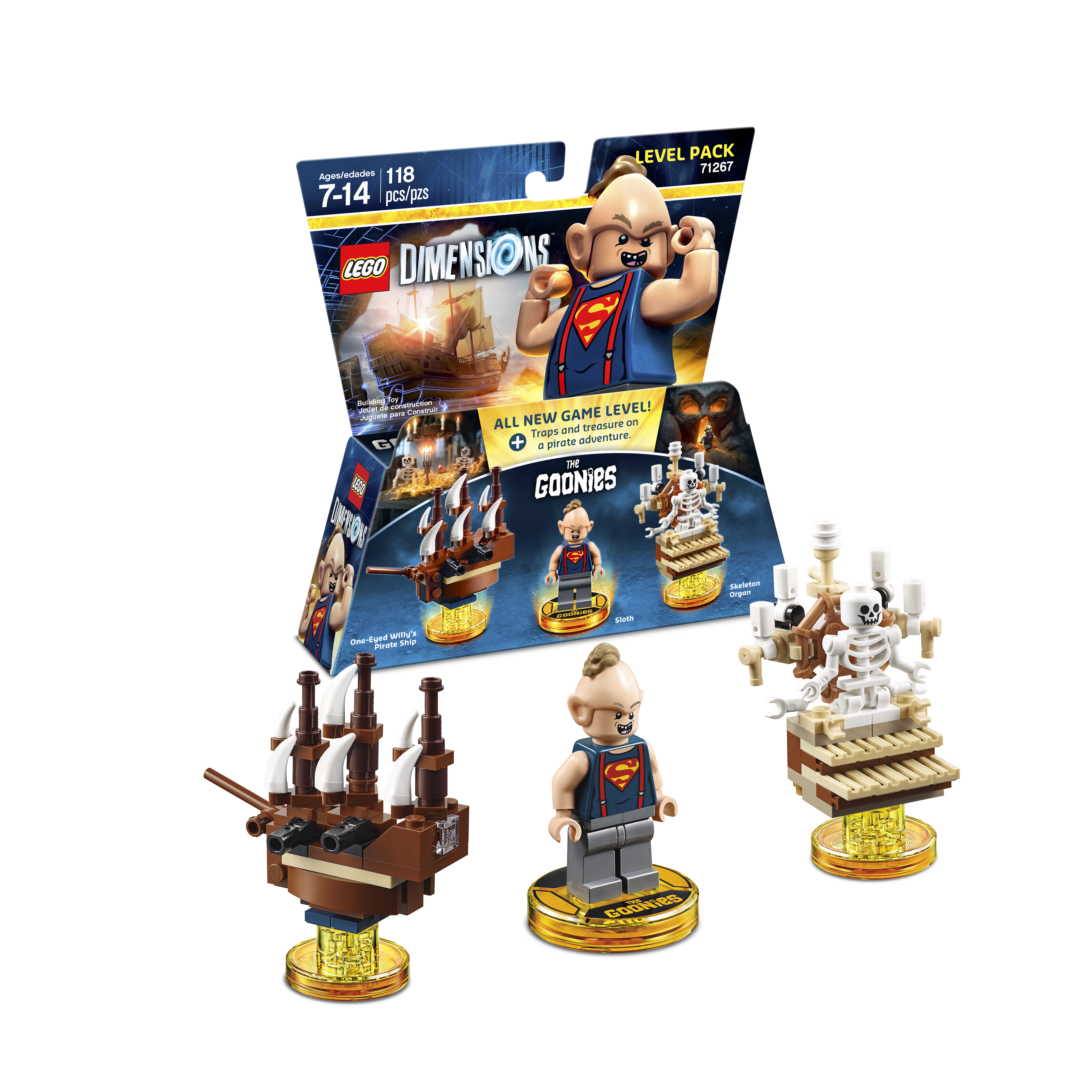 WB sent over some images early this morning for the next wave of Dimensions figures. This would be considered Wave 8 if you're keeping track.
Included in this wave are Sloth in the Goonies Level Pack, Hermione from Harry Potter in a Fun Pack, and Chase McCain from LEGO City in a Fun Pack.
Sloth is the clear winner in this round. He looks, no pun intended, superb. But in the screenshot that shows the Goonies gang, it saddens me that they are most likely going to be like the Wizard of Oz characters and we will never get them as minifigures.
Wave 8 of LEGO Dimensions will be released on May 9th, 2017. Also, in case you missed it, Wave 7.5 consisting of The Hoff in a Knight Rider Fun Pack (a GameStop exclusive until March 21st, 2017), Marceline Adventure Time Fun Pack, are still on sale at GameStop for $7.19 each with free in-store pickup.
"Hey, you guuuys!"

LEGO® Dimensions™ Expansion Packs Based on The Goonies, Harry Potter,

and LEGO City Announced for May Release

Warner Bros. Interactive Entertainment today revealed details around three highly collectable new expansion packs for LEGO Dimensions, the LEGO toy and videogame hybrid, that will be available on May 9, 2017. The Goonies Level Pack, the Harry Potter Fun Pack and LEGO City Fun Pack will broaden the selection of the world's most popular entertainment brands available for the game, allowing players to customize their experience by mixing and matching favorite characters and universes with full compatibility. In addition, LEGO minifigures included within each of these expansion packs come with special golden Toy Tags which unlock a free play Adventure World of the corresponding entertainment brand, as well as a Battle Arena that can be reached through Vorton. Each Battle Arena is unique to the world of the character used to unlock it and features competitive split-screen local gameplay for up to four players, with four exciting gameplay modes including Capture the Flag, Objective, Base Bash, and Tick, Tag, Boom!.

The Goonies Level Pack includes a complete level of The Goonies gameplay where players can help Sloth and Chunk escape the Fratelli hideout and join the rest of the Goonies on their search for One Eyed Willy's treasure. Players can use Sloth's Super Strength to smash through walls or play as Chunk and use his infamous Truffle Shuffle. The rebuildable One-Eyed Willy's Pirate Ship will sail on water and can also be built into the Fanged Fortune and the Inferno Cannon; while the rebuildable Skeleton Organ has Sonar Smash abilities and can also be built into the Skeleton Jukebox and Skele-Turkey for added game play capabilities. Sloth provides access to a new The Goonies Battle Arena, and also the Adventure World where players can explore Mikey's House, Inferno Cove and the Goon Docks. Once the level is complete, players will be able to replay through the game and other levels as any of the seven other Goonies characters to solve additional puzzles and access more collectibles in their journey through the LEGO multiverse.

Players can extend their wizarding adventures in LEGO Dimensions with the Harry Potter Fun Pack which includes a Hermione Granger LEGO minifigure. She can cast magical spells such as Wingardium Leviosa to levitate objects and Lumos to light up dark places. She also allows players to unlock the Harry Potter Battle Arena for a competitive match, along with the Adventure World where they can explore locations in Hogwarts, Hogsmeade and Diagon Alley. Players can build the 3-in-1 rideable Buckbeak the Hippogriff and use its Stomp Attack to smash Silver LEGO bricks, then rebuild it into the Giant Owl and the Fierce Falcon for additional in-game abilities.

Players can help stop crime in the LEGO Dimensions multiverse with the LEGO City Fun Pack featuring a Chase McCain LEGO minifigure. Chase can become a Miner to break Silver LEGO bricks or a Fireman to use his Water Beam to put out fires. Gamers can use his LEGO City Detective Scanner to track down bad guys and change his disguise to unlock more abilities. In the LEGO City Adventure World, there are new areas to explore like Blackwell's moon base and the LEGO City Police Department. Players can also compete with up to three of their friends in the LEGO City Battle Arena. Additionally, Chase's 3-in-1 Police Helicopter can be built to fire off bolts, then rebuild it into the Police Hovercraft and Police Plane for additional in-game abilities.

Developed by TT Games and published by Warner Bros. Interactive Entertainment, LEGO Dimensions is now available for PlayStation 4 and PlayStation 3 computer entertainment systems, Xbox One, Xbox 360, and the Wii U system.

Follow LEGO Dimensions at:
Facebook: http://www.facebook.com/LEGODimensions
Twitter: http://www.twitter.com/LEGODimensions (@LEGODimensions)
Instagram: http://www.instagram.com/LEGODimensions (@LEGODimensions)
Tumblr: http://LEGODimensions.tumblr.com

Follow the LEGO Dimensions YouTube series at: http://www.youtube.com/LEGODimensions