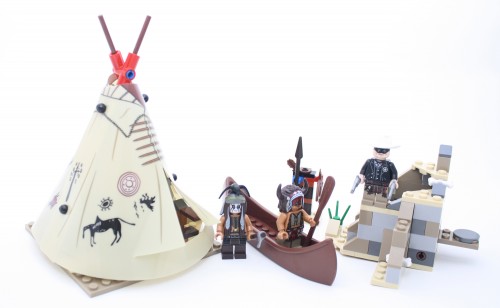 Unfortunately, The Lone Ranger bombed out of my local theaters before I had a chance to even consider seeing it, so most of what I have to go on in the movie is jokes from late night talk shows and the trailer I saw once before Iron Man 3. That means that, sadly, my jokes for this review are going to focus on the audacity of Johnny Depp in red-face. I'd like to fall back on making jokes about the TV Show, but somehow, I missed it despite a childhood wasted on Nick-at-Night.
Okay, to be fair, I never had any intention of seeing this movie, but something about these sets caught my eye when I saw them on the shelves. I'm not one for reading spoilers or leaks, unless they're news on the site, so I hadn't done much to look at these sets before they showed up at Walmart alongside the Man of Steel and Iron Man 3 stuff.
So, on a whim, I picked up all of the sets up to the Colby City Showdown (my fellow author, cas, will be working on reviews for the Cavalry Builder and the Stagecoach, while I'm handling this one and the said Showdown). At $20, 161 pieces, 3 minifigs and a whole lot of scorpions, this set seems to have a lot going on when you check out the box. The question is, does it hold up once you put the thing together?