Posts Tagged '70800 Getaway Glider'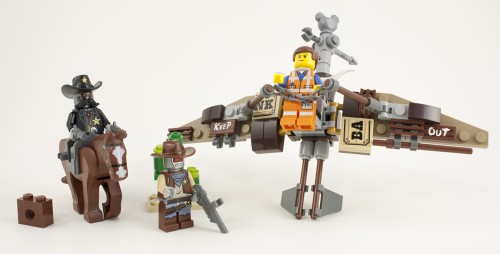 I've covered this in reviews before, but small sets are the hardest ones to review. It's pretty easy to figure out if a larger set is worth the money, either through the number of parts or exclusive value. Small sets, on the other hand, can be tough, since there are fewer parts to draw it, and an "exclusive" figure loses a bit of the polish when getting him costs as much as a couple of combo meals at McDonalds.
Getaway Glider is a glider that includes a couple of robots (one named "Not-a-robot"), a horse, and the glider. There are some interest parts at the first glance, like a rooster in flat silver and small dark brown rounded slopes. It only runs $13, the same as 70801 Melting Room, but is quite a bit smaller, or at least it feels smaller. It has 104 parts, which makes it one of the few sets in the line that dips below the mythical, arbitrary (and often unfair) 10-cent magic number.
So the real question is how does it fit into the line that is going to be begging for so many of our dollars, and is it worth grabbing this one over one of the other sets like it.