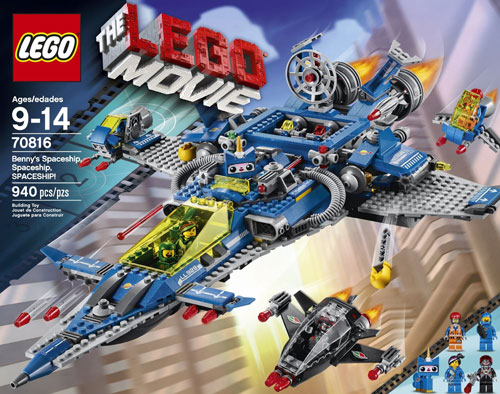 Update: According forum newcomer Kayne, there is a process to getting Benny's at the $80 price tag:
I just checked it again this morning and you can still get the Spaceship today. Go to Walmart.com, and click on the online specials tab on the front page. Look for the lego bundle starting at $14.97. If you go into that bundle you can customize it to be the Spaceship which it says adds $65.03 to bundle price. That brings you to $80 even and you are happy!
I just tried this method and it works! I'll save you a step and link to the starting bundle right here. The $80 price tag is still valid but unknown for how long.
Thanks, Kayne!
Ahead of the unofficial start of the holiday shopping season, Black Friday, Walmart is jumping the gun by offering sales and deals throughout November. Today, November 1, they will be offering Rollbacks on more than 20,000 items throughout the store both physical and online. One item in particular is 70816 Benny's Spaceship, Spaceship, SPACESHIP!. The price is a solid $80, a 20% drop from MSRP of $99.99 with free shipping or free store pick-up and is the best price we've seen on this set ever. At least that's what this news article says it's supposed to be because as of this writing, it's still stuck at $94.97. Amazon, who has a habit of matching Walmart's online prices, seems to be out of stock at the moment as their page
shows the set being sold by Amazon Marketplace sellers. As far as I can tell, this deal is for one day only as each day seems to trigger a new type of sales promotion. You can read about the details here. If any more LEGO deals pop up, we'll do our best to report it.