Well, that was a year, wasn't it?
City: 13/11
Harry Potter: 15/9
Star Wars: 15/9
Look at that, the licensed themes came in a tie at the end, which means they are at least consistent in quality. City ended up having more winners than losers but still seems like it's very much just an okay, C-average kind of set. Here are our final thoughts.
City (Nick)
This calendar was one of the weirdest I remember putting together. It had a lot of highs, and a lot of lows, and not all that much in between. The minifigures were all a highlight, though I think the cops theme for has been played out for City for a long time (even before this year). It was just all over the place, though… I wish they would have picked a consistent theme.
So many of the vehicles didn't fit anywhere, other than being part of a city in general. I could be disconnected and everything in the calendar tied back to a set. Maybe all the characters are in a cartoon, and I'm really missing out. But it feels like just tightening up the overall "story" and making things feel more cohesive, would have done more. The fact we only got three mini buildings… where that could have been a better theme, or had a build that took three days, just makes it feel less substantial at the end.
That's weird, though… there are more parts in this set than other calendars, by a lot. The builds are overall more complex, and some are done extremely well. But when it misses… it misses bad. It finished slightly over .500, which makes it better than average, but the best minifigure was a cop with a sweater on day 2, and few of the other things even felt like they had a holiday theme.
The best and worst for this is pretty hard to pick, to be honest. There weren't any incredible highs… all of the minifigures were solid, and only one really had any holiday feel to it. I'm not going to pick them, even though they're all probably better than the various mini builds. The worst build is easy… that's got to be the Fire Truck thing on Day 11. I didn't like the plane, but the firetruck was just downright bad.
The best is trickier, but I'm going to go with Day 14's Monster truck; the hatchback was a close second, even if it was a bit oversized. The monster truck, though, is probably the most inventive build in the set, you know exactly what you're looking at, and it could have been better with rubber on the wheels, but it was still awesome.
Really, though, I'm mostly hoping for a better theme for them to build around in 2021… there's plenty they could have drawn to make it work, and so much more they could have done to make it feel like a holiday advent calendar.
Harry Potter (Eric)
Harry Potter is so intrinsically tied with Christmas to me. I remember seeing the movies on ABC Family's 25 Days of Christmas, and my parents flipping quickly because we weren't allowed to watch those movies (witchcraft or something like that. I'm from Alabama, so that kind of thing isn't abnormal). Still, despite Christmas in the books / movie only being a sliver of the story, something about the roaring fires, isolated setting, and youthful magic so omnipresent in Hogwarts epitomizes the Christmas feeling, much more than any cheesy try-hard Hallmark movie could.
I know I've given a few of these days a hard time, and I do think it's a bit confusing to throw in some random windows along with a Yule Ball setting. The minifigs were a huge detraction, too. Only two (well, two and a half, at most) exclusive figures. Harry, Ron, and Hermione came straight from the Clock Tower set, which is always kinda dissapointing. Especially with Hermione being the last figure; I'd expect something cool instead of a repeat.
So unless you've just got to spend $40 on those figs to fill out your Yule Ball collection, it's not really worth it. But, hey, it's Christmas, and I'd rather be at Hogwarts any day than in a nation full of stubbornly sick people. And if this Advent Calendar helps you forget that the world is metaphorically on fire (only a few more years until that's literal!), then that's good enough.
See you next year for the inevitable Slug Club Christmas Party themed calendar!
Star Wars (Ace)
I really had low expectations going into this year's calendar. But looking at the final score of 15 ups and 9 downs, I'm forced to acknowledge that it ended up being pretty good. Some standouts that I can think of right off the top of my head are the A-Wing with the notch in the nose, the ugly sweater minifigs, and that terrible Tauntaun. It's hard to pick an absolute favorite but I may have to go with this one: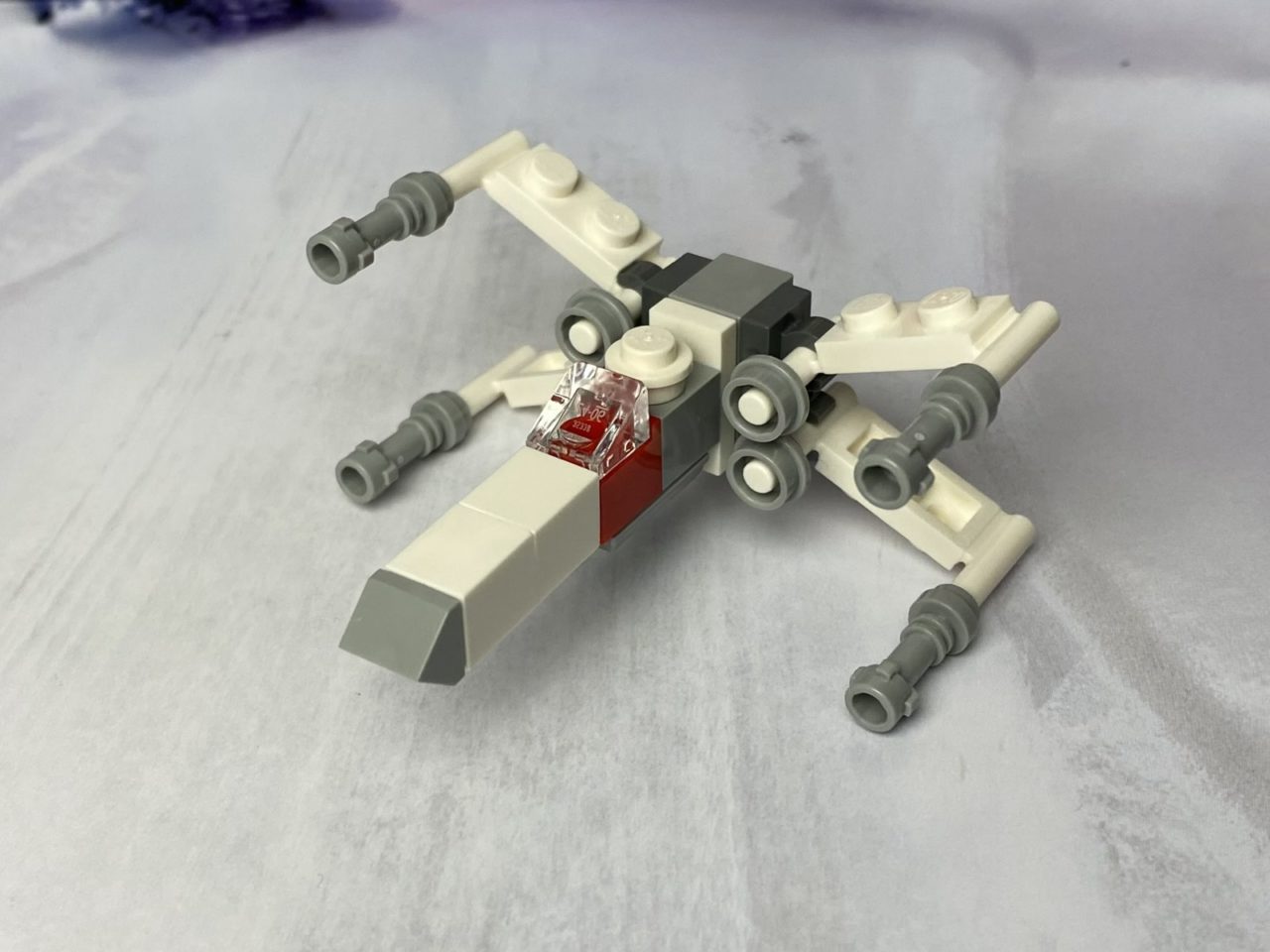 Day Eight's X-Wing. No other ship can bring that sense of wonder I had when I was a little kid and saw Star Wars for the first time. Seeing them pop-up in The Mandalorian show makes me feel like a little kid again. Looking back at the entire range of builds in this year's calendar, my eye always came back to this thing, and I'd get that same sense of feeling, even if it was just a hint of it. You can pinch the back of it with your thumb and forefinger on the 1×2 brick, just behind the stud that's supposed to be R2, and swoosh it a bit, wiggle it for evasive maneuvers to avoid enemy fire. The S-foils can lock into attack position, which is the very bare minimum that any X-wing model HAS to do in my opinion. And this build does just that, even if you may have to stare at it head on with one eye closed to get them juuuust right. Sure it's not anything new, the X-Wing is done to death and I'm sure there's been more than a few in previous LEGO Star Wars Advent Calendars, but for me, for this year, the Incom T-65 is the one that beat out all the rest to be my top pick.
The worst one? I was trying to decide between Day Nineteen's Tauntaun and Day Eleven's Millennium Falcon but I'm going to have give the Razzie Award to:
This thing. The dark tan is really an eyesore and the rear exhaust port is just so terribly attached. The 1×2 trans-blue tile floats away from the body of the ship. The bracket for the cockpit is dark gray and there is no reason for that. It could have used a cheese slope on the exposed stud, and that 1×1 trans-smoke tile for the cockpit should have been a stud for a little bit of a conical effect. One of the only highlights of this thing is the shape of the front mandibles but once your eye goes back to that dark tan you're utterly disappointed again. Just terrible. I'd rather get a second Tauntaun.
For a final final review score for 75279 LEGO Star Wars Advent Calendar, I'd give it a 2 out of 5 stars. The daily tally would make you think otherwise, but in the end all these small builds just end up in the parts bin to be sorted.