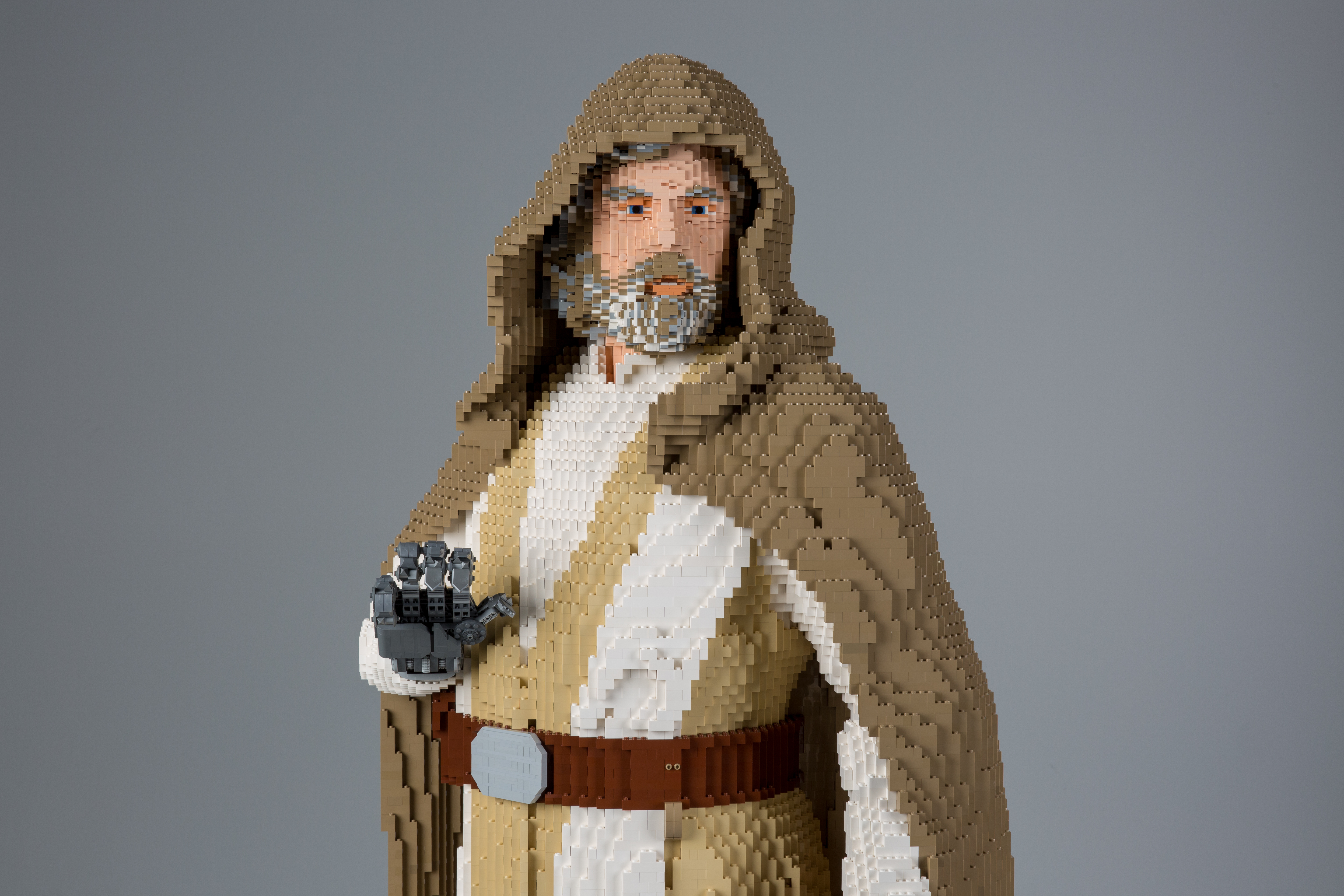 LEGO just sent us their press release for San Diego Comic Con, kicking off, well, now-ish, as well as some hi-res images for the statues on display and exclusives being offered. Of important note for those of us unable to attend the con (or based on the crowds I've seen, those of us lucky enough to not be subject to that). We have some details for attendees below.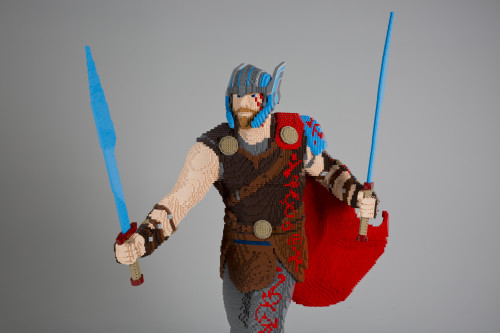 If you are at the con, some big highlights:
Three very nice life-sized statues, including the Jedi Master himself, Luke Skywalker (reportedly life-sized, and yet taller than Mark Hamill), Ragnorok Thor, and Justice League Flash… look, I'm just going to sit here and gaze into Luke's LEGO eyes for a bit…
A panel on Thursday evening, 

July 20

, by The LEGO NINJAGO Movie panel, in Room 6A. Given how much fun that movie looks to be, it would be well worth it to check it out if you can get in
As we reported earlier, Super-Girl and Martian Manhunter BrickHeadz will be available on Friday and Sunday. The exclusive Vixen Minifigure will be available on those same days (see the details below)
The Marvel BrickHeadz exclusives are Spider-man and Venom, available on Thursday and Saturday. The exclusive Deadpool the Duck figure will also be available on those days
2018 LEGO DC Super Heroes sets will be available onsite… Superman™ & Krypto™ Team-Up 

($19.99)

, Speed Force Freeze Pursuit 

($29.99)

, and Lex Luthor™ Mech Takedown 

($39.99)

Several (but not all) of the LEGO Ninjago movie sets will be available as well… Water Strider 

($29.99)

, Jelly Sub 

($29.99)

, Green 

Ninja Mech Dragon

 

($49.99)

, Lightning Jet 

($59.99)

, 

Garma Mecha Man

 

($59.99)

, Fire Mech 

($69.99)

, Ice Tank 

($79.99)

, Temple of Ultimate Trials 

($99.99)

, and Destiny's Bounty 

($159.99)
If you're onsite, to enter the LEGO minifigure giveaway, "show attendees must visit the Pavilion Terrace at 12:30pm each day to enter an instant drawing giveaway, to be fulfilled on the spot while supplies last. One drawing per person per day." FBTB has a long and storied tradition of all sorts of shenanigans related to these drawings. For the rest of us, there will be changes to win the minifigures; follow @LEGO_Group and the hashtag #LEGOSDCC for entry into a drawing (and since you can't follow a hashtag as far as I know, just watch their twitter for details on what to do… likely retweet something).
The full press release is available below the fold, as well as additional images.
LEGO Systems Builds Star-Studded Activities and Excitement for The LEGO® NINJAGO® Movie at San Diego Comic-Con International

-Company unveils new life-sized Master Builder creations, offers sneak peeks of select 2018 products, collectible giveaways, and show exclusives for purchase-

SAN DIEGO, July 19, 2017 /PRNewswire/ – SAN DIEGO COMIC-CON – LEGO Systems, Inc. will celebrate its highly anticipated third feature film, The LEGO® NINJAGO™ Movie at this year's Comic-Con International: San Diego (SDCC), the world's largest comic and entertainment convention. In collaboration with Warner Bros. Pictures and Warner Animation Group, the company will host celebrity appearances, hands-on building fun, and showcase new building sets that will bring the film's characters and story to life. Attendees will also be delighted with never-before-seen life-sized LEGO® models, first looks at 2018 products, one-of-a-kind LEGO minifigure giveaways, exclusive retail offerings, and more at booth #2829 in Hall D of the San Diego Convention Center from Thursday to Sunday, July 20-23.

"Ninjas, super heroes, iconic pop culture characters and more will be celebrated in LEGO form at this year's San Diego Comic-Con," said Amanda Madore, senior brand relations manager, LEGO Systems, Inc. "Attendees can expect fan favorite activities like exclusive giveaways, inspiring life-sized models, and autograph signings. In anticipation of our third LEGO feature film, The LEGO NINJAGO Movie, we are also offering attendees the first opportunity to purchase building sets based on the September film before their August 1st global availability date."

The LEGO® NINJAGO™ Movie
The weekend activities are kicked off Thursday evening, July 20, by The LEGO NINJAGO Movie panel, held in Room 6A, where producer Dan Lin and stars Dave Franco, Justin Theroux, Abbi Jacobsen, Olivia Munn, Kumail Nanjiani, Michael Peña and Zach Woods will be available for questions about the all-new 3D animated adventure, in cinemas September 22, and will debut the film's brand-new trailer.  Prior to hitting the big screen, The LEGO NINJAGO Movie will come to life in LEGO building sets being showcased publicly for the first time at SDCC including: Spinjitzu Training Dojo ($9.99), NINJAGO City Chase ($19.99), Master Falls ($29.99), Manta Ray Bomber ($29.99), Garmadon, Garmadon, GARMADON!($79.99) and the intricate NINJAGO City ($299.99). Select building sets based on The LEGO NINJAGO Movie are available for purchase at the LEGO booth in advance of their global August 1 availability date, including: Water Strider ($29.99), Jelly Sub ($29.99), Green Ninja Mech Dragon ($49.99), Lightning Jet ($59.99), Garma Mecha Man ($59.99), Fire Mech ($69.99), Ice Tank ($79.99), Temple of Ultimate Trials ($99.99), and Destiny's Bounty ($159.99).

Also on Thursday July 20th, together with LEGO Master Builders attendees will build giant models of one of the film's main characters, Garmadon, and autograph signings with talent from The LEGO NINJAGO Movie will take place in the Warner Bros. Booth. The build will continue through Friday, July 21 with the help of surprise cast members. Show attendees are invited to build another leading character, Lloyd on Saturday, July 22 and Sunday, July 23.

LEGO® Super Heroes: DC Comics™
In celebration of his appearance on the big screen in Warner Bros. Pictures' much-anticipated action adventure epic Justice League, in theaters beginning November 17, 2017, The Flash will make his debut as a life-sized LEGO model in the LEGO booth. Built from 20,909 LEGO bricks and standing just over six-feet tall, the model took LEGO Master Builders over 250 hours to create. Building sets from the 2018 LEGO Super Heroes: DC Comics collection including Superman™ & Krypto™ Team-Up ($19.99), Speed Force Freeze Pursuit ($29.99), and Lex Luthor™ Mech Takedown ($39.99), will be revealed publicly for the first time at the show.

Also from DC, a specially produced LEGO BrickHeadz building set featuring characters Supergirl™Â and Martian Manhunter™Â will be sold on Friday, July 21 and Sunday, July 23. The set contains 234 pieces and retails for $40.

A LEGO minifigure version of Vixen inspired by Warner Bros. Television's hit CW TV series DC's Legends of Tomorrow, will be given away to winners on Friday, July 21 and Sunday, July 23.

LEGO® MARVEL Super Heroes
Honoring Chris Hemsworth's third appearance in LEGO form and the debut of Thor: Ragnarokin November, a life-sized LEGO model of Thor will stand proudly at 7 feet tall in the LEGO booth. LEGO Master Builders spent 290 hours and used 33,495 LEGO bricks to create the model that features Thor's new short haircut as previewed in the film.

A limited-edition LEGO BrickHeadz building set from the Marvel Universe containing Spider-Man and Venom will be available for purchase exclusively at the LEGO booth, on Thursday, July 20, and Saturday, July 22. The set contains 144 pieces and retails for $40.00.

Winners who entered the LEGO giveaway may take home an SDCC exclusive LEGO minifigure Deadpool Duck on Thursday, July 20, and Saturday, July 22.

LEGO® Star Wars™
LEGO Star Wars™Â fans will feast their eyes on an incredible new LEGO model of Luke Skywalker, inspired by the iconic character as seen in Star Wars: The Force Awakens. The life-sized LEGO model that stands over six feet tall, took LEGO Master Builders 277 hours to design and build, and contains 36,743 LEGO bricks.

Onsite Exclusive Retail Sales Details
Beginning as early as 6am daily, throughout the show, interested attendees should first visit the Pavilion Terrace to participate in a random drawing to qualify to purchase LEGO BrickHeadz sets at the LEGO booth #2829. Each of the two exclusive retail sets will be sold on separate days of the show, with a limit of one set per attendee per day. Tickets to purchase must be redeemed on the same day or purchase is forfeited.

Thursday, July 20

, and 

Saturday, July 22

: LEGO BrickHeadz Spider-Man and Venom

Friday, July 21

, and 

Sunday, July 23

: LEGO BrickHeadz Supergirl™ and Martian Manhunter™

LEGO Minifigure Giveaway Details
To secure an opportunity to receive an exclusive LEGO minifigure giveaway, show attendees must visit the Pavilion Terrace at 12:30pm each day to enter an instant drawing giveaway, to be fulfilled on the spot while supplies last. One drawing per person per day.

Thursday, July 20

, and 

Saturday, July 22

: Deadpool Duck minifigure

Friday, July 21

, and 

Sunday, July 23

: Vixen minifigure

Fans who are not attending SDCC have a chance to win the exclusive LEGO minifigure giveaways and exclusive retail sets via Twitter. Fans who follow @LEGO_Group and the hashtag #LEGOSDCC will be entered into a random drawing.

About the LEGO Group
The LEGO Group is a privately held, family-owned company with headquarters in Billund, Denmark, and main offices in Enfield, USA, London, UK., Shanghai, China, and Singapore. Founded in 1932 by Ole Kirk Kristiansen, and based on the iconic LEGO® brick, it is one of the world's leading manufacturers of play materials. Guided by the company spirit: "Only the best is good enough", the company is committed to the development of children and aims to inspire and develop the builders of tomorrow through creative play and learning. LEGO products are sold worldwide and can be virtually explored at www.LEGO.com.

THE LEGO NINJAGO MOVIE © The LEGO Group & Warner Bros. Entertainment Inc.

About The LEGOÂ NINJAGOÂ Movie
A new animated adventure in Warner Bros. Pictures' LEGO franchise, "The LEGO NINJAGO Movie" stars Dave Franco, Justin Theroux, Fred Armisen, Abbi Jacobson, Olivia Munn, Kumail Nanjiani, Michael Peña, Zach Woods, and the legendary Jackie Chan.  The film is directed by Charlie Bean, Paul Fisher and Bob Logan, from a screenplay is by Bob Logan & Paul Fisher & William Wheeler & Tom Wheeler and Jared Stern & John Whittington, story by Hilary Winston& Bob Logan & Paul Fisher & William Wheeler & Tom Wheeler and Dan Hageman & Kevin Hageman, based on LEGO Construction Toys. 

"The LEGO NINJAGO Movie" is produced by Dan Lin, Phil Lord, Christopher Miller, Maryann Garger, Roy Lee, and Chris McKay. The executive producers are Jill Wilfert, Keith Malone, and Seth Grahame-Smith, with John Powers Middleton serving as co-producer.  The creative filmmaking team includes production designers Kim Taylor  and Simon Whiteley.

The film will open worldwide beginning September 22, 2017, in both 3D and 2D.  From Warner Bros. Pictures and Warner Animation Group, in association with LEGO System A/S, a Lin Pictures/Lord Miller/Vertigo Entertainment Production, "The LEGO NINJAGO Movie" will be distributed worldwide by Warner Bros. Pictures, a Warner Bros. Entertainment Company. LEGONINJAGOMovie.com