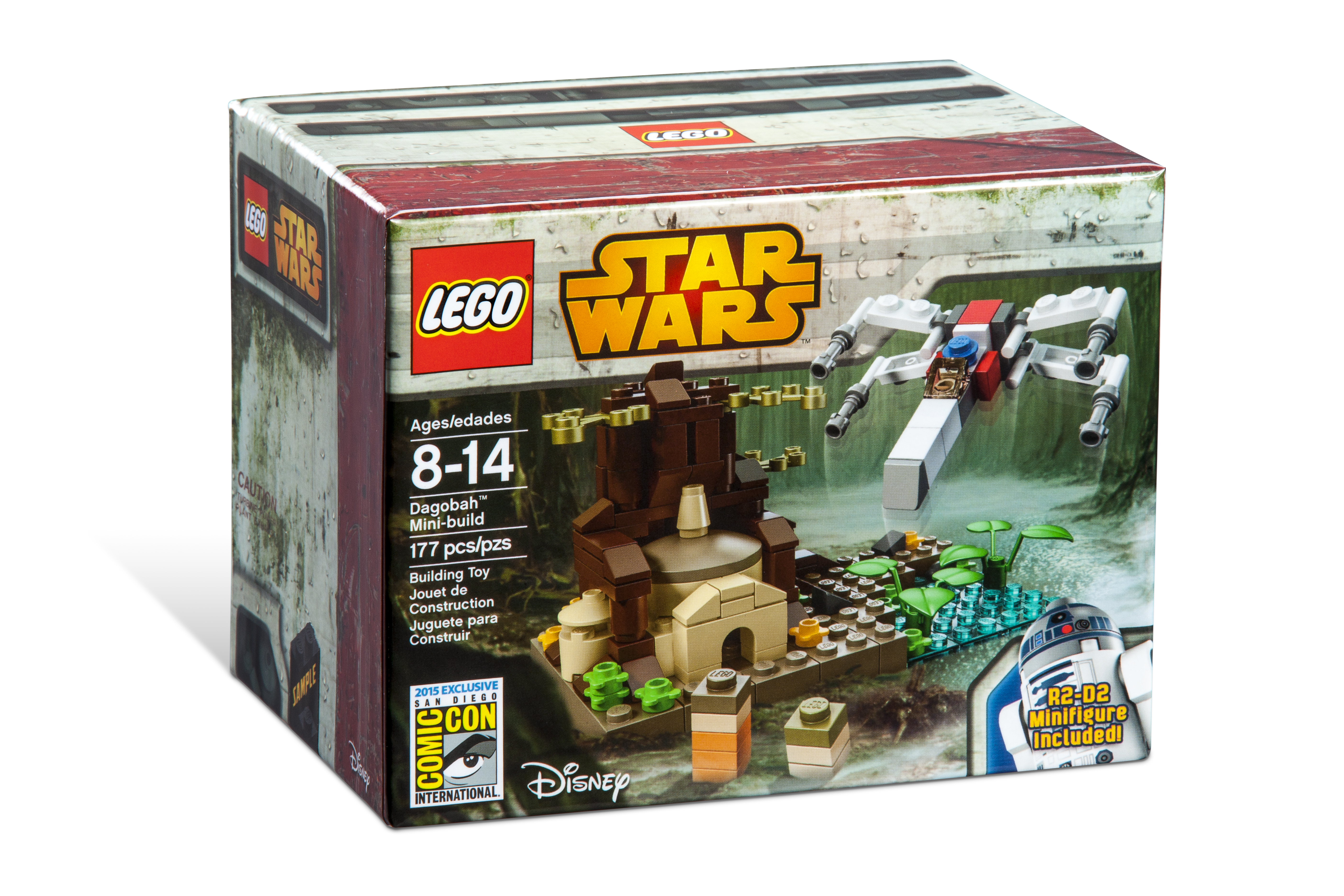 7:00am – LEGO Star Wars Dagobah Mini-build Ticket Distribution
Upstairs in the Sails Pavilion
Wait in line, walk up to an ipad and either cry or rejoice. If you rejoice you'll receive a ticket to purchase the exclusive set down at the LEGO booth. The back of the ticket will have a time at which you can go to buy. This is designed so that not everyone crushes the booth at the same time so please try and keep to your time slot or any time after.
Good luck!
11:00am LEGO Star Wars Product Reveal
LEGO booth at #2829
I'm pretty sure its the new style stormtrooper from the upcoming The Force Awakens film.
12:30pm – LEGO Bionicle Mask Giveaway
Upstairs behind the Sails Pavilion
One try per person per day while supplies last. For Captain Falcon yesterday, the line started to move early, around 12:00noon, and supplies lasted until around 2pm when they ran out.
3:00pm to 7:00pm – LEGO Dimensions Hands-On Demo
Legends Ballroom 2, Hard Rock Hotel
Come try out the Doctor Who level in LEGO Dimensions and get a free art print featuring Doctor Who and Portal characters. Pre-order from the GameStop Kiosk to get a free t-shirt. All giveaways are available while supplies last. The schedule lists a "Scooby Doo Photo Op". Perhaps it's a life-sized Scooby-Doo sculpture that we haven't seen yet? I might have to go check it out again.
4:15pm to 5:15pm – LEGO Marvel's Avengers: From Silver Screen to Videogame Console
Room 6A
Join Arthur Parsons (Game Director, TT Games), Matt Ellison (Producer, TT Games), Mike Jones (Executive Producer, Marvel Games), Bill Rosemann (Creative Director, Marvel Games) – and a special guest appearance by Marvel legend Stan Lee – as they present an inside look at LEGO Marvel's Avengers, the first console videogame featuring characters and storylines from the critically-acclaimed film Marvel's The Avengers and the blockbuster sequel Marvel's Avengers: Age of Ultron, all combined with a splash of classic LEGO humor. Warner Bros. Interactive Entertainment, TT Games and Marvel Games, along with moderator Greg Miller (KindaFunny.com) are teaming up to provide a spirited panel discussion on this brand new, action-packed Super Hero adventure, including a live game-play demonstration, reveals of enhanced character team-up abilities and power-up features, new artwork, the latest game trailer and more. Not to mention exclusive giveaways! LEGO Marvel's Avengers will be available this winter.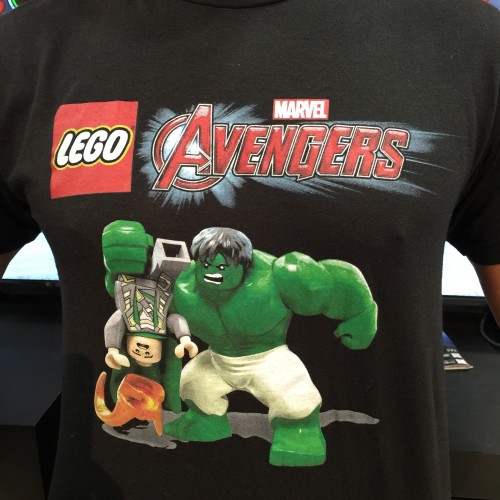 The giveaway is the shirt shown above. They only come in two sizes: Adult Large and Kids Large. Marvel's Avengers boasts a cast of 100 new, never-before-seen characters. Yes, they include characters that were not included in the LEGO Marvel game from a few years ago.
6:00pm to 7:00pm – Making the LEGO Fan Scene
Room 23ABC
So what happened in the past year on the LEGO fan scene? Joe Meno (editor, BrickJournal magazine) talks with Nathan Sawaya (LEGO certified professional builder), Tommy Williamson (BrickNerd blogger and Brickfilmer), Brandon Griffith (creator, STUDS cards and ComicBricks), and Paul Lee (LEGO artist) about the people, the models, and even the films that are leading the LEGO fan community in new creative directions. The panel will also discuss how to become part of the community, and take questions.