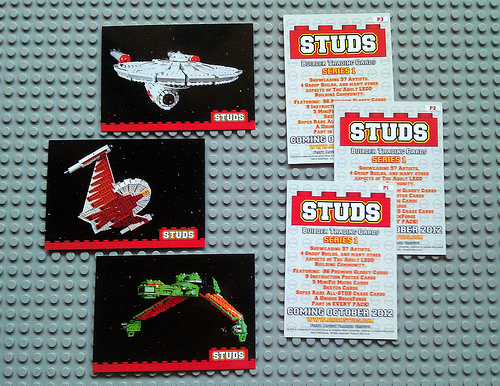 In June of 2012, there was a Kickstarter campaign by Brandon Griffith for STUDS trading cards celebrating the many talented builders in the AFOL community. It surpassed its funding goal and a short two years later STUDS will soon be available for the general public to purchase. At 12:00pm on September 10th, dial your browser to BrickStuds.com to purchase your packs. Each Series 1 pack contains 96 base cards and 9 instructions cards. Chase cards include sketch cards from Paul Lee and Greg Hyland, Autograph cards, and custom fig cards.
This is a one-and-done series folks. Once Series 1 is sold out, there are no plans to reprint them again.
Full press release is below:
STUDS Builder Trading Cards Series 1 Available September 10th

STUDS Builder Trading Cards Series 1 will be available for purchase online September 10th, 2014 at brickstuds.com!

STUDS Builder Trading Cards is a unique series of collectible trading cards that showcase the creative individuals of the adult LEGO building community. Each builder card depicts a LEGO® built piece of art and provides a profile of the artist. Other cards in the series highlight fan made products, conventions, publications, and artist sketches.

The project was conceived, curated, and produced in the US (with the help of a successful Kickstarter) by noted brick artist Brandon Griffith. "It's been incredible working with so many talented artists to create these cards and I look forward to expanding the series!"

Products debuting at brickstuds.com on September 10th include:
STUDS Packs: Each STUDS Pack includes 8 trading cards and 1 Brickforge element. Look for rare chase cards including: Artist Autograph Cards, Custom Fig Cards, and Sketch Cards!
STUDS Box: Each STUDS Box includes 28 Packs
STUDS Factory Set: The STUDS Factory set includes the 96 card base set plus 9 poster card set
STUDS Series 1 Binder
STUDS Series 1 is a limited print run – once they sell out no more will be printed – so mark your calendars and grab them while you can!

Follow Brickstuds online for updates, news, and information on STUDS Series 2!

https://www.facebook.com/BrickStuds
Tweets by BrickStuds

LEGO® is a trademark of the LEGO® Group of companies which does not sponsor, authorize or endorse this product.