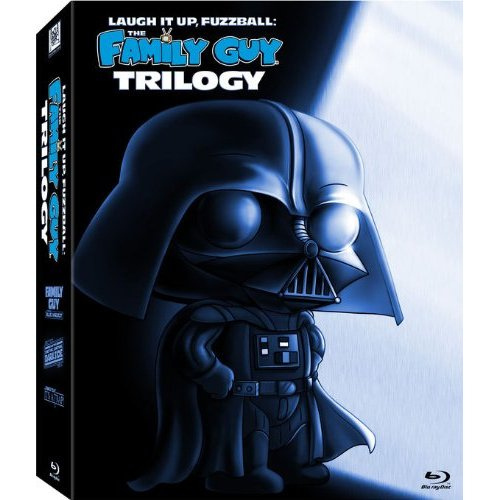 I know what it's like. I've been there. You're at the store, staring at the LEGO aisle, trying to figure out what would make a nice gift. What do you get the LEGO Star Wars fan who has every set known to man? You want to get them something you know they'll like, but you're tired of getting any old LEGO set that they probably have two, three, or ten times over. Well, I'm here to help you out and provide some alternative gifts that your LEGO Star Wars fan hopefully doesn't have already, but would make a nice addition to their collection nonetheless.
The post is titled "last minute" and although Sunday the 19th isn't quite considered last minute, there's only 5 more shopping days left until Christmas and since I'm all about internet shopping these days, posting this list now will give you some time to either hunt these down in person or buy them online while taking into account shipping times. The items listed below link directly to the Amazon product page. Today is the last day to order to take advantage of Free Super Saver Shipping. If you're a member of Amazon Prime
/Student
/Mom
, you have until 7pm PST Wednesday 12/22. For more information on shipping deadlines, check out the shipping schedule
page on Amazon.
And with that, let's move on to the list.
If your loved one hasn't picked up a copy of LEGO Star Wars: The Visual Dictionary yet, it would behoove you to help fill that void. Currently standing at $13.19 (MSRP $21.99) through Amazon, you can order it today in time for Christmas.
If they do have a copy of the Visual Dictionary, there's always the LEGO Brickmaster: Star Wars book. It comes with about 250 pieces and instructions to build 6 different models with the included pieces. Price is $17.99 (MSRP $29.99).
For the younger fan, for $4.99 (MSRP $12.99) how about this LEGO® Head ZipBin® Toy Tote & Playmat? If you're visiting relatives, you can take LEGO with you in this handy bin, and it comes with a play mat for easy clean up. There's a bunch of others available if the giant head isn't your cup of tea.
Are they a fan of Family Guy? The final installment of the Family Guy parodies of Star Wars is being released on DVD and Blu-Ray on Tuesday 12/21 even though the episode won't air until the season finale sometime next year, maybe May. You can buy the single episode on DVD for $12.99 (MSRP $22.98) or Blu-ray for $17.99 (MSRP $29.99), or you can get all three episodes in a DVD three-pack for $18.99 (MSRP $34.98) or a Blu-ray three-pack $22.99 (MSRP $39.99). Since the dvd/blu-ray comes out on Tuesday, you'll need to select an expedited shipping option in order to get it in time for Christmas or brave the traffic, the weather, and the crowds and buy it in person at your local big box/DVD store.
Is your fan a baker? A cook? A friend to all, be a plant or fish or tiny mole? Our friends over at ThinkGeek is offering this genius of a product, a Space Slug Oven Mitt for $19.99. Check out the awesome detail shot. ThinkGeek has a ton of cool Star Wars related stuff, too many to list here, but you can check out what's available to see if anything strikes your fancy.
How about some books? The Making of series is the definitive reference on how the Original Trilogy films were made, the difficulties and successes, pretty much everything you ever wanted to know and something every hardcore fan should have. The first book, The Making of Star Wars: The Definitive Story Behind the Original Film covers A New Hope and can be purchased from Amazon for $53.55 (MSRP $85) for the hardcover edition. Amazon shows a shipping delay for the second book, The Making of Star Wars: The Empire Strikes Back, but can be bought from BN.com for $54.62 (MSRP $85).
If you're still hard up for buying LEGO as gifts, you can always pick up the new 2011 sets of Star Wars and Pharaoh's Quest from Toys'R'Us. Those are currently sold out online, but are showing up in stores so you'll have to do some footwork to find them. Just be aware of any possible exorbitant markup that TRU may levee since it's the last few days before Christmas.
Well that's it for my gift guide. I hope some of you found this a little helpful at least.