Update: The Hagrid & Buckbeak BrickHeadz promo seems to be sold out now. Adding eligible items no longer has the set show up in cart. You may still be able to get it from a Brand Retail location. The added bonus of going that route is that you may be able to score the polybag set too. Call ahead and find out.
Even though the majority of the September 1 wave of sets came out last week, there were a few things that weren't released that are available today. Maybe you didn't know that some of the stuff came out last week. Maybe you were waiting for the promos to kick off. Maybe you only visit FBTB once a week. Hey, we're not judging. But let's start with the promos:
40412 Hagrid & Buckbeak Brickheadz GWP
This BrickHeadz two-pack is free with any LEGO Harry Potter purchases over $100. It says "$100" but you can get it with a $99.99 set like 75980 Attack on the Burrow. This deal is valid from 9/1/2020 to 9/15/2020 while supplies last. Given how much new Harry Potter stuff there is, this one should be a breeze to nab.
30420 Harry Potter and Hedwig: Owl Delivery GWP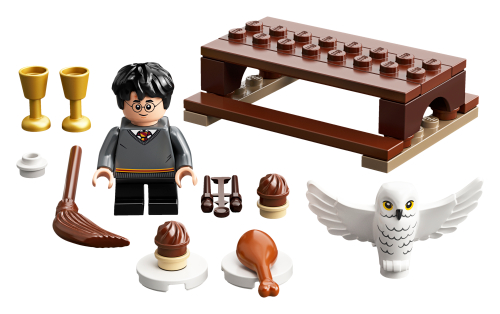 This promo polybag is also kicking off today but with a twist: this is an IN-STORE ONLY promo. Not one of their better ideas. Like the Hagrid & Buckbeak BrickHeadz, you'll get this free with a LEGO Harry Potter purchase of $40 or more and it's valid from from 9/1/2020 through 9/15/2020 or while supplies last.
New LEGO Harry Potter
The three missing sets from last week are now live. 75979 Hedwig is also Barnes&Noble exclusive if that interests you at all. New today is the HP Advent Calendar. And the CMFs are available too.
New LEGO Star Wars
Like Harry Potter, all of the Star Wars sets that weren't available last week are available today except for 75294 Bespin Duel. That one is sold out. LEGO.com is also showing The Razor Crest in stock and ready to ship. The 501st Legion Clone Troopers battle pack is temporarily out of stock. There's no indication that this is a limited edition product, so with a little patience supply should catch up with demand.
Clicking through any of these links and making a purchase supports our site. Thank you for your continued readership.