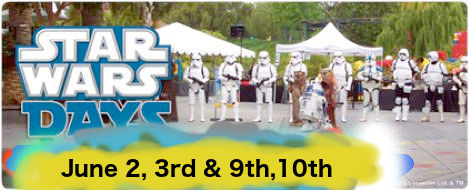 Like the title says, registration for Star Wars Days 2018 is now open!
Registration is for Fan Gallery participation only. If you plan on attending the park as a guest to ride the rides or go to the water park or the aquarium or do any other theme-park activity, this is not for you. If you have a LEGO Star Wars model that you'd like to display at the park and participate as a volunteer, then read on.
To register as a Fan Gallery volunteer, head on over to this Google form and enter your information. Then, start registering your MOCs. You MUST bring a MOC to participate. As far as what you can build and bring, anything under the Star Wars twin suns of Tatooine is acceptable. But like we do every year, we have a couple of themes you can build towards. They are listed below. Build the best thing everyone likes in that theme and you can win a prize! More details on that to come.
Also, new this year are a couple of activities that we have planned and are working on making happen. It would behoove you to register early to lock down your goodies. More details to come on that too.
Even though Star Wars Days is now a two-weekend event, that just means twice the fun! We hope you can make it as a builder or a park visitor. Either way, it's a great way to start the summer.
The Last Jedi Vignettes
Build a scene from the movie on a square base of 16×16 studs with minimal overhang. These will be arranged side-by-side in chronological order to hopefully showcase the whole movie in vig format as we've done in previous years.
Constraction scale vignettes
Large scale vignettes featuring the big buildable figures built on a large baseplate.
Landspeeders
Minifig-scale custom Landspeeders for any Star Wars character(s) of your choosing.
Mash-up Starfighters
Similar to the themed pod-racers and speeder bikes in the past: pick a fig from a non-Star Wars Lego theme and build them their own unique version of your favorite Star Wars starfighter. Lego's original themes, other licensed properties, and all collectible minifigs are welcome.
General Star Wars MOCs
Everything that doesn't fit in those categories above is included here, just be sure it's Star Wars related and built with Lego.