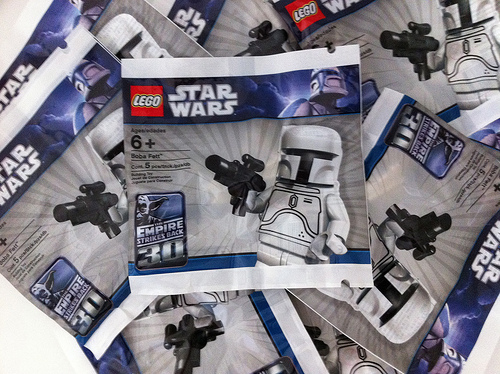 Wanna win one of these?
FBTB and TLG are are teaming up to give 10 lucky winners a White Boba Fett promo figure. All you have to do is send us a list of minifigures you would like to see in future LEGO Star Wars sets. Now, aside from some obvious holes *cough*Padme*cough* in the figure line up *cough*Queen Amidala*, this is your chance to have your voice be heard as to what else you may think LEGO has mistakenly omitted. OT, PT, EU, CW, all suggestions will be considered, compiled, and sent to LEGO. Here's what you gotta do:
Send an email to giveaways@fbtb.net with the subject line of Padme Please. One email per household.
Include a list of the minifigures you want to see. You may include as many as you'd like.
Include your mailing address.
You have until 11:59pm Tuesday November 23, 2010 to send in your list. Other terms and conditions apply; please see our giveaway rules page for more information.
From all the emails, 10 lucky winners will be picked at random to receive a White Boba Fett promotional figure. Prizes provided by The LEGO Group.