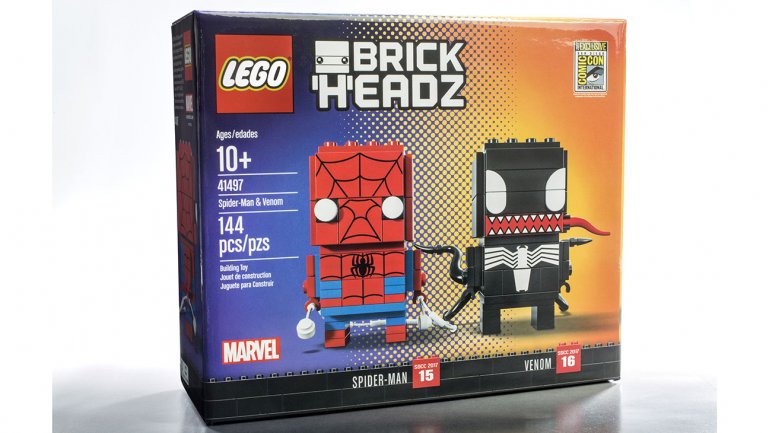 Today is Thursday. Today is the day you can try for the Marvel exclusives or maybe check out a panel or two.
Brickheadz Drawing
7am or so
Sails Pavilion
Ticket drawing for the Brickheadz exclusive of Spider-Man and Venom 2-pack (pictured above). The time and location is actually a guess since I never got any press release to confirm, so I'm just going by past history. And if history is any indication, Press and Exhibitor badges will be denied the chance to draw.
Unikitty! New Episode Premiere and Q&A
Thursday July 20, 2017 11:15am – 12:15pm
Room 6A
Your favorite character from The LEGO Movie now has her own show! Journey to a joyous kingdom full of sparkle matter, happy thoughts, and the occasional rage-out in Unikitty!, an all-new animated series. As ruler of the kingdom, Unikitty has busy days full of royal responsibilities. Unikitty is most interested in making sure everyone is happy and ridding the kingdom of negativity, but don't misunderstand her optimism-she is one kitty not to be crossed. While she may be full of boundless energy and creativity, Unikitty is a force to be reckoned with if anyone gets in the way of spreading her positive vibes, especially if anyone makes her little brother and best friend, Puppycorn, sad. Also living in the castle are Dr. Fox, the resident scientist, and Unikitty's trusty bodyguard, Hawkodile. Producers and members of the voice cast will give a sneak peek at this new series and explain how Unikitty and her friends will make sure that every day is the happiest and most creative ever! Produced by Warner Bros. Animation, Unikitty! is coming soon to Cartoon Network.
Deadpool Duck Minifig Giveaway
12:30pm or so
Sails Pavilion
Yes, this is the actual figure and no, it is not a joke. The badge policy will be the same deal as the Brickheadz drawing.
The LEGO Ninjago Movie
Thursday July 20, 2017 6:45pm – 7:45pm
Room 6A
In this big screen Ninjago adventure, the battle for Ninjago City calls to action young Master Builder Lloyd, a.k.a. the Green Ninja (Dave Franco), along with his friends, who are all secret ninja warriors. Led by Master Wu (Jackie Chan), as wise-cracking as he is wise, they must defeat evil warlord Garmadon (Justin Theroux), the Worst Guy Ever, who also happens to be Lloyd's dad. Pitting mech against mech and father against son, the epic showdown will test this fierce but undisciplined team of modern-day ninjas who must learn to check their egos and pull together to unleash their inner power of Spinjitzu.
This might be the only panel I'll be able to go to that doesn't conflict with their giveaways.