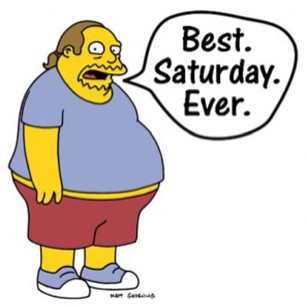 Once again I am here to offer a few select panels for Saturday at the San Diego Comic Con. There's a TON of stuff going on but I've carefully curated the selection below based on what I want to see I think you the LEGO fan would be interested in seeing.
Nickelodeon: Teenage Mutant Ninja Turtles-Booyakasha!
11:15am Room 6A
Revel in the mutation madness as the Teenage Mutant Ninja Turtles nunchuk their way through bad guys, eat pizza, and kick Kraang butt! Executive producers Ciro Nieli and Brandon Auman pull back the curtain to give an in-depth look at the creation of the current series and talk with the amazing voice talent behind NYC's most dangerous teenagers: Sean Astin (Raphael), Rob Paulsen (Donatello), Greg Cipes (Michelangelo), Seth Green (Leonardo), Josh Peck (Casey Jones), and Kelly Hu (Karai). Moderated by Rich Magallanes (SVP of current series animation for Nickelodeon).
Marvel Video Games
12:30pm Room 6A
The Marvel Games team and some of the most talented developers in the industry cover nearly 15(!) awesome Marvel gaming experiences spanning all platforms-many of which feature the Guardians of the Galaxy! Whether it's exclusive announcements regarding one of the year's biggest console titles (Disney Infinity 2.0: Marvel Super Heroes), updates to current favorites (Marvel Avengers Alliance, Marvel Avengers Alliance Tactics, Marvel Heroes, Marvel Puzzle Quest, Marvel: War of Heroes, X-Men: Battle of the Atom, Marvel Pinball), or entirely new game announcements, there's something here for every True Believer of the digital age. Also, a surprise special guest appearance-and the coolest giveaway this panel has ever handed out!
Teenage Mutant Ninja Turtles 30th Anniversary
2:00pm Room 23ABC
In 1984, Kevin Eastman and Peter Laird published the first issue of Teenage Mutant Ninja Turtles. The comic book was an overnight success, and three decades later, the Turtles are more popular than ever, starring in a hit Nickelodeon television series, an award-winning toy line, monthly comic books from IDW, and a new live-action movie later this summer. Join TMNT co-creator Kevin Eastman for a 30th anniversary celebration featuring a who's who of talented people who have contributed to the Turtles' enduring history. Guests include Karl Aaronian (Playmates Toys), Townsend Coleman (voice of Michelangelo in the original TMNT animated series), Lloyd Goldfine (4kids TMNT, Turtles Forever), Ciro Nieli (executive producer, Nickelodeon TMNT), Ernie Reyes Jr. (Keno inTMNT II: The Secret of the Ooze), and Tom Waltz (writer, IDW TMNT comics), and panel moderator Andrew Farago (curator, Cartoon Art Museum; author of TMNT: The Ultimate Visual History).
A Look at Beyond the Brick: A LEGO Brickumentary
5:00pm Room 23ABC
TwoMorrows Publishing and BrickJournal magazine present a behind the scenes look at a new LEGO documentary released at the Tribeca Film Festival earlier this year. Moderated by Joe Meno (editor of LEGO fan magazine BrickJournal), this panel will include one of the film's directors, Oscar-nominated Kief Davidson, producer Brendan Kiernan, and stop-motion filmmaker Tommy Williamson (www.Bricknerd.com).
And LEGO? They'll be doing a reveal at 11:00am and again at 3:00pm. They will also be giving away the above comic book with artist Paul Lee on hand to sign copies at the same time as the Brickjournal panel (5:00pm to 6:00pm).