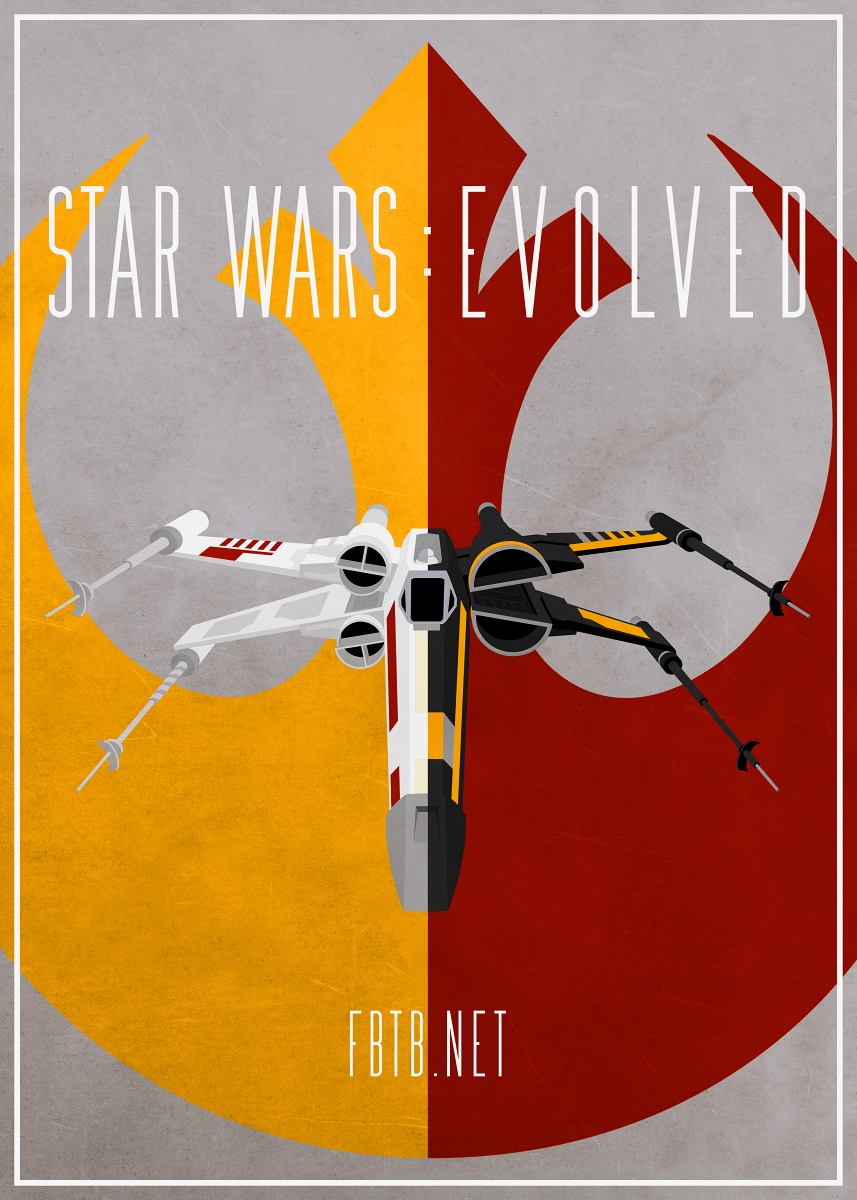 The Force Awakens is just under a month away now, and we've already had a taste of the action with the trailers and toys and myriad of marketing tie ins everywhere. One of the first things that stuck out to everyone is how familiar things seemed. The good guys are still flying X-Wings, the bad guys are flying TIEs… but these aren't your father's starfighters. These are different. They've been upgraded. They evolved.
This was done very deliberately. They want everything to really feel like this is all taking place thirty years after the Star Wars we remember, so the designs are grounded in what we know. But there's only so much you can do in one movie and even less to show in a few minutes of trailers. We're left with a universe full of ideas waiting to grow and expand upon, and that's where you come in.
This is your chance to put your own spin on your favorite craft from Star Wars. You can make it as subtle as the ships they've shown so far, or push it well beyond the 30 year jump from ROTJ to TFA. And knowing that contests around this time of the year can be daunting endeavors, we've set up an extended build window to accommodate: eight full weeks to work with. You can get the full details by expanding this post or checking out the thread in the forum.
The Challenge: Pick a ship or vehicle from Star Wars and build your own updated version.
Clarification: "Build your own updated version" means exactly what it says – you can't modify an official set and submit it, you have to build your own updated version. Start from scratch.

Basics
Stick to the core canon for your inspiration: that's the movies and Clone Wars & Rebels TV series.
Walkers, speeders, starfighters and all manner of other similar craft are fair game here.
Creatures and playsets are not.
It must be minifig/system scale and have room for at least a driver or pilot (if the source had one).
Don't use the X-Wing or Tie Fighter because we've already seen them. The Millennium Falcon is likewise off limits, but you can still build a different evolved YT-1300.
How much the ship evolves is up to you, but you can't just build the same craft in a new colorscheme (the Tie just barely passes). We encourage more change than less, but make sure the inspiration is clearly recognizable.
Standard Contest Restrictions:
No more than one entry per person.
No unofficial or modified parts allowed.
No pre-existing or virtual models.
No changes allowed after the deadline.
How to Enter:
Simply post your submission photos in a reply to the contest thread before the deadline, which is 11:59PM PST January 16th 2016. The first image posted will be used in the polls, but you can post up to five and a link to a gallery with more.
You must use Flickr to host your entry pictures because we rely on the built in image resizing feature. If you do not have an account you can sign up for free, or ask a friend with a Flickr  account to host them for you. Once uploaded you will need to embed your photos in the forum. Here's a quick visual guide on how to copy the correct code for the forum. Follow that, then paste it into your reply and do not add any more forum tags to the Flickr code. It works as is. Preview your post to verify that it worked before submitting it. If it didn't work, PM Solo.
Please do not post any non-entry photos to the contest thread, and remove any embedded images if  you quote a submission to avoid cluttering the thread. You must have a forum account to enter. Entries by proxy will be not be allowed.
Photography note: be sure to submit the best pictures possible. Color and contrast correction is recommended if necessary. The only other image enhancement allowed is replacing the background with either a solid color or simple gradient. Your photos cannot be altered in any other way. For example; no composite views, special effects, text, graphics, or scenery will be permitted. Remember, the contest is about the models – not your image manipulation prowess. If you wind up submitting your model to Lego Ideas after the poll has ended, you're obviously welcome to further enhance your photos however you wish.
Winners will be determined in a single week long poll following the deadline.
Prizes:
First place wins 75105 Millennium Falcon and a new The Force Awakens C-3PO polybag. If we wind up with more than 60 entries, a chrome gold 30th anniversary C-3PO will be included as well.
Second place will receive a 75102 Poe's X-Wing Fighter.
Third place will receive a 75100 First Order Snowspeeder.
The winners will also have the option to switch the set they've won with any other comparably priced set currently available.