[SDCC] LEGO Marvel Super Heroes Exclusive, Deadpool the Duck [Edit: With Images]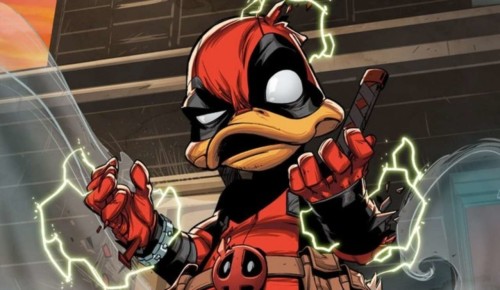 Okay, this one is a little bit weird. A press release sent through one of San Diego's local TV stations has revealed the SDCC exclusive Marvel minifigure… Deadpool the Duck. Not really a joke, but also not especially timely for comic fans, as the 5-issue miniseries that smashed together beloved character Deadpool and not-nearly-as-beloved character Howard the Duck wrapped up in March (and the trade paperback came out in May). It was enjoyed by what I can only assume are dozens of people… of which I am one. I'm a huge Deadpool and Howard the Duck fan.
Sadly, I won't be going to SDCC, but for those who are going and not named Ace, he will be available Thursday, July 20, and Saturday, July 22. There aren't any further details, but I assume the process will be the same as other LEGO exclusives.