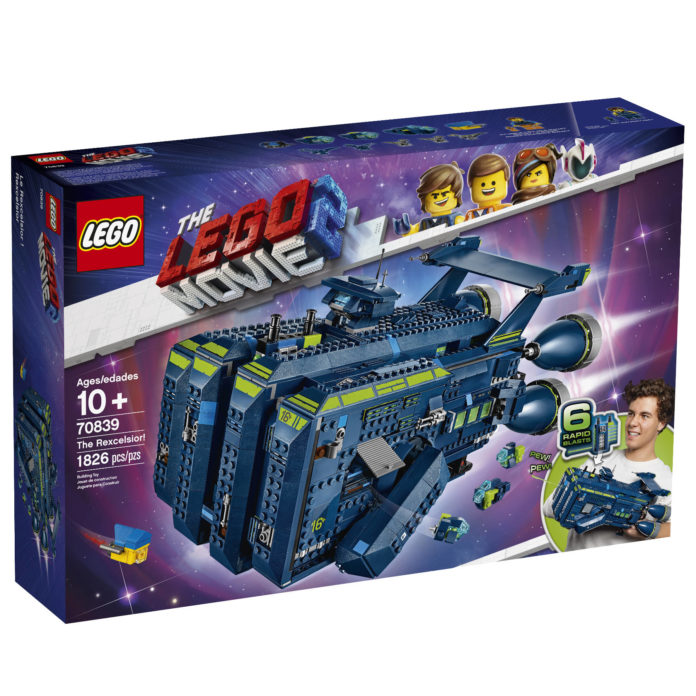 This set, 70839 The Rexcelsior, was announced back in London Toy Fair a couple of weeks ago. And yes, I am just now getting to posting these; better late then never I say. Priced at $149.99, this is the regular retail flagship set, no pun intended, of the line. Chock full of dark blue elements, The Rexcelsior might just make a good starting point for my Galaxy Patrol army. It might just!
Official fact sheet, product images below.
Also, I think the set name should include a '!' character at the end. It just feels right like that.
One thing about these press releases is that all they ever seem to contain is a box shot, the basic contents shot, and the rest are miniigs. I get that minifigs are a big draw for some people, but this is a children's toy. Why not focus on some hidden compartments or the interior. We seem to get more of those kinds of pictures with the adult-oriented Modular Buildings line than we do with the kid-targeted sets. Seems kind of backwards to me.
70839 The Rexcelsior
1,826 pieces| Ages 10+
$149.99 USD
Available May 1, 2019
All aboard for LEGO® space adventures with Stubble Trouble Emmet and Rex Dangervest on The Rexcelsior! THE LEGO MOVIE 2TM character Emmet has drawn stubble on his face to be more like his vest-friend. But will he enjoy travelling in Rex's super-awesome sci-fi spaceship? Join Rex in the cockpit or hang out with the LEGO raptors. There's loads to discover with this awesome LEGO set and spaceship from THE LEGO MOVIE 2—just make sure you are ready for enemy attacks. Reload the 6-missile spring-loaded shooter and fire!
This kids' toy LEGO® set includes 2 minifigures: Stubble Trouble Emmet and Rex Dangervest, plus Emmet and Rex microfigures and 5 micro raptor dinosaur toy figures (3 metallic, 2 dark blue).
The Rexcelsior spaceship toy features big boosters, dual microfigure cockpit, detailed microscale interior with various rooms and compartments, opening doors and lift-off roofs for easy play, handle with a trigger to activate the rapid-fire, 6-missile spring-loaded shooter, and an ammo storage compartment with 6 extra missiles.
This building toy for kids also includes 5 micro builds: Emmet's house, a forklift, 2 interaptors and a dropship.
Kids can recreate stellar action from THE LEGO® MOVIE 2TM with this creative toy playset.
The Rexcelsior LEGO® spaceship toy measures over 7" (19cm) high, 15" (40cm) long and 8" (21cm) wide.