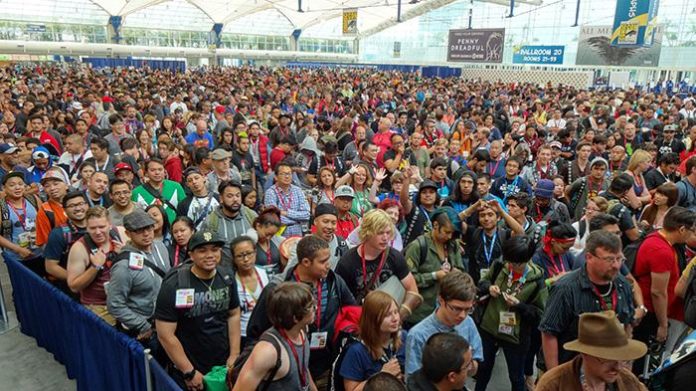 If you're registered for San Diego Comic Con, you should have received by now an email from them describing a new method for reserving a ticket for some of the exclusives. If you haven't gotten that email, go look for it. Things are changing and for the better. Instead of waiting in line every day, you can simply log into your member id page, click a few buttons, and enter a series of drawings for chances to win tickets online, before the con even starts. You can read about it on the Exclusives section of the Comic Con website.
In years past, I've lamented before about the negative aspects of LEGO distribution. If you wanted to get the exclusive set, you had to get in line early in the morning, the earlier the better, just to get into another line for the exclusive you wanted to get. And since each day had a different exclusive, you had to do this pretty much every day if you wanted to get them all.
And getting in line was just half the battle. Once you were in line, you had to play this stupid game of chance with an iPad app. Press a button and you have could either have won a ticket to purchase the exclusive, or not. That's right. It's not enough to make the effort to get in line early, sit and wait, and then get in another line dedicated for LEGO. You still could walk away with no ticket if the iPad game decided against you.
And the thing is, once you choose your exclusive, you lower your chances of getting any other exclusives. You really had to be picky of what you wanted. And out of all of the vendors that had morning ticket distributions, LEGO was the ONLY one that had that iPad game of shit. Well, to be fair, but FUNKO had a similar game of chance that gave you a time slot, but at least you were able to get in, and not be completely denied by some random system. Hasbro and Bandai had the best system. You get in line, you get a ticket. Bandai went a step further and stamped your badge so you were limited to just one exclusive per badge. It was a first come first served basis. I have no problem with that system and thought it was by far the best method. If you're going to put in the time, wait in line, and select Bandai as the vendor exclusive you wanted, you were rewarded with a ticket. None of this game of chance nonsense.
Back to LEGO and their shenanigans. Once you dealt with the exclusive set ticket distribution, you had to decide on one of two things: go do Comic Con, or go get back in line for the exclusive minifigure. Minifigure distribution was held in the middle of the day, around 12:30pm if memory serves. But you had to get in line early in case they run out before you get your chance at the iPad game. You would pretty much waste your ENTIRE day trying to get LEGO's exclusives. Forget about attending a panel, or getting a good night's sleep, or doing anything else. If you were a fan of LEGO and you wanted to get the exclusives, you had to dedicate the majority of your time to get it. And then, you might not even get it because of that STUPID IPAD. You will never meet anyone who says LEGO's method is the preferred way to get an exclusive.
Now, I've asked LEGO's events team why they can't just do it first come first serve. The line they've given over and over again is that they want to give everyone a chance. That's just baloney. I'm more inclined to believe that the long lines feeds their ego. But no matter what the actual reason is, it is an utter waste of time.
Comic Con is finally doing something about it. They are probably tired of managing the lines as much as the attendees are of waiting in them. So now there is an online form you can fill out. If you are a registered attendee, you can log onto your Comic Con member page and check your eligibility. If eligible, you can click on the button marked "Load Exclusvies Portal" and start selecting the time slots you want to take your chances on. The time slots are designed to reduce the load of everyone hitting the booth at the same time and you can select multiple time slots for every minifigure and exclusive set.
This is TONS better as it really does give everyone a chance. There is no more wasting time in line. No more need to wake up before the sun comes up. No more iPad games. Let me repeat that last item. No. More. iPad. Games.
I've been so used the previous method for the past… I don't know how many years.. that I find the new approach liberating. I can actually sleep in if I wanted to. I can go get lunch. I can go see a panel. I don't have to complain anymore.
And while the majority of this post seems like a complaint on the previous method, that's because it is. It actually feels good to let it all out once again and probably for the last time too. I'm actually looking forward to going to Comic Con and, you know, do the con. I'll find out after July 12th if the gods smile on me. That's when confirmation goes out whether or not you've won. And if I don't get any? Well, that's okay too. Because even before the new method was announced, I was struggling and trying to decide if I really wanted to do the whole line thing. But now that that decision has been made for me, it's even easier to be okay with not getting the figure because I wouldn't have wasted 4+ hours waiting in line just for iPad to tell me to bugger off.
Why LEGO couldn't figure out this solution on their own is beyond me. But no matter, change is good.
Change is good.