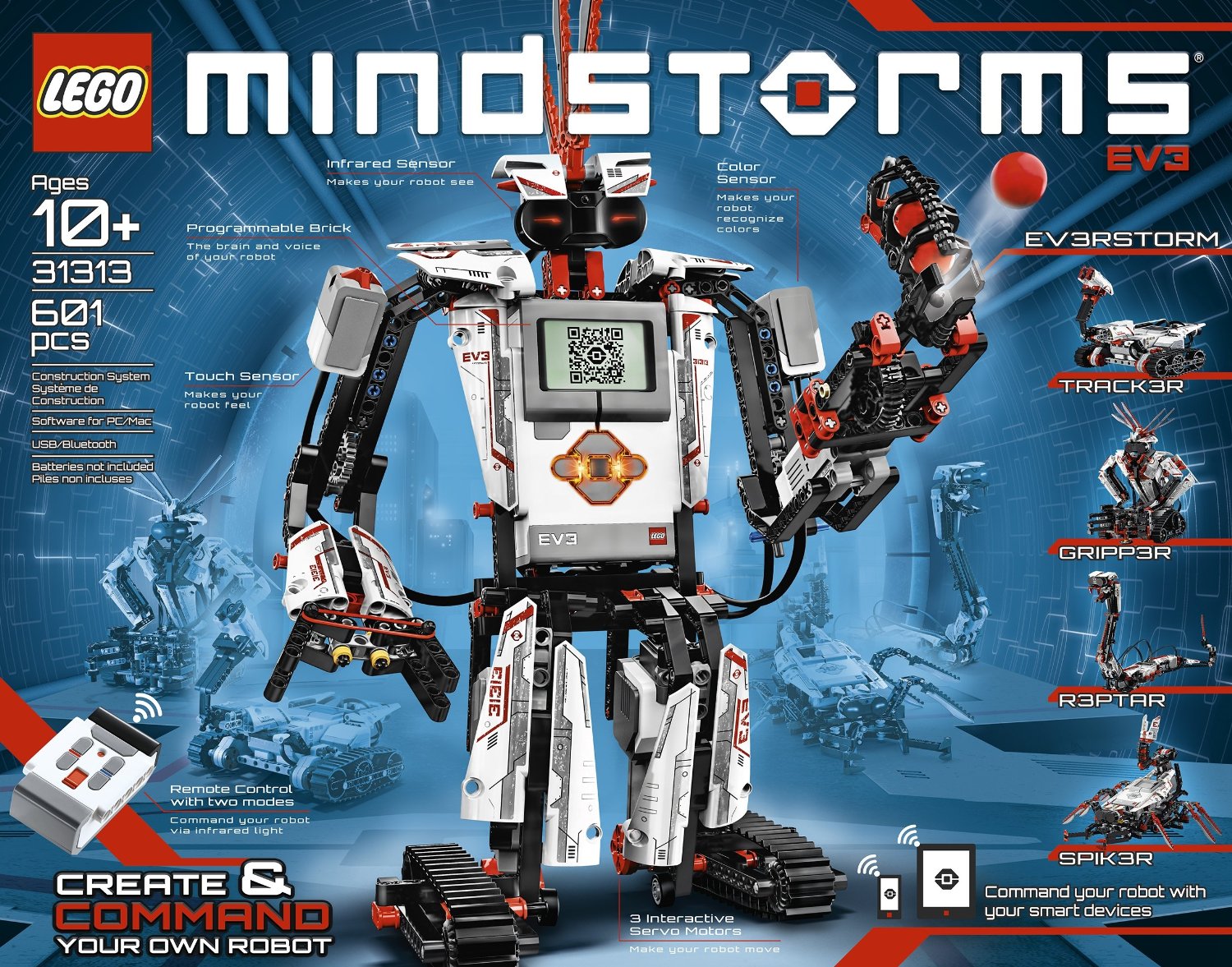 The latest version of LEGO Mindstorms robotics kit, EV3, is now available from LEGO Shop@Home and Amazon.com
. The set will cost you $349.99 and is a vast improvement over the previous 8547 Mindstorms NXT 2.0 system. Below is the feature set copies from the page at LEGO Shop@Home:
Combining the versatility of the LEGO building system with the most advanced technology we've ever developed, unleash the creative powers of the new LEGO MINDSTORMS EV3 set to create and command robots that walk, talk, think and do anything you can imagine. Follow the step-by-step 3D building instructions to create TRACK3R, R3PTAR, SPIK3R, EV3RSTORM and GRIPP3R and bring them to life with an easy, intuitive and icon-based programming interface. Grab the enclosed remote control and take on challenging ready-made missions or download the free app and command your robot using your smart device. Want to share your own creations and be inspired by others? Logon to LEGO.com/mindstorms to access loads of cool content and interact with a huge online community of other LEGO MINDSTORMS fans. The LEGO MINDSTORMS EV3 robot revolution has begun!

• At the heart of the product is the Intelligent EV3 Brick with powerful ARM9 processor, USB port for WiFi and Internet connectivity, Micro SD card reader, back-lit buttons and 4 motor ports
• Includes 3 interactive servo motors, remote control, improved and redesigned color sensor, redesigned touch sensor, infrared sensor and 550+ LEGO® Technic elements
• Control your robot via the infrared sensor system
• Intuitive software (PC and Mac) with icon-based drag-and-drop programming interface
• Control and command your robot with the enclosed remote control or download the free app for your smart device
• Includes 550+ LEGO® Technic elements – everything you need to create amazing robots!
• Building instructions for 5 robots included. Download bonus building instructions developed by real fans and endorsed by LEGO at LEGO.com/mindstorms
• Take on challenging ready-made missions
• Share your creations with a huge online community at LEGO.com/mindstorms
• Check out the cool black, red and white design
• Batteries not included
• If you can think it, LEGO MINDSTORMS EV3 lets you create it
• SPIK3R (incl. legs) measures over 16″ (41cm) high, 14″ (38cm) long and 15″ (40cm) wide
• EV3RSTORM measures over 16″ (41cm) high, 7″ (19cm) long and 8″ (21cm) wide
• R3PTAR measures over 13″ (35cm) high, 31″ (81cm) long and 3″ (8cm) wide
• GRIPP3R measures over 11″ (30cm) high, 9″ (24cm) long and 7″ (18cm) wide
• TRACK3R measures over 3″ (9cm) high, 10″ (27cm) long and 8″ (21cm) wide
Still curious? LEGO Education put up this page that breaks down the feature sets side by side for easy comparison. And yes, all NXT components are usable with EV3.