Never thought I'd see the day that I'd actually hate an A-Wing.
Sponsorship
This week's set of reviews is sponsored by Bricks & Beer!. Bricks & Beer is a more adult-oriented vlog where Andrew Lee talks LEGO on YouTube all while either being inebriated or in the process of becoming inebriated. He supplied Monday's set for review so a big shout out to him and his channel for the sponsorship. Check out the Bricks & Beer! YouTube channel and become a subscriber!
Want to sponsor a review? Send a pic to admin@fbtb.net or hit me up on discord of the polybag set you have that you want me to review. If selected, in exchange for the set you'll get a mention right here in the review post and a link to your website or social media account for the entire week. Nearly free advertising, so what's stopping you? And now onto the review.
Okay, so hate may be a strong word to use but this thing is just terrible. To be fair, it's got the right general shape. The cockpit canopy is off set thanks to some jumper tiles. There is no notch in the nose which to be honest automatically gave it a thumbs down.
The two tail fins are just right angles thanks to a couple of L-plates. I guess it had to be done that way to accommodate for the really large and wide engines
This thing has got a ton of junk in the trunk and it just feels comically large. There's no outer ring on the exhaust ports which was a main feature of the A-wing's engines. Not sure how they could have done it without a special print or something but maybe some toilet seat elements could have done the job.
OH, and the side canons are fixed in place and can't rotate. With today's selection of elements, I find it hard to believe that something couldn't have been engineered to give the canons the articulation it's supposed to have.
The bottom has a boat stud tile but unlike the Batman Jet Surfer set, this thing won't wobble thanks to the two tail fins because three points determine a plane. Middle school geometry does pay off sometimes.
Does It Suck or Does It Rock?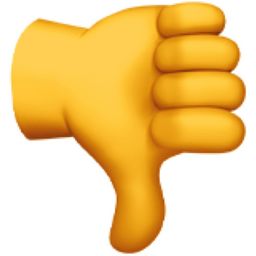 This set sucks! Maybe I went in with high expectations, but this is a really bad A-wing. Bad fins, bad engines, bad laser canons, no notch. Not a single redeeming quality.
You Can Win This And Every Other Polybag I Review This Year
I'll be raffling every polybag I review this year in one big lot, all 260 sets (with the possibility of more). Each set will be individually stored in a ziploc baggie complete with the extra pieces, instructions, and the actual polybag bag it came in. The cost of a raffle ticket is just $1 USD and you can enter as many times as you want. Send a PayPal payment to paypal@fbtb.net for $1 USD for every ticket you want to purchase. DO NOT send one payment for multiple entries i.e. do not send one $5 USD payment for five tickets; five $1 USD payments must be made insteavd. Raffle is open to everyone in the world except where raffles are illegal. Be sure to put "POLYBAG RAFFLE" in the notes section of the payment in order to be entered successfully. Winner will be drawn sometime early January 2023 and contacted at the PayPal email address the payment was sent from to arrange for delivery. For a running list of all the sets that you can win, check this Google spreadsheet.