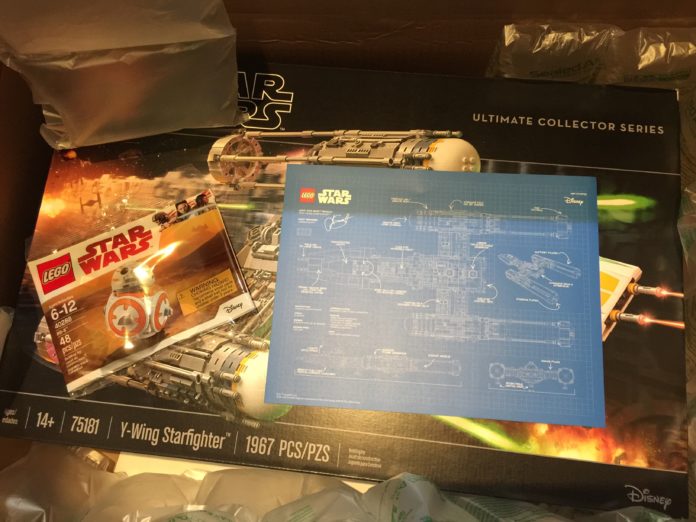 When I got the email that detailed the Y-Wing blueprint was the next VIP Black Card exclusive offer, I had a plan. That plan was to order the UCS Y-Wing set, redeem my code for the blueprint, and hope that it came rolled.
If it did, I'd have sung the praises of a thousand angels that LEGO finally got poster shipping right. After all the other posters that came before it were folded, I was hoping that just this once they could get it right and have it shipped in a tube, rolled up, and without any ugly creases.
And if it came folded, I'd have written a very different kind of post. One that would point out how a VIP Black Card offer should get some special attention and effort, and that a poster should come rolled and mailed in a tube.
Well my May the 4th order arrived and not a tube was in sight. I was ready to put on my complaining hat and gear up for a verbal throw down but when I opened the big box, all I could do was laugh. This blueprint is the size of a standard sheet of paper, a whole eight-and-a-half inches by by eleven inches. It was hilariously unexpectedly small.
That's what she said.
I will give LEGO credit where it's due though: the blueprint did not come folded. I can only blame myself for assuming that the blueprint was a standard poster size of 24″x36″. Heck, I think 11″x17″ would have even been within the realm of poster-size expectations.
In the end, I can't be that mad at LEGO for they did give me a good laugh. Buuuut I'll still shake my head in disappointment. 'Cause, come on now, it's eight-and-a-half by freakin' eleven!