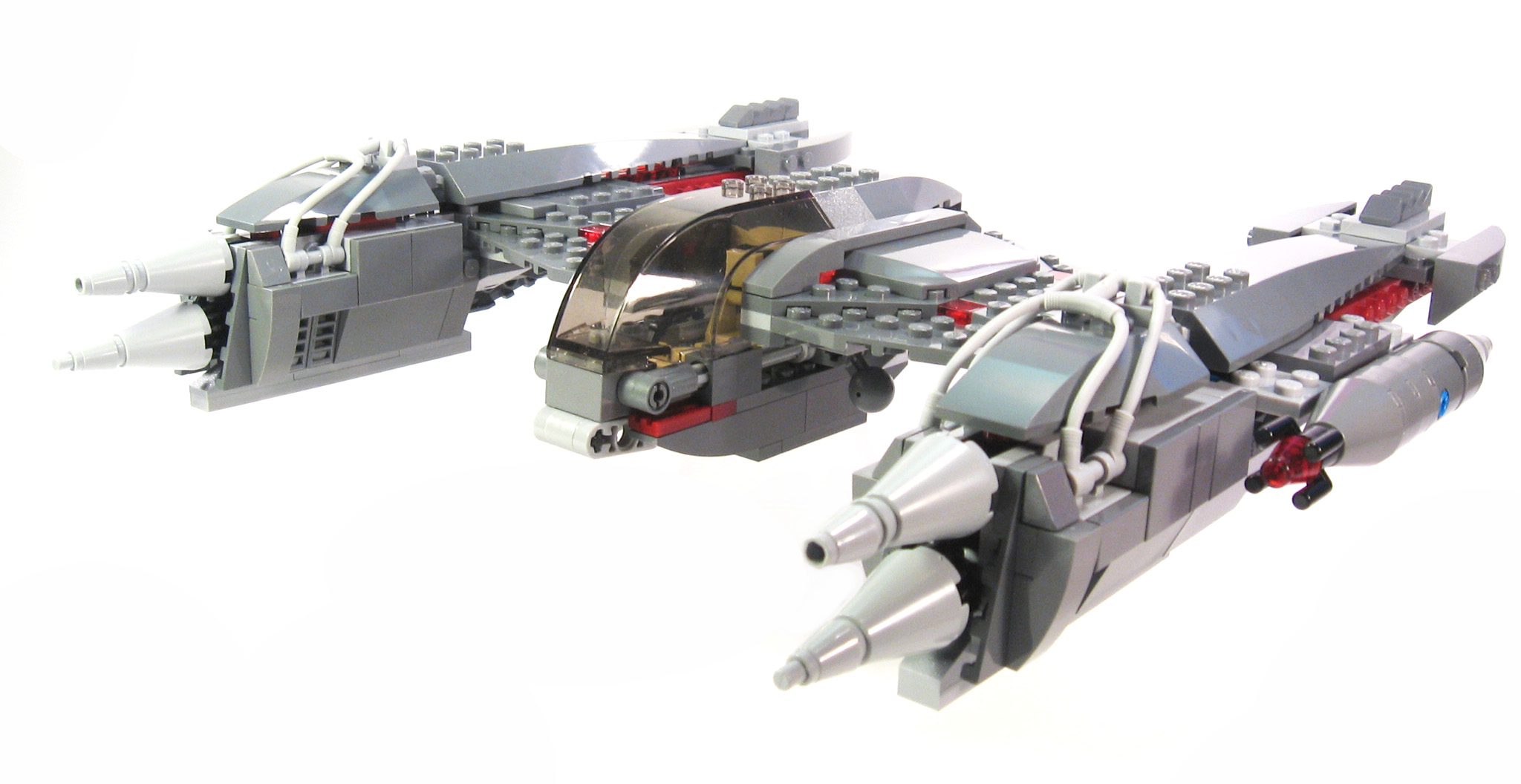 Magma-wha? Manga guard? What does this have to do with anime? Oh, Magnaguard. Okay.
On to this review business.

The Magnaguard starfighter, or the Porax-38 Utapaun fighter as it was originally named during Episode 3 production, made its first screen appearance in Star Wars: The Clone Wars, piloted not by Utapauns but the henchdroids of General Grievous. Thanks Wookieepedia!
Let's talk accuracy first and get that out of the way. Note the side-by-side comparison. Accurate? Yes. It's about as smooth as you could ask for from a Lego company effort, though I would argue that a couple more tiles on the body couldn't have hurt. The new color accents (dark red, light bley) don't bother me; simply more variety of parts to build with when it all comes apart.
What's the build like? Solid. Satisfying. The submodels are well thought-out and help break up this medium size set. It was nice to start out with the cockpit, the head of the ship, which is how I tend to draw character (when I do actually draw, which is less and less often in recent years): head first, body follows. I don't think I've noticed this in other builds before, but it struck me this time around. And just like the cockpit on the Droid Gunship I reviewed, the cockpit here was one of the more enjoyable parts of the build. A working canopy is always a win, and this one does it in such a fun way.
Swoosh Factor: 10. Easily the most swooshable set I've reviewed so far for FBTB. Grab a wing, grab the body, you can pretty much grab anywhere (hey there, watch it) and fly this thing around.
For play features it's got the aforementioned
working canopy
, a secret flick-fire missile launcher, and … I'm not sure what this is for, but opening tails on both wings. It's strange, I don't know why it does it, but there you go. You can store the MagnaGuard's staffs back there, but that could have been accomplished without the opening panels. Anyone have any clue what the point of this is?
This set comes with two exclusive MagnaGuard minifigs. The tattered capes are very cool, and the pieces of the body are great for other uses, but the head mold is pretty limited to being just what it is: the upper torso and head of a MagnaGuard.
In closing, this set is a fair value, an extremely solid build, and one of the best parts pack sets I've built to date- especially if you're in need of dark bley. The exclusive MagnuaGuard minifigs jack the price of the set up, but the popular trick nowadays is to sell off the figs to recoup some of the cost of the set: do that and you'll make this set even better value. With some great (and one confusing) play features, a high swoosh factor, and a smooth streamlined shape, this starfighter is a fantastic entry in the Clone Wars line. Get the set at Lego Shop @ Home
Value: 7/10
Build Quality: 10/10
Accuracy: 9/10
Swoosh Factor: 10/10
Play Features: 7/10
Minifigs: 9/10
Reviewer�s Tilt: 9/10
Final Score (Average): 8.7images used in this review
(warning: hi res)