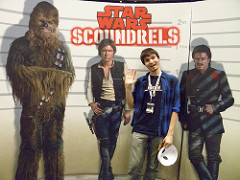 I've been attending New York Comic Con since 2009. This year was my first time as an exhibitor, which was a completely new experience. I am a member of I LUG NY, the New York tri-state area LEGO User Group. A few months ago, LEGO community relations manager Jim Foulds approached us with the opportunity to create a fan display for the convention. We were asked to have Star Wars, Marvel, DC, and Lord of the Rings represented. A LUG member each took charge of a theme, and we worked in teams over many weeks to build a display. We adopted the MILS standard of building to produce a modular display that could be rearranged depending on what area dimensions we had to fill. It worked out great, and we are all really proud of the result.


I was on team Star Wars and designed the Battle of Hoth layout. Due to last-minute changes, the Endor area had to be cut out, but we hope to re-integrate it at a future display. Will was the Death Star lead, Brett and Chris designed the Marvel and DC areas, and Mike designed Lord of the Rings. The rest of our core members helped build each section. We estimate over a thousand man-hours of work between us. I was able to stop by each build at least twice to help out, and got to see them all progress. It's the largest project we've ever embarked on, and it was almost entirely from scratch.

Our booth was near Autograph Alley, which both helped attract foot traffic and periodically cut off access when the line for Tom Felton (Harry Potter ) stretched across the entire level. There were many LEGO-relevant guests attending. Sean Astin (Lord of the Rings), Carrie Fisher and Ian McDiarmid (Star Wars), Lou Ferrigno (Incredible Hulk), Adam West, Burt Ward, and Kevin Conroy (Batman) were all signing over the weekend. I'm not a fan of celebrity worship or paying money for an autograph, so I passed on that.
I was really tempted to have Christopher Lloyd (Back to the Future) sign my DeLorean MOC, but it was outside my budget and his line was quite long. On the plus side, at lot of people cosplayed as Doc, and they were all thrilled to see my DeLorean as part of the LUG display. Members threw in things like Star Trek, Dr. Who, Walking Dead, Ghostbusters, and other classic Super Heroes references, and many attendees expressed enjoyed those inclusions. It was nice to be able to cater to the intended audience as much as we did, since Comic Con sometimes strays a little too far from its roots.
The best part about NYCC this year was the huge presence by The LEGO Group. Last year, exclusive preview DC Super Hero minifigures were given away at the DC booth, but it was not handled particularly well. I got multiples of Batman and Green Lantern but did not get the super-limited Superman due to poor communication between DC booth employees and fans. While the Superman ended up being released in a $20 set, it still irks me to not have gotten a complete set. The big reveal of the then-unreleased 6860 Batcave was also nearly forgotten, and it was put out on display later than promised.
Mega Blocks was pushing Halo and Hello Kitty last year, while Hasbro pushed Kre-o Transformers. LEGO was painfully absent. Hasbro wasn't really there this year, but Mega Blocks had two booths. They were showing off Halo and World of Warcraft products. One of my favorite quotes from the weekend was from fellow LUGger Blake. He said; "Did you see the Mega Blocks fan display? No? That's because they don't have any fans." It was nice that LEGO blew Mega out of the water this year with a dazzling booth showcasing the Hobbit and new Super Heroes, as well as the newly revealed TMNT license.
DK had a booth showing the new Ninjago Character Encyclopedia, and Hallmark had their LEGO Star Wars ornaments on display again.

I did not manage to get into any panels. Most of my time was spent walking the floor, picking up free swag, or manning the I LUG NY booth. Compared to NYCC 2011's building Avengers and Dark Knight Rises hype, there wasn't much excitement going on. I've found much of what is revealed at panels is common knowledge within a couple of days, so it's not the end of the world. It seemed like they were hyping celebrity signings rather than having good panels. Of course, that's my opinion and I have no idea what the kids like these days. This year it sold out completely about a week ahead of time. I miss the previous years where things felt a little smaller. The Javits Center is filled to capacity with all these attendees. This year it seemed all about business and advertising.
Hopefully next year LEGO will again have a presence and I LUG NY will be able to display something even bigger! NYCC is one of the highlights of my year, and being able to be more of a participant while getting a new perspective was an incredible experience. It's going to be a few more days before I recover from all the mental and physical exercise.