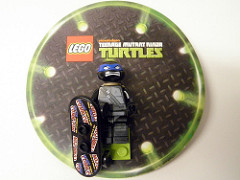 A lot to chew on from this year's NYCC LEGO booth. We got two new exclusive TMNT minifigures and a new collectible Star Wars tin set.
Honestly I was extremely disappointed that there were two exclusive Ninja Turtles minifigures for NYCC after SDCC had four awesome super hero minifigs earlier this year. Rather than a short cycling line to pick up minifigures, they used a raffle system for the black Ninja Turtle with an awesome NYCC-stickered skateboard. The winning numbers at the end of the day implied an extremely limited run of these minifigures. I'd estimate 500 or less of these "Dark Turtles," though we never got an official count. The other exclusive was a limited edition of 300 Krang androids, for which you had to dress up like a Ninja Turtle at 10am Saturday morning at Rockefeller Center. I decided to go for exclusive Landspeeder tins instead, but fellow LUG member Bill went and let me take pictures of the minifig. It's pretty cool, I sort of wish I braved the cold and went with him.
Luckily I won a "Dark Turle" as well as pick up Landspeeders for friends and myself. The "Dark Turtle" is really cool in-person. Love the skateboard he comes with, though it's a sticker rather than printed. The new shell backpack is nice, but I wish they'd done it as a neck bracket that attaches to a shell piece. Then we could get all Mario Kart up in here and make a blue shell. The tin was the third in a line of event exclusives, including the previous Darth Maul and Boba Fett tins from SDCC and Star Wars Celebration. $40 is really steep for such a small set, but it was a limited run of 1000 and extremely hard to get, so it'll retain its value if not increase. It's also a nice classy souvenir. The booklet is high quality with a spine. I'll never turn down something Original Trilogy. As it's so easily replicable I decided to keep mine sealed. I got #307/1000.
There were tickets given away at the beginning of the show every day, but unless you had early access they were nearly impossible to get. I was able to get several over the weekend thanks to my exhibitor access. It's a nice little set, but you're really just paying for the tin. There a couple of new colors or rare elements, but anyone should be able to make a close approximation without any trouble. Brickset has a .pdf of Bill's instruction photos.