Ah, DUPLO, how are you still around?
Sponsorship
This week's set of reviews is sponsored by Bricks & Beer!. Bricks & Beer! is a vlog run by Andrew Lee and he's been gracious enough to invite me as a guest in a couple of episodes like this one. If the title of the vlog isn't a big enough clue, it's for more of an adult audience: we drink beer, talk about LEGO, and have some fun. We let loose with the language so if you're sensitive to that, then it's not for you. Andrew was kind enough to donate a handful of sets for this project including yesterday's set, 30612 Batgirl. Go check out the Bricks & Beer! YouTube channel, subscribe, and support a fellow creative!
Want to sponsor a review? Send a pic to admin@fbtb.net or hit me up on discord of the polybag set you have that you want me to review. If selected, in exchange for the set you'll get a mention right here in the review post and a link to your website or social media account for the entire week. Nearly free advertising, so what's stopping you? And now onto the review.
This particular polybag, 30326 LEGO DUPLO Farm, may be that theme's version of a CMF. Consisting of only four pieces, the front of the bag shows three of them: two blocks and a flower. The fourth? The fourth is one of five possible farm residents: a farm girl, a kid (as in a baby goat), a chicken, a calf, and a farm boy. Oooh the mystery! The suspence! What am I going to get? Well this being a polybag you can just flip over the bag and peek inside to see what you want. Apparently I wanted the baby goat but I should have picked up that chicken.
My kids didn't get into DUPLO, so I'm a little unfamiliar with how some of the connections work. You might be shaking your head at that statement, and I don't blame you, because it's LEGO! Studs and holes! Knobs and tubes! Whatever you want to call them! They only connect one way! And normally you'd be right but it's not obvious here. On the back of the goat is a stud. Or, at least, what I think is a stud. Naturally, I tried to stick the business end of the flower onto that stud but it wouldn't fit. Its diameter is slightly wider than a normal stud. I did figure out how to connect something to it:
If you can't tell from the picture, the connection point is the center tube that's offset from the four points of the 2×2 block. That's not how regular LEGO works, why should DUPLO be different and connect in this weird alternative method with different sized studs? What kid, after receiving this bag of parts, wouldn't want to try to stick the flower on the back of the goat? I don't know, I don't get it. It's not obvious on the outset that the stud on the goat is a different diameter. I can imagine kids trying to jam that flower on to it and getting frustrated though. Perhaps the flower was the wrong element to include in this bag.
I'm not the target audience for this set, and all my kids aged out of the theme so its kind of hard for me to judge whether or not this set is good or not. I'm leaning towards the negative zone though because DUPLO as a whole is a hard sell. AFOLs complain about price per piece ratio here and there when it comes to System scale sets. But DUPLO is whole other world of hurt on the wallet. This polybag probably cost $5 at MSRP. That's $1.25 a piece!
Does It Suck or Does It Rock?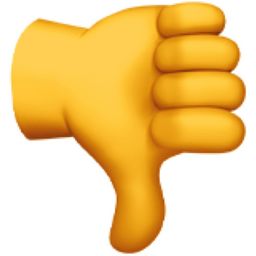 This set sucks! DUPLO as a whole has a bad cost value ratio and 30326 LEGO DUPLO Farm is a prime example of that. Plus once you get the pieces out, they don't fit the way you'd expect them to fit. That's inherent to the theme though, and not necessarily exclusive to this set so I can't really take points off for that. But honestly, after you get this set, that's just salt on the wound.
You Can Win This And Every Other Polybag I Review This Year
I'll be raffling every polybag I review this year in one big lot, all 260 sets (with the possibility of more). Each set will be individually stored in a ziploc baggie complete with the extra pieces, instructions, and the actual polybag bag it came in. The cost of a raffle ticket is just $1 USD and you can enter as many times as you want. Send a PayPal payment to paypal@fbtb.net for $1 USD for every ticket you want to purchase. DO NOT send one payment for multiple entries i.e. do not send one $5 USD payment for five tickets; five $1 USD payments must be made instead. Raffle is open to everyone in the world except where raffles are illegal. Be sure to put "POLYBAG RAFFLE" in the notes section of the payment in order to be entered successfully. Winner will be drawn sometime early January 2023 and contacted at the PayPal email address the payment was sent from to arrange for delivery. For a running list of all the sets that you can win, check this Google spreadsheet.