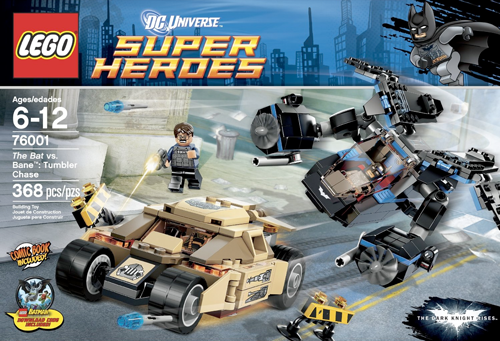 Update 1:30am 12/18: Several items have been crossed off. Those items are no longer in stock in time for Christmas delivery. Some items are seeing some slight discounts.
Update 11:36am: Ninjago updated
Update 8:35am: Ninjago updated
With shipping deadlines looming ahead and January 2013 products hitting Amazon and LEGO Shop@Home, I thought I'd post a buyer's guide of sorts to summarize the torrent of sales news that's been coming at you the past few days. The list only covers Amazon and LEGO Shop@Home since they're the only ones to have any stock of the 2013 assortments. This list also includes a few non-licensed themes: Friends, Ninjago and Galaxy Squad. If you've been keeping up with our coverage the past few days, you should take a good look at the list below; there are some new additions in some of the themes. All items listed are sold and shipped by Amazon as of this writing; items that have run out of stock and have defaulted to third party sellers are not listed. I'll try and keep this list up-to-date when things change, and given the rate new sets are showing up, things will change often. Got a tip for us? Use the contact page to send us an email, or add it to the forum thread generated by this post by clicking on the comments link on the bottom right corner. And with all that being said, on to the list!

But before we do that, here's a friendly reminder on shipping deadlines for Christmas:
Shipping Deadlines
Amazon: If you're not a Prime member, you should know that the last day to order with FREE Super Saver Shipping in time for Christmas delivery is December 18th. You can check out this page
for other shipping options.
LEGO Shop@Home: Like Amazon, their last day for standard shipping is December 18th. They are also offering free shipping at a $49 threshold.
Star Wars
Amazon:
Super Heroes – DC Universe
Amazon:
Super Heroes – Marvel
Amazon:
Lord of the Rings – The Hobbit
Amazon:
LEGO Shop@Home:
Teenage Mutant Ninja Turtles
Amazon:
Galaxy Squad
Amazon:
LEGO Shop@Home:
Friends
Amazon:
LEGO Shop@Home:
Ninjago
Amazon: